Why does Puerto Rico seem like an island nation, even when it's not?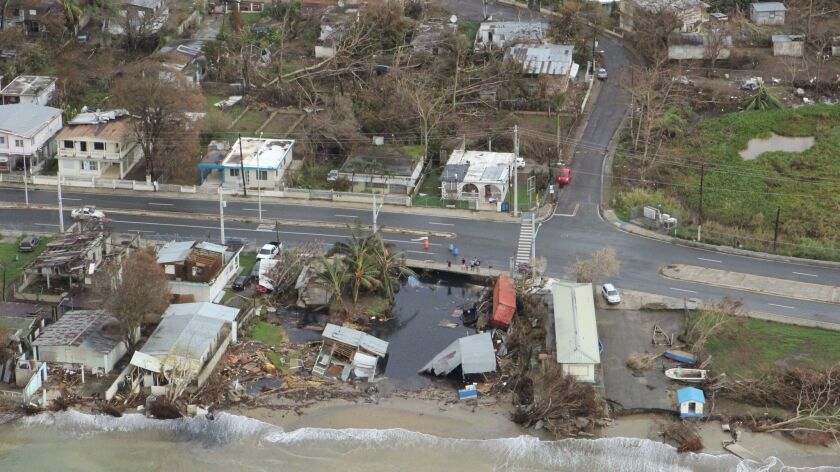 In the aftermath of Hurricane Maria's catastrophic sweep across Puerto Rico, some on the U.S. mainland were trying to sort out just how American this territory really is.
This past weekend, President Trump insulted many Puerto Ricans by bashing "ingrates" who don't fully appreciate U.S. rescue and recovery operations, saying on Twitter that they just "want everything to be done for them."
The logistics, he said, were far more daunting than in Texas and Florida, where, his critics say, the federal response was faster after storms devastated those states in recent weeks.
Trump plans to visit Puerto Rico on Tuesday — nearly two weeks after Maria hammered the island — to survey the storm's aftermath.
How did Puerto Rico become part of the United States?
The United States acquired Puerto Rico under the treaty that settled the Spanish-American War in 1898. Its main island, which is about 3,500 square miles, is situated between the Dominican Republic and the Virgin Islands. Two of Puerto Rico's more than 140 much smaller islands, Vieques and Culebra, are also populated.
When did Puerto Ricans become citizens of the United States?
Under a 1917 federal law, Puerto Ricans are American citizens by birth. They are free to travel within the United States at will. More than 95,000 Puerto Ricans are veterans of the U.S. military, and more than 1,225 have died in combat for the United States, according to the Defense Department.
What do people mean when they speak of Puerto Rico as a territory?
The United States has sovereignty over 16 territories in the Pacific Ocean and Caribbean, and they fall outside the jurisdiction of the 50 states. Most of these territories are remote islands with no permanent residents, but five of them are inhabited: Puerto Rico, the U.S. Virgin Islands, Guam, the Northern Mariana Islands and American Samoa.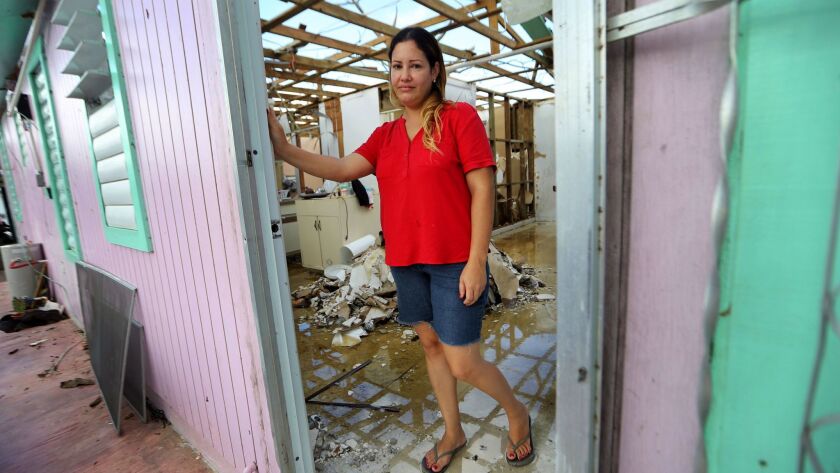 How many people live in Puerto Rico?
About 3.4 million. Puerto Rico is the most populous U.S. territory. Most of its residents live in San Juan and other coastal cities of the main island. The mountainous jungle regions in the center of the island are more sparsely populated.
Why is Spanish the first language of Puerto Rico?
Spain claimed Puerto Rico in 1493 after Christopher Columbus stopped there on his second voyage to the Americas. Puerto Ricans lived under colonial Spanish rule for more than 400 years. Early colonists relied on the forced labor of the indigenous Taino and African slaves.
How prosperous is Puerto Rico?
Not very. More than 43% of the island's residents live in poverty. The median household income in 2015 was $19,350. Puerto Rico's colossal debt load — now close to $74 billion — has left it in a state of deep financial crisis. Its inability to maintain basic infrastructure made Puerto Rico highly vulnerable to severe hurricane damage that destroyed much of its water, roadway and electric-power systems.
If Puerto Ricans are U.S. citizens, why can't they vote for president?
Under the U.S. Constitution, the president is chosen by electoral college members who are selected by the states. Only Puerto Ricans who move into one of the 50 states can exercise full U.S. voting rights in their state of residency. Those living in Puerto Rico are effectively disenfranchised in national elections.
But doesn't Puerto Rico hold presidential primaries?
Indeed it does. Both the Democratic and Republican parties let Puerto Rico hold contests for delegates to their presidential nominating conventions.
What about representation in Congress?
As a U.S. territory, Puerto Rico cannot elect anyone to the U.S. Senate or House of Representatives. But it does have a non-voting "resident commissioner" serving a four-year term in the House. The commissioner, currently Jenniffer González, can speak on the floor of the House and introduce bills, but cannot vote.
Has Puerto Rico tried to become a state?
Puerto Rico has voted five times on potential statehood, with varying results. But only the U.S. Congress can change Puerto Rico's status. If Puerto Rico becomes a state, residents would have to start paying federal income taxes. For now, only those working for the U.S. government or those earning income in one of the 50 states have to pay federal income taxes.
Does Puerto Rico at least get to elect its own government?
It does. Puerto Rico's governor, now statehood proponent Ricardo Rosselló, is elected by popular vote to a four-year term, as are the 78 members of its two-chamber legislature.
Twitter: @finneganLAT
ALSO:
Trump lashes out at Puerto Ricans after mayor's criticism of administration's relief effort
Health Secretary Tom Price resigns under fire — but other Cabinet members are still taking costly private flights
---
Must-read stories from the L.A. Times
Get the day's top news with our Today's Headlines newsletter, sent every weekday morning.
You may occasionally receive promotional content from the Los Angeles Times.