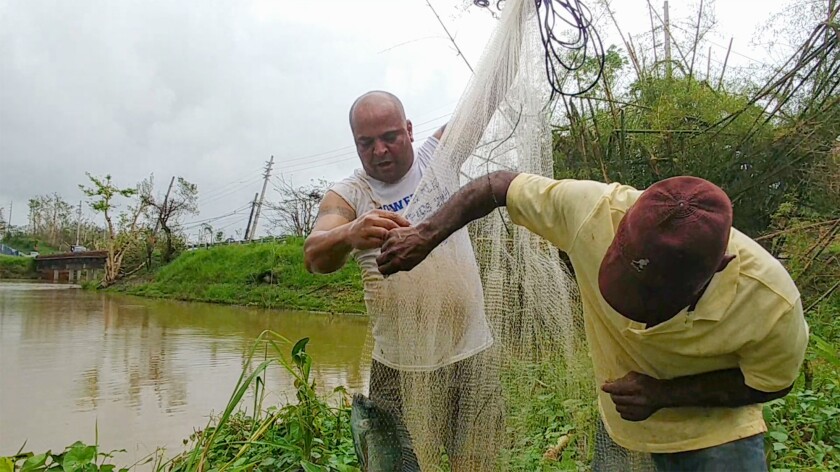 Reporting from Mayaguez, Puerto Rico —
Joel Cotto and Jesús González picked up their fishing nets after a full day at a lake in Cidra, Puerto Rico, feeling good about their bucket full of shrimp and fish known as chopas.
The friends said they had become fishermen after Hurricane Maria devastated the island Sept. 20 because food had become so scarce for their families.
Cotto, 50, said the hurricane ripped the roof off his home in Aguas Buenas, a municipality in the island's central region, and damaged virtually everything, including the refrigerator.
"The roof, the house, everything is stripped away," Cotto said. "We have to fish for what we are going to eat today."
Like Cotto and González, 57, many Puerto Ricans are making substantial adjustments to their lives based on hurricane-related devastation to the island, a U.S. territory. Despite some aid reaching residents during the past four weeks, many people have had to find new ways to at least temporarily feed their families, filter water and care for the young, elderly and sick.
Food, water, medicine, electricity and shelter all remain desperately scarce on the island. The hurricane wiped out thousands of homes, decimated agriculture and cut power and phone lines, making it difficult for most of Puerto Rico's 3.4 million residents to communicate with family or aid services.
Some roads in mountainous regions contort and contract with mudslides that expose precipices on each side. In some cases, people have been left isolated by collapsed bridges in communities that already were off the beaten path.
The number of deaths associated with the hurricane rose to at least 49, Puerto Rico Gov. Ricardo Rossello said Friday, and that number was expected to go up again. Officials said dozens of people are still missing.
Rossello was in Washington on Thursday trying to secure more aid for the island, whose residents are U.S. citizens at birth, and meeting with President Trump, whose administration has been criticized for its response to the devastation in Puerto Rico.
For everybody who hears we are OK, that means we are alive.
Magdanell Quiñones
Despite help from the Federal Emergency Management Agency and other agencies as well as private fundraising and aid efforts, many residents in Puerto Rico remain in trouble. Thousands have left the island to be with or near relatives on the mainland.
Magdanell Quiñones, a teacher at the Luis Muñoz Rivera school in the Rio Piedras section of San Juan, said the island is in crisis despite a tendency for many people to put on a brave face.
"For everybody who hears we are OK, that means we are alive. But there has not been a day when I have not come home crying because I am thinking of a mother who came to me saying that we have no food," she said.
Quiñones said she feels hopeful when she sees members of her community working to rebuild neighborhoods with their own hands. She has a child with special needs who has taken to working on their vegetable garden, which they replanted days after the storm hit.
Marinilda Rivera Diaz, a social worker in Rio Piedras, is part of an interdisciplinary team of professionals working at one of the "Stop and Go" centers, a government initiative where residents go for food, medical care and help filling out paperwork for federal aid.
"I am worried about the people who have bedridden family members living in their homes who depend on a respirator," she said. "Can you imagine what it is like to need to breathe and not have oxygen?"
Among those recently at the Jose Celso Barbosa school where Rivera Diaz works was Roberto Bonilla, who sought physical and emotional care. He was grateful for the warm plate of food he received.
"I am 60 years old, and I need food," he said, kissing the plate.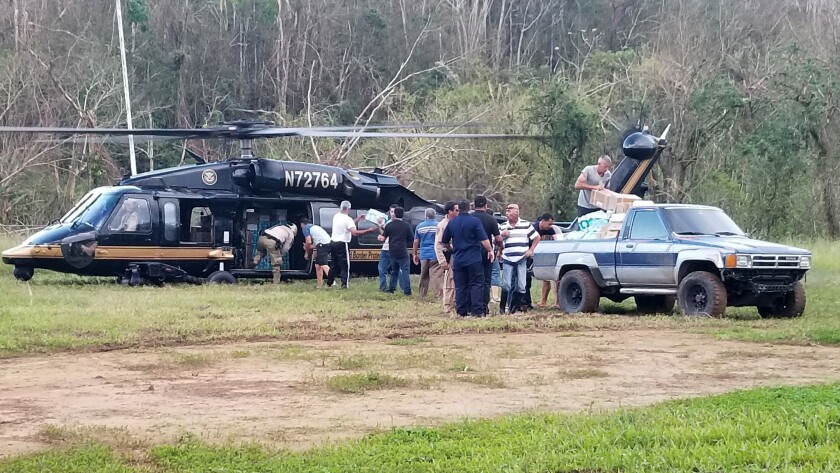 Many island residents remain without electricity, with some of the more fortunate ones resorting to generators for power.
Los Angeles Dodgers player Enrique Hernandez, who hit three home runs as the Dodgers beat the Chicago Cubs on Thursday night to advance to the World Series, said his mother and other family members in Puerto Rico watched the game on a television powered by a generator. Hernandez, who had written "Pray 4 PR" on his cap, and his fiancee had set up an online fundraising platform that as of Friday had surpassed its goal of raising $100,000.
Enrique Batlle, who runs a hot dog shop in Mayaguez, said he's an avid sports fan and would have watched the game if not for the lack of electricity. He found out later about how well Hernandez had done.
"It's tremendous," Batlle said. "Puerto Rico needs good news with everything that has happened after the hurricane."
Officials said the water reaching about two-thirds of the homes on the island is now considered safe to drink, but they acknowledged that damage to the main laboratories responsible for measuring water quality has made it difficult to conduct rigorous testing.
The Environmental Protection Agency has urged residents to boil water before drinking it. Among the warnings from government officials was that people should not take water from natural streams because fluid from sewers was leaking into some rivers.
The lake where Cotto and González were fishing is not far from the La Plata River, which officials say has been contaminated by sewage runoff.
The friends said they hoped for the best.
"I don't think it is contaminated because we have eaten fish from it before," Gonzalez said.
Carrero is a special correspondent.
ALSO
Kelly might not be like Trump, but he seems like many Trump voters
Obama stumps for Democrats and takes a few swipes at that guy who succeeded him
Officer killed in Las Vegas shooting left funeral instructions: 'Remember me for who I was'
---