As extreme cold moves into Portland, the homeless die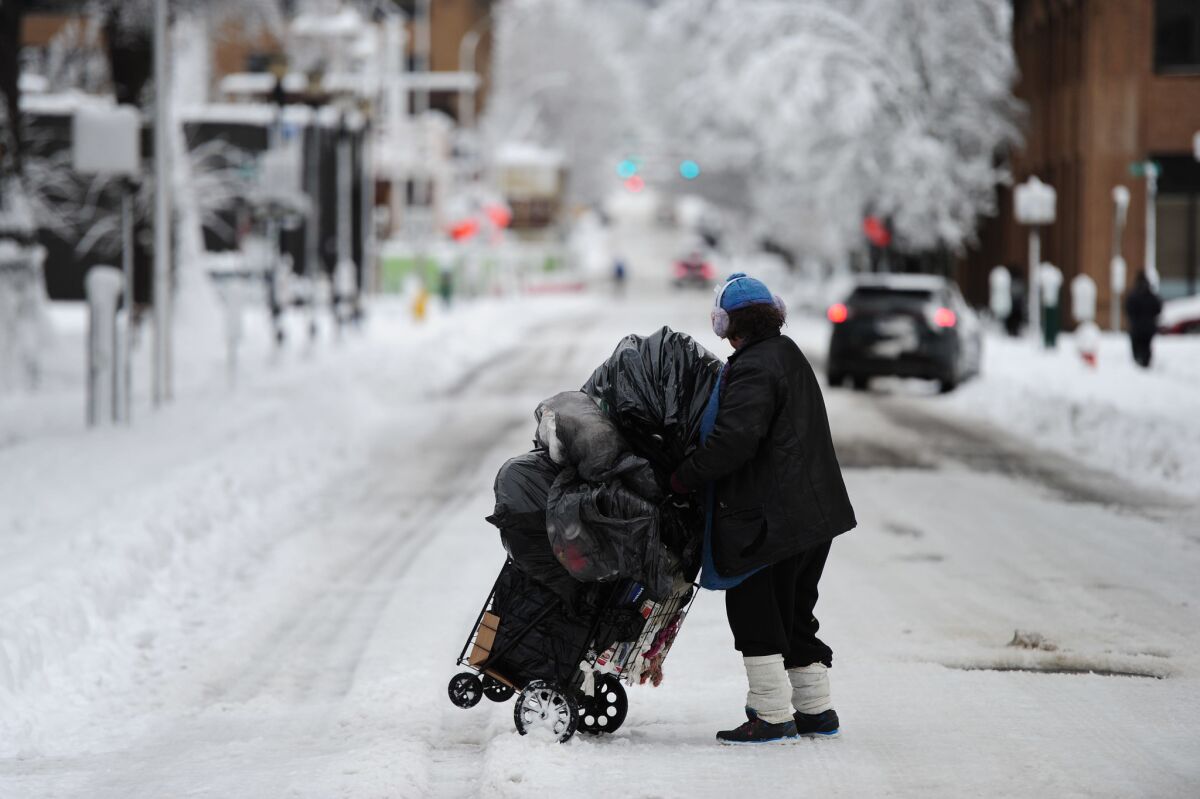 Reporting from Portland, Ore. —
In her final hours, as she tried to sleep in the wicked cold of a Portland parking garage and hypothermia took over her body, Karen Lee Batts became confused.
She began to remove clothes. An attendant later found her on the garage floor.
"She died from hypothermia due to the severe cold weather," said the officiant at her funeral Wednesday, reading from a newspaper obituary. "She suffered from schizophrenia, a mental illness."
Several dozen people filed past her open casket at the Ross Hollywood Chapel to pay their respects, 11 days after her death. Batts was the third to die here in an extreme cold spell that has killed four homeless people this month — and may have contributed to a stillbirth by a woman who was living on the streets.
In a city that prides itself on liberal values, the snowstorms and freezing temperatures that began battering Portland last month exposed holes in its ability to care for some of its most vulnerable residents.
Portland officials declared a housing state of emergency last summer after learning that almost 2,000 people — including families with children, seniors and people with disabilities — sleep in bushes, tents, cars and doorways every night. Mental illness is common and appears to have played a dominant role in the deaths.
The first victim was David Guyot, a 68-year-old father of three, who succumbed to hypothermia and was found at a bus stop Jan. 1.
That was the same day the new mayor, Ted Wheeler, took office. In his first act, he opened the city's Portland Building as an around-the-clock shelter. Homeless people crowded into the lobby to spend the night. But others chose to stay on the street, shelter workers said.
The next day, 51-year-old Mark Elliot Johnson, who had struggled with alcoholism and homelessness after his girlfriend died a few years back, was found dead under a blanket in a business doorway, the second victim of exposure.
It's horrible. Nobody should freeze to death on the streets of Portland, Oregon.
— Ted Wheeler, Portland mayor
"It's horrible," the mayor told a reporter as the frigid weather continued. "Nobody should freeze to death on the streets of Portland, Oregon."
Then on Jan. 7, Batts died. She was 52.
"She lived life on her own terms," the officiant at her funeral Wednesday told the mourners, mostly family and friends from an earlier time in Batts' life.
At Portland's Grant High School, she was a junior varsity cheerleader and part of the 1982 Rose Festival Court, a citywide competition that her brother, Alan Batts, described as the highlight of her life. She graduated with honors, he said.
She attended college too, but mental illness eventually set in. She spent most of the last 20 years on the streets and hadn't seen her brother or mother in more than a year.
"No one can hurt her now," her brother told the mourners. "She doesn't have to struggle. She is at peace."
Two days after Batts' death, a woman at a homeless encampment delivered a stillborn baby, placed him under her coat and walked the streets until police noticed her.
The next day, the cold claimed another victim: Zachary A. Young, a mentally ill man of 29, who was found at his camp in a wooded area in southwest Portland.
Talk-radio callers and online commenters wondered what their city had come to. The mayor told Willamette Week that the stillbirth was "a damnation of our response" to untreated mental illness on the streets.
At a news conference last week, he said the city has increased the number of beds for the homeless and that Multnomah County's 36 warming centers have also helped. But more donations and volunteers were needed, he said.
At Batts' funeral, one speaker suggested that the state pass a new law to encourage the reporting of dangerous situations in which mental health seems to be a factor.
"We could call it 'Karen's Law,'" he said, "or 'Karen's Alert,' like Amber Alert."
The mourners nodded in support.
Outside the chapel, the temperature was in the low 40s. Ice and thick slush still coated the streets, but it was finally warming up.
Anderson is a special correspondent.
MORE NATIONAL NEWS
President Obama's parting message: Hope
On an Apache reservation in Arizona, a toxic legacy and a mysterious history of chemical spraying
Abortion rate declines to historic low, with Obamacare a likely contributor, study says
Must-read stories from the L.A. Times
Get the day's top news with our Today's Headlines newsletter, sent every weekday morning.
You may occasionally receive promotional content from the Los Angeles Times.