House Speaker Paul Ryan faces defining career question: Support Donald Trump?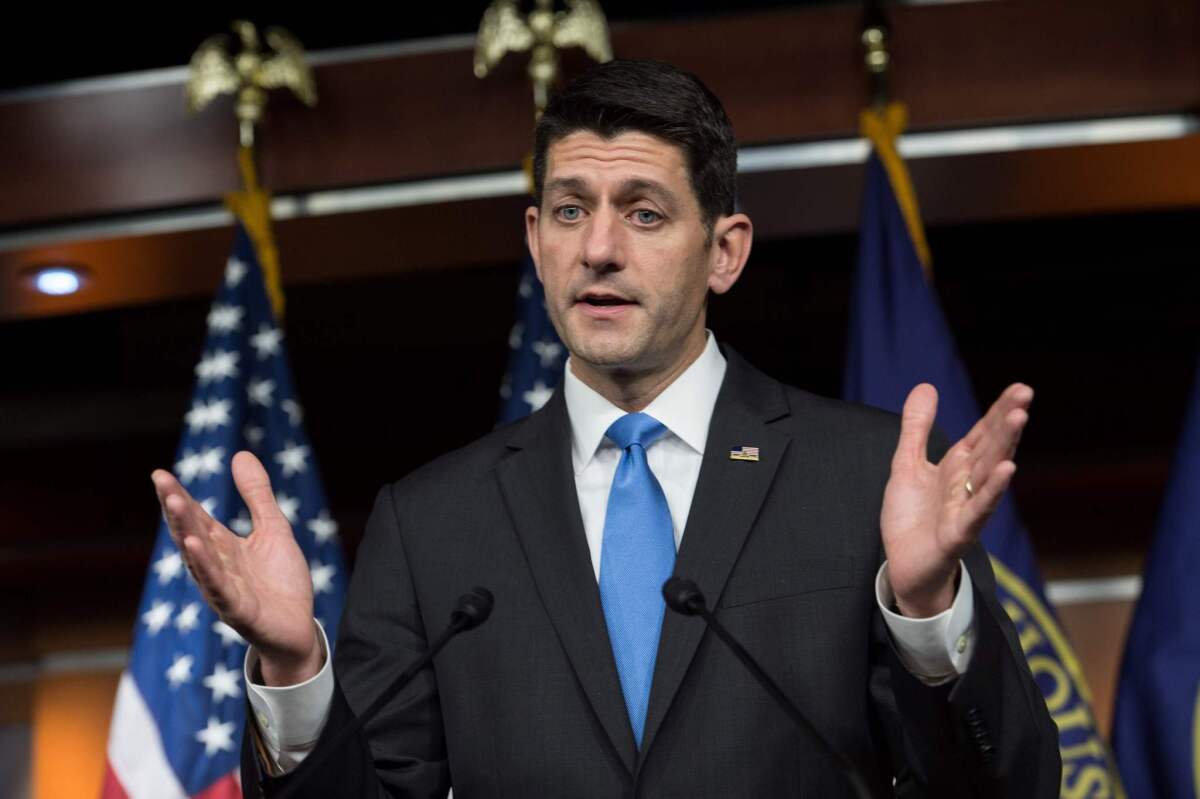 Reporting from Washington —
House Speaker Paul D. Ryan all but reversed course Thursday and moved toward accepting Donald Trump as the GOP presidential nominee, saying he was "very encouraged" after meeting with the billionaire businessman and optimistic about unifying the party to fight Democrats in the fall.
The speaker's comments offered a sharp shift from his public show of discomfort with Trump just a week ago. The sudden about-face showed the pressure on Ryan, the intellectual torchbearer for the conservative movement, to drop his ideological purity tests and unify Republicans behind their unorthodox nominee.
"Great day in DC," Trump wrote in a message on Twitter. "Things working out really well."
The move toward unity exposes Ryan to the political risk that comes with linking his well-polished political brand to that of Trump -- an outsider whose policy views and public persona differ dramatically from those of the GOP leaders Ryan has tried to emulate.
Ryan had little choice, however, other than to make peace with the party's presumptive nominee. Failing to do so would prolong the fight within the party and risk exiling himself to a no-man's land as Trump's chief opponent in a divided GOP.
House members increasingly were making clear to Ryan that continuing the split was putting them in an untenable position given Trump's popularity among their constituents back home.
Ryan's lack of an alternative stems in part from the waning of Ryan's brand of conservatism, which has defined the party this decade: an exercise in fiscal restraint, including cuts to Medicare and the federal safety net, that has proved more popular with conservative think tanks than with voters.
Trump has panned Ryan's approach. The candidate's positions on taxes, trade deals and military intervention, even as they have shifted, have put him at odds with the kind of conservatism that Ryan has fostered.
But GOP voters have sided with Trump's approach, not Ryan's. And with the "Never Trump" movement failing to provide a viable option, the Republican establishment has tried to catch up with the party's newly empowered populist element.
"I do believe that we are now planting the seeds to get ourselves unified, to bridge the gaps and differences," Ryan said after the morning meeting as protesters carried a coffin and "RIP GOP" poster in a mock funeral procession outside.
Ryan went on to call Trump "a very warm and genuine person" after the two met for 45 minutes as part of the businessman's tour of Capitol Hill.
"I heard a lot of good things from our presumptive nominee," Ryan said. "From here, we are going to go deeper into the policy areas to see where that common ground is and how we can make sure that we are operating off the same core principles."
Other Republican leaders, including Senate Majority Leader Mitch McConnell of Kentucky and House Majority Leader Kevin McCarthy of Bakersfield, have already moved toward Trump, on tiptoes in McConnell's case.
Increasingly, rank-and-file lawmakers are cautiously saying they will support the nominee – often without mentioning Trump by name.
"We had a very constructive meeting," McConnell said after Trump's session with the Senate's Republican leaders. "I think that everybody felt it was quite good."
While Ryan stopped short of giving Trump his endorsement, that specific language mattered.
The speaker's comments signaled he was laying down arms just a week after saying he could not yet back Trump.
Election 2016 | Live coverage on Trail Guide | Track the delegate race | Sign up for the newsletter
At the time, Ryan invoked the GOP as the party of Abraham Lincoln and Ronald Reagan in suggesting Trump needed to show conservatives he was one of them and temper his tone to be more inclusive. The "bulk of the burden," Ryan warned, would be on Trump to win votes of reluctant Republicans.
But the priorities of Ryan's life's work – reducing debt and cutting the federal government safety net -- have proved less compelling to many GOP voters than Trump's attacks on the Washington establishment. Many Republican voters rely on parts of that safety net, particularly in regions that are economically struggling.
"For Paul Ryan, here's a guy who spent his whole career talking about the need to put the country on a a sustainable fiscal trajectory. And when the nominee says, 'Well, we can pretty much ignore Medicare, Social Security and all the issues that are driving the fiscal challenges,' ... that's an issue that's got to be reconciled," said Rep. Charlie Dent, a centrist Republican from Pennsylvania.
"It's difficult," said Rep. Trent Franks, a conservative from Arizona. "Mr. Trump has held a number of different positions that are antithetical to the Republican platform. I'm hopeful some of that is a misunderstanding on his part."
Ryan appeared hopeful, too, that his latest project – a series of policy prescriptions being drafted for Republicans under the banner "Confident America" – would still have a place in a Trump campaign and, if successful in November, a Trump White House.
"The question is, can we unify on the common core principles that make our party?" Ryan said. "And I'm very encouraged that the answer to that question is yes."
But more to the point, Ryan was buoyed by the prospect of bringing Trump voters into the GOP fold after the the unlikely presidential candidate won more primary votes than any other Republican hopeful in party history.
"He's bringing new voters that we've never had for decades," Ryan said. "That's a positive thing."
ALSO
Hillary Clinton's plan for capturing the center
Federal judge rules Obamacare is being funded unconstitutionally
Union for Border Patrol agents under fire for endorsement of Trump
Follow on Twitter @LisaMascaro
---
Must-read stories from the L.A. Times
Get the day's top news with our Today's Headlines newsletter, sent every weekday morning.
You may occasionally receive promotional content from the Los Angeles Times.