Washington state cancels lease for site of net collapse that released farmed Atlantic salmon into Pacific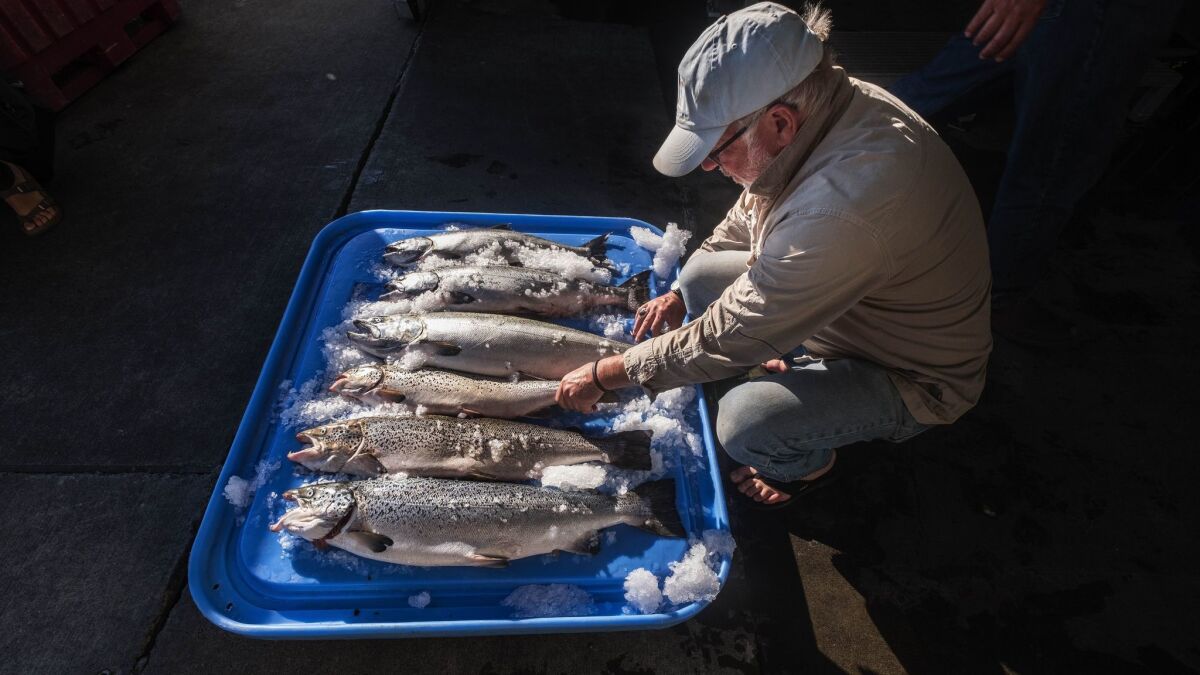 Reporting from SEATTLE —
Washington state officials Sunday canceled a lease with Cooke Aquaculture Pacific at the site where net pens holding farmed Atlantic salmon collapsed last summer, releasing thousands of nonnative fish into Puget Sound.
The decision comes days after a multiagency state investigation found the Canada-based company negligent for failing to adequately clean its nets, saying that directly contributed to the net-pen failure in August at the facility.
The report released Tuesday said the nets failed because they were excessively laden with mussels and other marine organisms. That increased the drag on the nets from tidal currents and overwhelmed the mooring system.
State officials last week also accused the company of misleading them by under-reporting how many fish escaped into Puget Sound on Aug. 19 and over-reporting how many fish were captured. It fined the company $332,000 for alleged clean water law violations for releasing invasive species into Washington state waters.
"Cooke has flagrantly violated the terms of its lease at Cypress Island," Public Lands Commissioner Hilary Franz said in a statement Sunday. "The company's reckless disregard endangered the health of our waters and our people, and it will not be tolerated."
Cooke did not immediately respond to a call and email Sunday about the lease cancellation.
Last week, the company criticized the state's investigation as incomplete and inaccurate. The company disputed the findings, including its accounting of fish. It said that Cooke employees were under state supervision when the recovered fish were counted and that the state relied on wrong estimates about average fish weight.
This is the second Cooke lease that Franz has canceled in two months. Franz oversees the Washington state Department of Natural Resources, which manages and leases state-owned waters. All of Cooke's marine-farmed salmon operations hold state leases.
In December, Franz ended the state's lease with Cooke at its marine aquaculture in Port Angeles, saying the company violated the terms of its lease by not maintaining the facility in a safe condition. Cooke has challenged that decision in Clallam County Superior Court.
Cooke is the largest U.S. producer of farmed Atlantic salmon. Before the two lease cancellations, the company operated eight commercial salmon net pens at four locations. The company bought the facilities from Icicle Acquisition Subsidiary in 2016.
---
Must-read stories from the L.A. Times
Get the day's top news with our Today's Headlines newsletter, sent every weekday morning.
You may occasionally receive promotional content from the Los Angeles Times.