San Francisco asks federal judge to block Trump order penalizing 'sanctuary' cities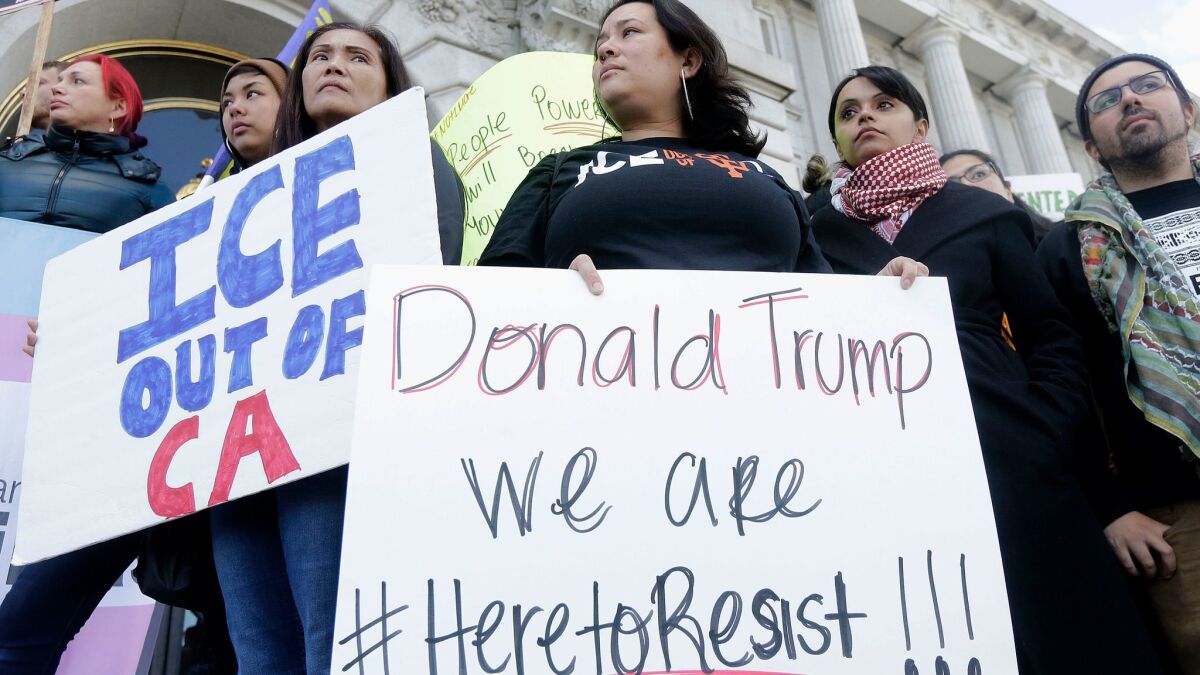 Reporting from San Francisco —
San Francisco asked a federal judge Wednesday to block President Trump's order threatening to strip federal funds from so-called sanctuary cities that bar police from enforcing immigration laws.
The city followed Santa Clara County in asking U.S. District Judge William H. Orrick for a nationwide preliminary injunction against Trump's executive order until a lawsuit against the order is heard. A hearing on the injunction request has been tentatively scheduled in Orrick's San Francisco courtroom for April 5.
San Francisco is one of several local governments nationwide that have sued to block the Jan. 25 order, aimed at about 400 cities and counties that refuse to comply with federal agencies' requests to hold residents who crossed the border illegally or to participate in immigration raids. San Francisco is both a city and county.
In its motion Wednesday, San Francisco argued that Trump's order trampled on state sovereignty and exceeded his authority.
"With a stroke of his pen, President Trump is trying to seize the spending power that our Constitution entrusts to Congress," City Atty. Dennis Herrera said.
Herrera argued that Trump was attempting to "bully" cities and counties by threatening to withhold funds for programs that provide meals and medical care for seniors and low-income families.
"These entitlement programs are not the president's to take away from those in need, and San Francisco is not one to back down from a bully," Herrera said.
The motion asked the court to bar Trump from withholding funds and to rule that San Francisco's sanctuary policies comply with federal law.
San Francisco on Jan. 31 became the first city in the country to sue Trump over the order. Santa Clara County and two Massachusetts cities, Lawrence and Chelsea, followed.
San Francisco's suit said it stands to lose $1.2 billion in federal funds, mostly for entitlement programs for the poor.
Although there is no single definition of a "sanctuary" policy, it generally bars local law enforcement from holding individuals who are in the U.S. illegally after they have been arrested for minor crimes or asking those who report crimes about their immigration status.
Santa Clara County filed its suit days after San Francisco's and made a motion late last month for a preliminary injunction.
Santa Clara County said it had honored immigration agents' requests until 2011, when the federal government stopped reimbursing local agencies for detaining immigrants.
Orrick, an Obama appointee, is considering both California suits.
---
Must-read stories from the L.A. Times
Get the day's top news with our Today's Headlines newsletter, sent every weekday morning.
You may occasionally receive promotional content from the Los Angeles Times.