Travel and hotel companies break ties to the NRA amid anger over Florida school shooting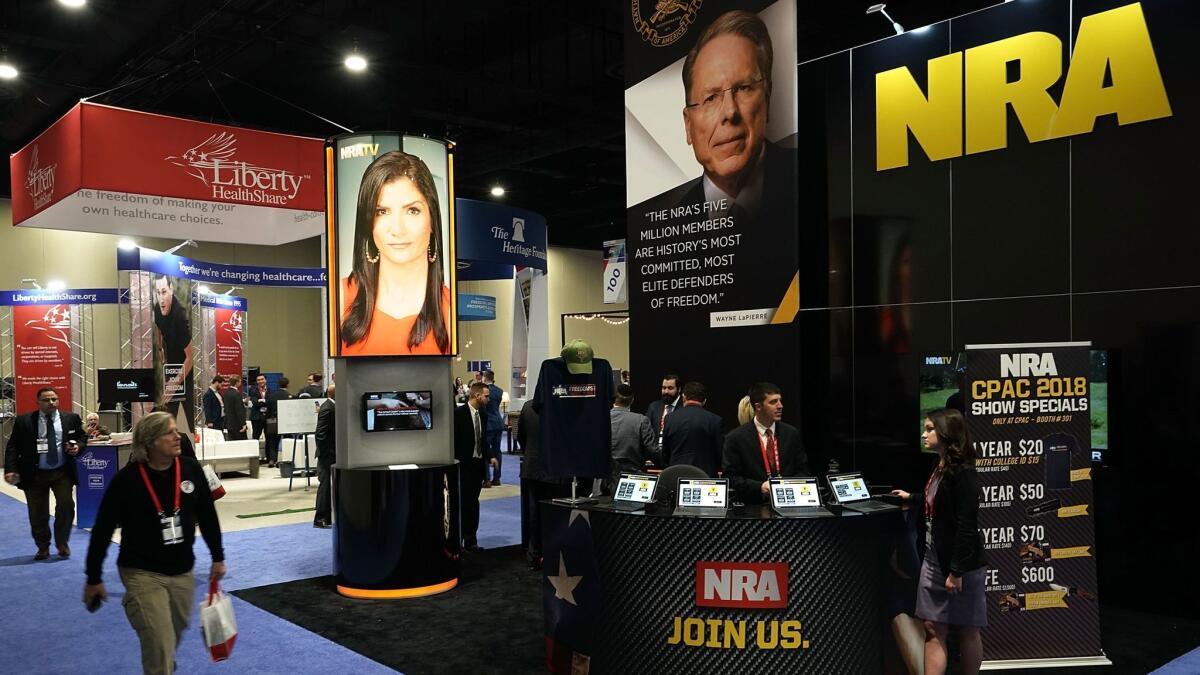 As part of its pitch to prospective members, the National Rifle Assn. touts a host of benefits for those joining the organization, including "huge savings on car rentals, hotels and travel."
In recent days, however, several travel and hotel companies severed ties with gun lobby group as outrage continues over the shooting that left 14 students and three adults dead at a Florida high school this month.
On Thursday at 1:05 p.m., First National Bank of Omaha was one of the first companies to announce via Twitter that it would end its relationship with the NRA, saying it would not renew its contract to issue the NRA Visa card.
Soon after, Enterprise Holdings, which operates Enterprise Rent-A-Car, National Car Rental and Alamo Rent A Car, said it would end its discount program with the NRA, effective March 26.
Then on Friday morning, California-based cybersecurity company Symantec joined the list. Then came MetLife, Hertz and North American Van Lines, a trucking company.
Friday night, TrueCar, an automotive price comparison website, tweeted that it would end its buying service agreement with the group effective Feb. 28.
Next, on Saturday morning, Delta Air Lines shared on social media that it had plans to tell the NRA it would end the group's contract for discounted rates through Delta's group travel program.
"We will be requesting that the NRA remove our information from their website," Delta said in a tweet.
United Airlines followed Delta's move, saying in a tweet that the company no longer would offer a discounted rate to the NRA's annual meeting.
Over the last week, gun control activists and their followers have used social media to call out companies with business relationships with the NRA, with threats that consumers who support the movement would not spend money with the company until the relationship with the NRA ends. Progressive websites listed companies that offer benefits to NRA members, which helped rouse gun control supporters to speak out about the boycotts.
Students from Marjory Stoneman Douglas High School in Parkland, Fla., where the Feb. 14 massacre occurred, have spoken openly and angrily about their experiences, rallying young people across the country to walk out of their schools and planning continued protests to change gun laws in the United States.
The NRA has been making the same arguments about 2nd Amendment rights it always makes, said Mary-Hunter McDonnell, a management professor at the Wharton School at the University of Pennsylvania who studies how companies respond to social activism.
"But when you have someone from the NRA facing a student who just went through that experience, and still making that argument, it sounds very tone deaf," McDonnell said. "And ultimately this pressure on firms is not about cutting the sponsorships to the NRA. It's ultimately about demonstrating to politicians that links to the NRA are dangerous.... This is sending a strong signal to politicians that they need to rethink their relationship with the NRA."
NRA spokesman Andrew Arulanandam said in a statement that the loss of a discount would have no impact on NRA members, as they still believe in the mission of the organization.
"The law-abiding members of the NRA had nothing at all to do with the failure of that school's security preparedness, the failure of America's mental health system, the failure of the National Instant Check System or the cruel failures of both federal and local law enforcement," Arulanandam said. "Despite that, some corporations have decided to punish NRA membership in a shameful display of political and civic cowardice. In time, these brands will be replaced by others who recognize that patriotism and determined commitment to constitutional freedoms are characteristics of a marketplace they very much want to serve."
After the Sandy Hook Elementary School shooting in 2012 in Newtown, Conn., a global advocacy site, Avaaz.org, urged its followers to go on Facebook and call out Best Western International and Wyndham Hotel Group for affiliating with the NRA.
On Facebook, Wyndham responded to the negative comments about its connection to the NRA by saying it tried to be responsive and respectful to it customers and partners. In a statement, it said, "As part of our Company's core values, we serve diverse individuals and organizations."
This time, companies are taking a different approach.
On social media, Best Western and Wyndham both responded more than 100 times on Twitter to users asking about their relationship to the NRA.
"Best Western Hotels & Resorts does not have an affiliation with and is not a corporate partner of the National Rifle Association," the company wrote to users.
"Hello. Please know, Wyndham is no longer affiliated with the NRA," the Wyndham Rewards account said.
Business and political experts say the next thing to watch will be the actions of Republican lawmakers.
After the 2016 shooting at the Pulse nightclub in Orlando, Fla., Democratic lawmakers in Florida attempted and failed several times to ban assault weapons.
On Friday, Republican leaders of the Florida Senate and House announced they would file companion bills to increase the minimum age for buying firearms from 18 to 21 and ban "bump stocks," which modify a semiautomatic weapon to fire like an automatic rifle. Lawmakers also proposed imposing a three-day waiting period for gun purchases in the state.
Such proposals marked a break with the NRA. The state's Republican governor, Rick Scott, also called for legislation to tighten gun laws, though not as strictly at the Parkland students and gun control advocates had hoped.
However, changing the minimum age, and the other proposed gun law changes, are "marginal concessions" that Republicans are making, and they're still shying away from taking substantially different stances on gun policy, said Timothy Werner, associate professor of business, government and society at University of Texas.
"I think that it's completely admirable, and I would never want to dissuade anyone from any persuasion from participating in politics, but I think the roadblock they're going to hit in terms of actual change is that while getting firms to distance themselves from the NRA might be easy, getting people who have institutional power to change is going to be very difficult," he said.
Special correspondent Jenny Jarvie contributed to this report.
---
UPDATES:
6:30 p.m.: This article was updated throughout, adding comments from Mary-Hunter McDonnell, Timothy Werner and Andrew Arulanandam.
This article was originally published at 9:50 am.
Sign up for Essential California for news, features and recommendations from the L.A. Times and beyond in your inbox six days a week.
You may occasionally receive promotional content from the Los Angeles Times.