Seattle mayoral race becomes a crowded contest with 21 candidates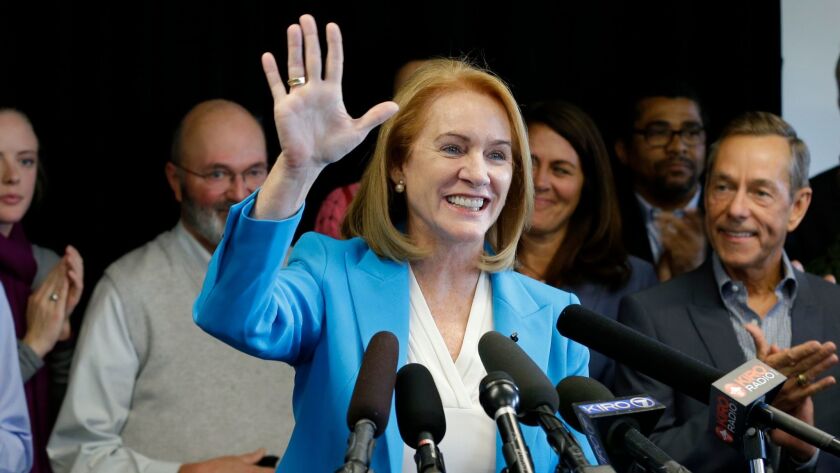 Reporting from SEATTLE —
It's the mayoral race that, just a few months ago, no one saw coming. Then, with a bulging campaign bank account and a solid lead in the polls, Ed Murray was on his way to being reelected to a second term as mayor of what the Census Bureau called America's fastest-growing city.
Thanks to powerful Democratic connections and a solid economy buoyed by Amazon.com, Murray had kept the competition at bay.
Then came the lawsuit.
In April, Delvonn Heckard, 46, claimed in court papers that Murray, 62, sexually abused him when Heckard was a drug-addled teen in the 1980s. Three other men came forward to make similar claims. Murray denied the accusations but, under pressure, announced in May he wouldn't run in Seattle's Aug. 1 primary.
Three weeks ago, Heckard suddenly dropped the lawsuit, claiming he wanted to wait until Murray was out of power and promising to refile later. Murray quickly claimed vindication and toyed with running again as a write-in candidate. He passed on that but promised to explore legal options, suggesting that Heckard's attorney had politically exploited his client to end Murray's career.
"You were not successful," Murray said in comments directed at the lawyer during a televised news conference last month. "I will continue to be mayor of this city."
But only until his term ends in December. Thereafter, it will be one of 21 candidates who suddenly stormed the county elections office after Murray announced his withdrawal from the race.
The Seattle mayoralty, a prized sort of end-of-career job paying $175,000 a year, historically has not been a jumping-off place for those who seek higher office in Olympia or Washington, D.C. That's a route more often taken by the mayor's counterpart, the King County executive. Several execs have moved on to become governor or take D.C. roles. One, Gary Locke, went on to become President Obama's Commerce secretary and later ambassador to China.
Even with Murray's departure, no one is expecting major changes to an office that has been a modern model of liberalism. If the polls can be believed, Murray, the city's first openly gay male mayor, is likely to be replaced by the city's first openly gay female mayor, another devoted Democrat who shares Murray's goals.
Jenny Durkan is among an energetic and eclectic crowd of well-known figures and also-rans vying for a spot in the primary. The top two vote-getters will face off in November.
The ultimate winner would oversee a city of about 700,000, where crime is comparatively low and the economy spectacularly climbing. On average, the Census Bureau says, 57 newcomers take up residence here every day.
Still, challenges remain, and each candidate was willing to pay a nearly $2,000 registration fee for the opportunity to at least sound off on Seattle concerns far away (President Trump and Atty. Gen. Jeff Sessions) and close to home (Amazon.com's relentless downtown expansion and traffic gridlock).
Jessyn Farrell, a former state legislator who quit the House to run for mayor, summed up the latter problem:
"Being stuck in traffic is the worst. It harms our quality of life, our health, our economy and our environment. A recent study showed the average Seattle commuter wasted 55 hours stuck in traffic in 2016, ranking us in the top 10 nationally for worst gridlock."
Most of the Seattle 21 indicate they will faithfully engage in the city's preponderantly Democratic, if not far-left, politics. The City Council, for one, is weighing a plan to establish an income tax on the rich; if approved, the ordinance would impose a 2% tax on single residents with yearly incomes exceeding $250,000 and married residents with incomes over $500,000.).
A good number of candidates hope to win votes by bashing the Trump administration. Libertarian Casey Carlisle, for one, supports Murray's defiant stand against Sessions, who threatened to revoke some federal funds if Seattle remains a sanctuary city. The mayor said he'd find supplemental funding while suing the U.S.
"The lack of federal funding would be a badge of honor for our city," Carlisle said. Seattle then can brag that "we don't accept money from Trump."
Conversely, businessman Gary Brose has chosen to go against the Seattle tide, opposing the city's effort to gradually raise the minimum wage to $15 and a proposed city-county drug-user injection center for addicts, the first in the U.S. He told Ballotpedia that "the police are somewhat unnecessarily restrained due to the federal involvement here," referring to a Justice Department lawsuit seeking reforms after years of police abuses and civil rights violations.
The primary field also includes former Mayor Mike McGinn, a bike-riding enthusiast who is blamed by many for Seattle's gridlock by turning streets into bike lanes, while 70-year-old Thom Gunn is running because the Seattle he remembers has disappeared: "We took a beautiful farmer's daughter, the City of Seattle, and we made it a dog," he told Seattle Weekly.
James W. Norton Jr., a Seattle police officer, said he was inspired to pay the $1,954 entry fee because of people he met responding to 911 calls; they are the citizens most affected by government policies and convinced him changes are needed.
Candidate Mary Martin, a Socialist, says, "My party and my campaign oppose all forms of the meritocratic liberal hysteria, which, while it's directed at Trump, actually attacks the working class."
Leading the polls for now is Durkan, appointed by President Obama as the U.S. attorney for the Western District of Washington in 2009, when, as she explains, "I became the first openly gay U.S. attorney in our country's history. That only took 211 years."
Durkan served until 2014 and now heads a Seattle law firm. She says solving homelessness is one of her priorities. "We need to get people in housing and not living in tents, under bridges and in their cars," she said. "There are nearly 3,900 unsheltered people experiencing homelessness in our city. That's heartbreaking and unacceptable."
If Durkan becomes mayor, it would create an odd tension on at least one front. Though Washington is one of the few states to legalize retail marijuana sales, the drug remains illegal under federal law — and as U.S. attorney, she had cracked down on medical marijuana dispensaries.
But this is Seattle, where reinvention is part of the civic character. Durkan hasn't endorsed pot sales outright, but she had noted an upside to a different kind of enforcement.
"We cannot go back to the old approach ," she said. "The way that marijuana was enforced previously and in some states today is one of the main reasons that an entire generation of African American men were locked up unnecessarily  —  and I'm proud that we're leading the nation in the new path forward."
Anderson is a special correspondent.
---
The Latinx experience chronicled
Get the Latinx Files newsletter for stories that capture the multitudes within our communities.
You may occasionally receive promotional content from the Los Angeles Times.