$1.5-million reward offered to solve 2001 slaying of federal prosecutor and gun control activist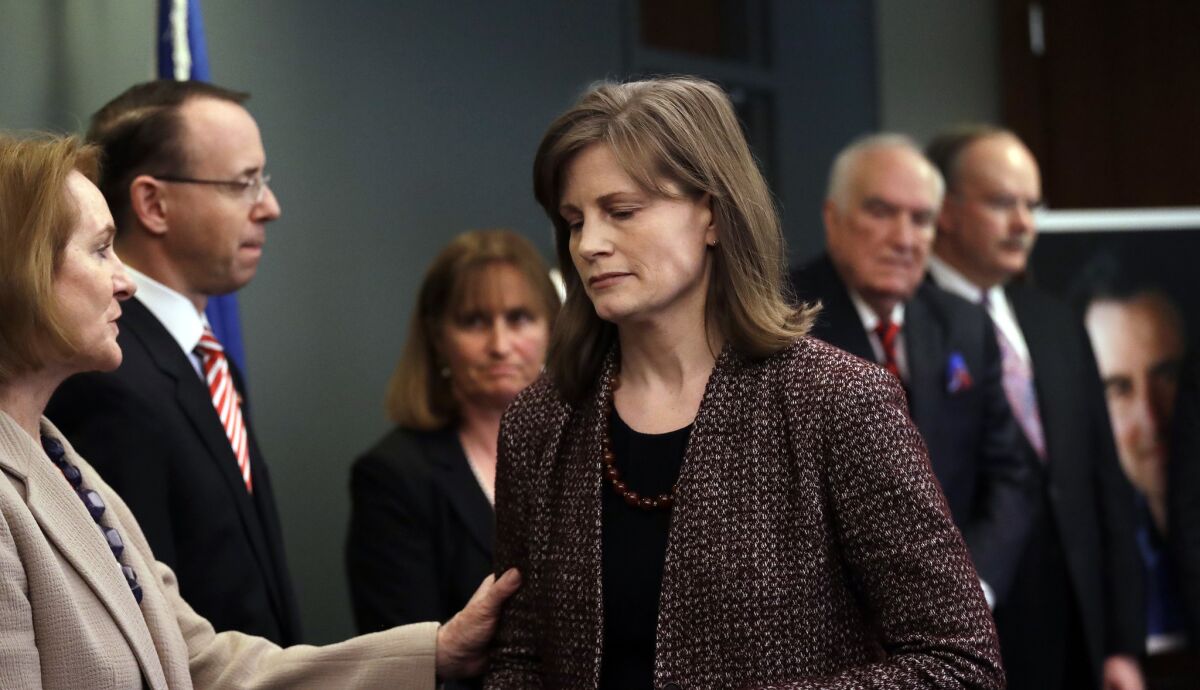 Reporting from SEATTLE —
Federal investigators have spent 16 years attempting to track down the killer of Thomas C. Wales, 49, the first federal prosecutor in U.S. history to be killed in the line of duty.
FBI and Justice Department officials still can't say with certainty who stood in the darkness outside the window of Wales' home office in Seattle on Oct. 11, 2001, and ambushed him while he sat at his computer.
But on Wednesday an upbeat Deputy U.S. Atty. Gen. Rod Rosenstein, the Justice Department's No. 2 official, said investigators still hope there are people waiting to tell all.
And now there's enough reward money — more than $1.5 million — to perhaps loosen some lips.
Besides the $1 million long offered by the Justice Department, the National Assn. of Former United States Attorneys added $525,000 to the Wales reward fund this week.
The FBI intends to crack the case of the "cowardly killer," Rosenstein told reporters clustered in the Thomas C. Wales Conference Room at the U.S. Courthouse in Seattle. "Any attack on a law enforcement officer is an attack on the entire justice system. We will not rest until it is completely solved."
The motive for the killing has remained a mystery, though some investigators speculated that it could have been prompted by Wales' activism — he was a leading figure in the national gun control movement — or by his work sending criminals to prison.
Officials say the inquiry has produced more than 2,300 "sub-files," each of them requiring a separate investigation, and has resulted in the gathering of more than 51,000 investigative documents. "This is by no means a cold case," Rosenstein said.
Former Seattle U.S. Atty. Mike McKay announced the addition to the reward fund. McKay, who took office the month Wales was killed, had complained at the time that the original $25,000 reward wasn't enough, and got into a war of words with then-Associate Deputy Atty. Gen. Christopher A. Wray, who had set the amount. The fund later got bumped up to $1 million.
This time it was McKay's association that did the bumping. And Wray is now President Trump's latest FBI director.
Wednesday's announcement was the first major update in the case since a 10th anniversary news conference, though officials did not discuss new leads. "We hope the reward provides the additional incentive to do the right thing," Rosenstein said.
Wales' daughter, Amy Wales, asked that anyone with information "please come forward and share it."
A tall, athletic and intense assistant U.S. attorney who had specialized in fraud cases since 1983, Thomas Wales left investigators a wide array of persons of interest to question. Besides those he prosecuted and imprisoned, he regularly angered some gun rights opponents as the enthusiastic leader of a gun control organization, Washington CeaseFire.
At the time, he was on the warpath against the so-called gun show loophole (no background checks required). "Get outraged!" Wales liked to say as he ran down his eclectic list of foes: the National Rifle Assn., death penalty supporters, and even global warming deniers.
One of the slugs that ripped through his basement window around 10:30 that night hit him in the throat. The divorced father of two crumpled at his desk. He was able to press 911 on his phone but could only mumble.
The figure in the backyard of his restored 1905 home on Queen Anne Hill had fired at least four rapid shots, confident the faithfully unarmed Wales wouldn't return fire. The shooter slipped away along a narrow side yard, and a neighbor peeked out to see someone walk briskly to a car and speed away.
Wales had locked away embezzlers, con artists and corporate swindlers, and passionately — some say arrogantly — opposed gun rights advocates. Then there was the date: exactly a month after the Sept. 11 terrorist attacks. Was the shooting terrorism-related?
Wales' neighbor, then-Seattle Police Chief Gil Kerlikowske, who'd go on to become President Obama's "drug czar" and later head up U.S. Customs, called it an assassination.
Anderson is a special correspondent.
---
Must-read stories from the L.A. Times
Get the day's top news with our Today's Headlines newsletter, sent every weekday morning.
You may occasionally receive promotional content from the Los Angeles Times.