They said he might never walk. Now he can't stop running
Reporting from Shoreline, Wash. —
The man runs.
It's damp and just above freezing on a January morning. He wears shorts and an undershirt and a mesh tank top.
His gait is not smooth or pretty. He has a severe limp, and sometimes he has to walk. His left leg, as he puts it, "is doing all the work."
But he keeps going. Every day for the last decade. Up to 84 miles a week.
Cars honk incessantly, just to say hello. Almost everybody in this sleepy Seattle suburb knows Lamont Thomas, or at least has seen him.
"He'll be out there in the pouring rain with just a basketball jersey," says Sam Wineinger, who works at a car dealership in nearby Everett and started a Facebook page several years ago for locals to discuss the mysterious running man.
"When I made the page, I didn't know his story," Wineinger said. "I can't say I was doing it for the best reasons. If people don't know his story, I can imagine that they'd think he's strange."
The story starts on a March morning in 1989.
Sharron Moore had just dropped off her daughter at work and headed back to northeast Seattle. Her two grandsons, 20-month-old Lamont and his 4-year-old brother, Christopher, rode in back in car seats.
When they arrived home, Moore unfastened their safety belts and walked inside, expecting the boys to follow.
But minutes later it was a distraught neighbor who showed up at the door in a panic. Lamont had chased his brother across a patch of grass and into traffic.
A car had slammed into him, then dragged him four houses down the road.
He arrived at Harborview Medical Center by helicopter in critical condition. Both thigh bones were broken. His skull was shattered. His brain was damaged. His right side was partially paralyzed.
Some doctors thought he might never again walk on his own. One told Moore that her grandson "might be retarded."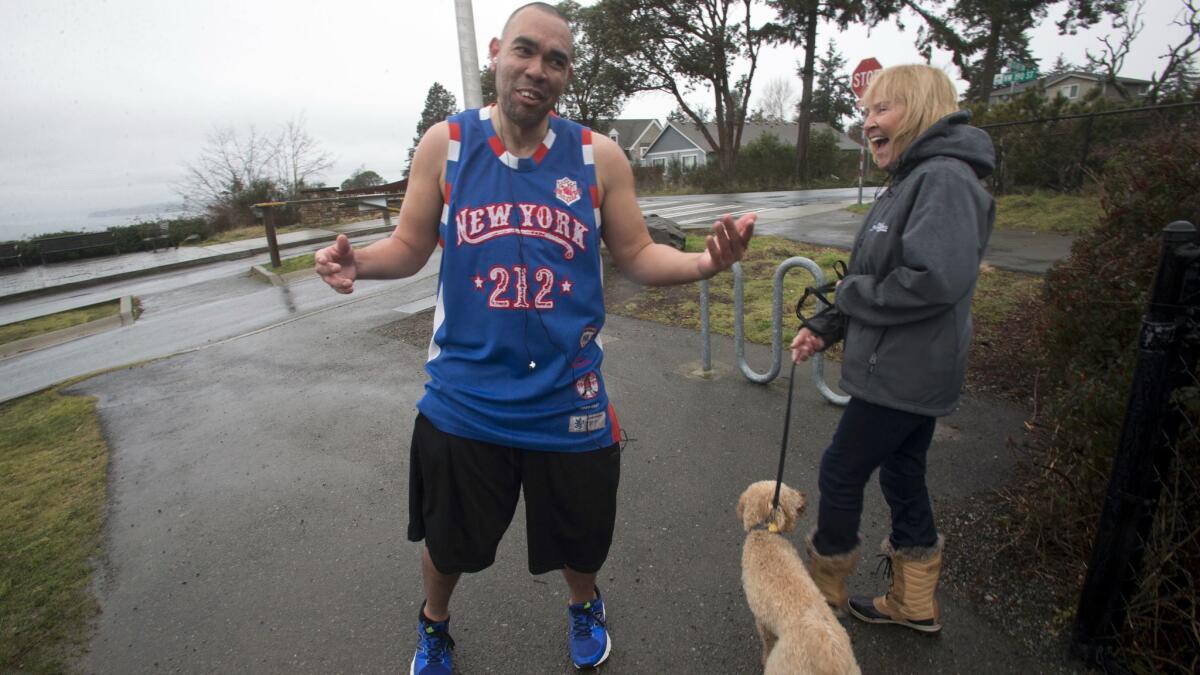 His childhood was filled with wheelchairs, walkers, crutches and casts. Seizures and bullying marked his adolescence.
"Lamont often forgets to do homework," a special ed teacher wrote on a report card in middle school. "He crumples papers and places them in his backpack rather than his folder. Many times he is sure he has turned an assignment in, but later locates it somewhere in his backpack."
With a damaged right calf muscle and right thigh bone that twists inward, he walked — with assistance — with his feet flaring outward, producing a gait that one doctor described in his notes like this: "He actually has a better running pattern than he does a walking pattern."
It was a prescient assessment.
In his senior year in high school, Thomas began walking on his own. After graduation, he asked his physical therapist about the possibility of running. The therapist expressed skepticism.
So Thomas decided to start running.
"I hated physical therapy with a passion," he said. "I decided that this was my life, this was my game."
Since graduation, he and his grandmother have lived in a two-bedroom apartment in Shoreline, a block off Highway 99.
Most mornings, he catches a bus to the downtown real estate firm where he's worked part time as a clerk since befriending one of the firm's brokers more than a decade ago on a north Seattle basketball court.
He gets home by 2 p.m. at the latest. Then he runs.
He starts on Highway 99 in Shoreline, and heads down a steep hill to the upscale neighborhood of Richmond Beach, perched above Puget Sound. Then he heads back. Each run lasts at least two hours.
"I no longer listen to the pain in my body," he said. "I just go. I just turn my music on and picture somebody across the street trying to race me."
Thomas is not retarded, as a doctor had once worried. Forgetfulness would be the extent of the permanent mental damage that he suffered.
Now 29, he operates the Facebook page Wineinger started and posts inspirational messages to his 2,281 online friends.
"You hold the reigns to your potential!" he wrote recently. "It's often we see visuals of that success and create it as the vision others have obtained. The truth is you are your own story of success so you are in charge of that vision. Never give up!"
Schools and community groups put him onstage to give motivational speeches. With the help of a coauthor, he has also penned a memoir.
He "said to me, 'It'll be really great for me to go and give the talks that I give with this book, because I'll have a script,'" says John Budz, a Seattle resident who cofounded Ward Street Press, which intends to publish the book this year. "He sometimes forgets what he wants to say, and now with the book, he'll have something to read from."
Once a local curiosity, Thomas has become a legend in Shoreline. When he escorts his grandmother to the grocery store, she said, his fans swoon: "There's always someone in there who says, 'I know you. You're the runner.'"
Seely is a special correspondent.
Sign up for Essential California for the L.A. Times biggest news, features and recommendations in your inbox six days a week.
You may occasionally receive promotional content from the Los Angeles Times.