Seattle's Space Needle, showing signs of age at 55, is getting a 'space lift' -- at a cost of up to $100 million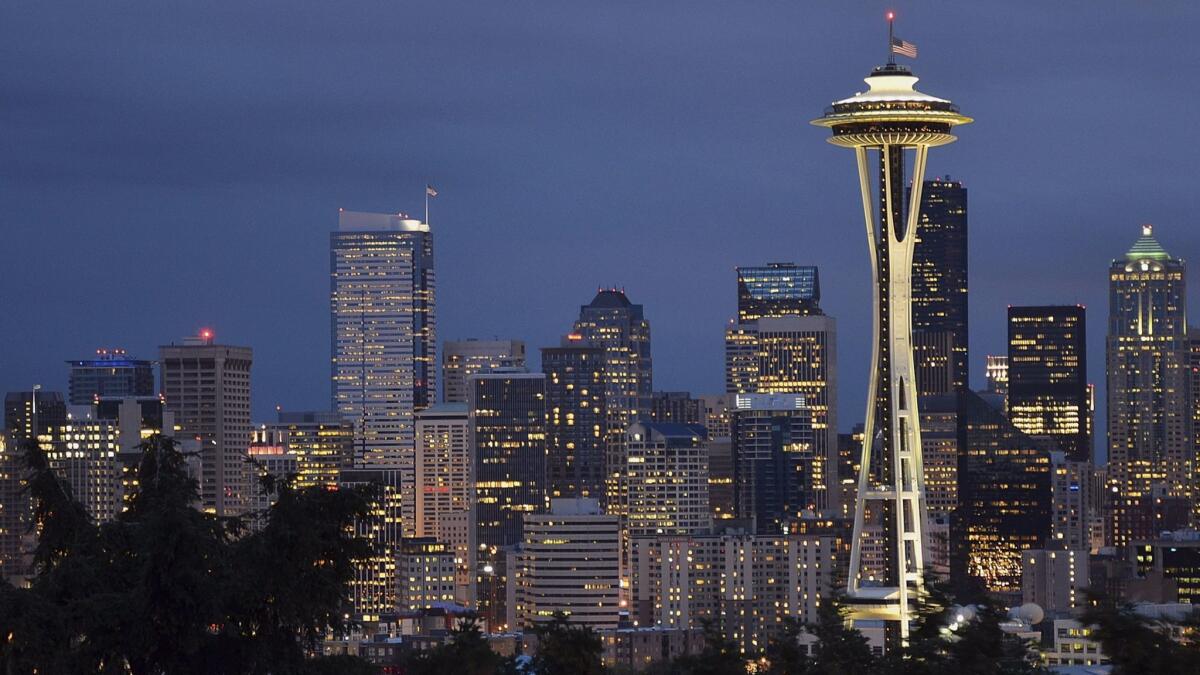 Reporting from SEATTLE —
It began as a crude sketch on a cocktail napkin. Someone thought it looked like a saucer on a stick. Four-hundred days, $4.5 million and 605 feet later, it loomed majestically over the 1962 Seattle World's Fair.
Like a saucer on a stick.
Its creators were going to call it the Space Cage, which made no sense. They later agreed on the Space Needle, pretending not to see the saucer on top.
It opened in 1962 as the tallest structure west of the Mississippi. Today, at age 55, it has dropped to the sixth-tallest — in Seattle.
Elvis sang and filmed there — "It Happened at the World's Fair." Warren Beatty played a reporter trying to solve a political assassination there — "The Parallax View." For a while it could be seen weekly through the sliding glass doors of "Frasier."
When the Beatles came to town, they were asked whether they'd visited the Needle. They'd seen it from afar, John Lennon said — "but I'm afraid of heights."
It has now been around long enough to become habitually referred to as Seattle's "iconic Space Needle." But if iconic means old, the Needle is about to amend that.
Having welcomed its 45 millionth visitor in 2007 and now averaging more than a million visitors annually as the Northwest's No. 1 tourist attraction, the hourglass-shaped structure on which a UFO appears to have landed is getting a face lift, or "spacelift," as the Needle calls it.
It's had several along the way, but this one will fuse the past and future. The makeover that began in September will include a feature the original builders had wanted but couldn't pull off back then: A walking-on-air glass floor in its revolving restaurant, the currently closed SkyCity, at the 500-foot level.
Knute "Skip" Berger, the Needle's consulting historian, says the tower helped shape Seattle's identity.
"It was a high-rise fantasy in a low-rise city," Berger says about the origin of the Needle, which today towers over Seattle Center, the former world's fair site. "It helped Seattleites see our urban work in progress, understand our complicated geography, and shows off the beautiful natural setting.
"I've long thought it was our answer to Mt. Rainier. We're a city that wanted to be known as a city of the future, not as a port town next to a volcano."
The panoramic views that attract diners and other visitors also will be expanded in the under-renovation observation deck above SkyCity. New floor-to-ceiling windows are being installed to broaden the bird's-eye perspectives (weather permitting) of Seattle, Puget Sound and encircling mountains — Rainier, Mt. Baker, the Cascades and the Olympics.
Needle officials say their private company expects to spend up to $100 million on renovating the historic landmark that was completed in just over a year and called the "400-Day Wonder" by U.S. Steel.
Earlier renovations included adding a second, casual restaurant and banquet facility at the 100-foot level in the 1980s, though critics felt it was an intrusion on both history and the graceful final Needle design by John Graham.
Needle officials think the newest changes will be welcomed by tourists and entice more locals to visit.
"I believe we'll look back at this as a pivotal moment in the history of the Space Needle," said Jeff Wright, chairman of Space Needle LLC, whose father, Howard S. Wright, was one of the original builders and later bought out his partners.
"This project both connects us back to our roots, to the vision that my father and his partners had when they built the Space Needle in 1962," said Wright in a statement, "and guides us forward into the future for generations to enjoy."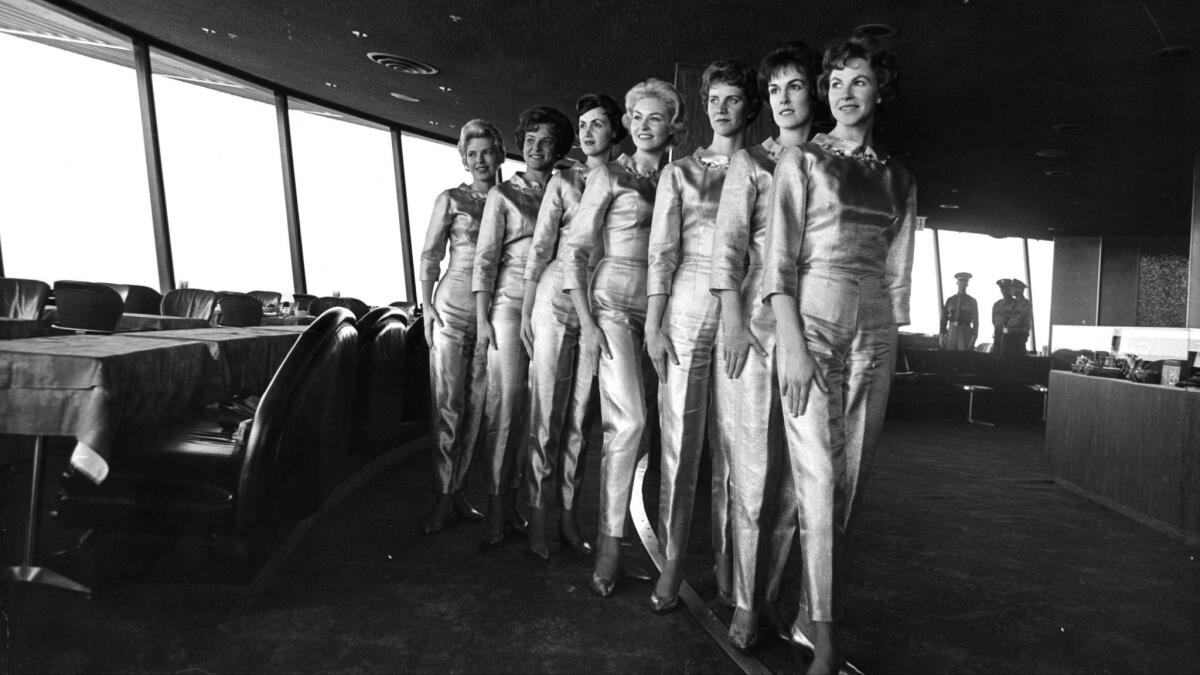 Louise and Robert Workman, a Virginia couple who alighted in the observation area from one of the Needle's three capsule-like outside elevators the other day, welcomed the improvements.
"We've come here on every visit and brought friends, too," said Louise Workman, 45. "I love the views, and this sounds like they'll get even better."
A Seattle man, Mark Miller, 55, said he often brings visitors to the Needle, but this day came alone. "I hear a lot of Seattle folks have never been here. They're missing out," he said.
To pull off this high-wire remodel, workers recently raised a huge, doughnut-shaped, 28,000-pound construction platform up around the Needle's tripod steel structure, anchoring it at the 500-foot level and enclosing it to protect workers and folks below. The initial construction phase is expected to end in June, to be followed by painting, elevator renovation and completion of a new restaurant and lounge.
"People will be seeing parts of the original structure that haven't been seen since the ironworkers built it," said historian Berger.
Just the other day, workers found a time capsule hidden in the rafters. It had been covered over during an earlier remodel, then forgotten. With some fanfare, the capsule was opened. It contained menus, tickets and items that weren't exactly relics, having been entombed just 20 years after the Needle opened.
Berger, author of "Space Needle: The Spirit of Seattle," said the city's cultural destiny was likely changed by the Needle's conception, first sketched out on that cocktail napkin by Edward Carlson, then president of Western International Hotels, in 1959.
"It put a pin in the map of our destiny as a tech town," Berger said. "I don't think it's a coincidence that the Amazon-South Lake Union [building-boom] phenom is happening in the shadow of the Needle, or that Paul Allen and Bill Gates, who both visited the world's fair that spawned it, have built structures literally next door."
The Bill and Melinda Gates Foundation is across the street, and Allen's Frank Geary-designed Museum of Pop Culture takes up a corner at the foot of the Needle. A "Fun Facts" page on the Needle's website shares this historical note:
"In 1966 11-year-old Bill Gates, Co-Chair of Bill & Melinda Gates Foundation and Microsoft co-founder and former chairman, won a dinner at the Space Needle restaurant offered by his pastor. Gates had to memorize chapters 5, 6, and 7 of the Gospel of Matthew, better known as the Sermon on the Mount, and he recited the sermon flawlessly."
Says Berger: "Without the Needle, I suspect Seattle would be a city with lower ambitions and probably a great wall of ugly generic skyscrapers. It suits Seattle's utopianism without taking it too seriously."
Or as the Needle's Fun Facts page reminds us, "The Space Needle is approximately 1,320 Milky Way candy bars (605 feet) tall."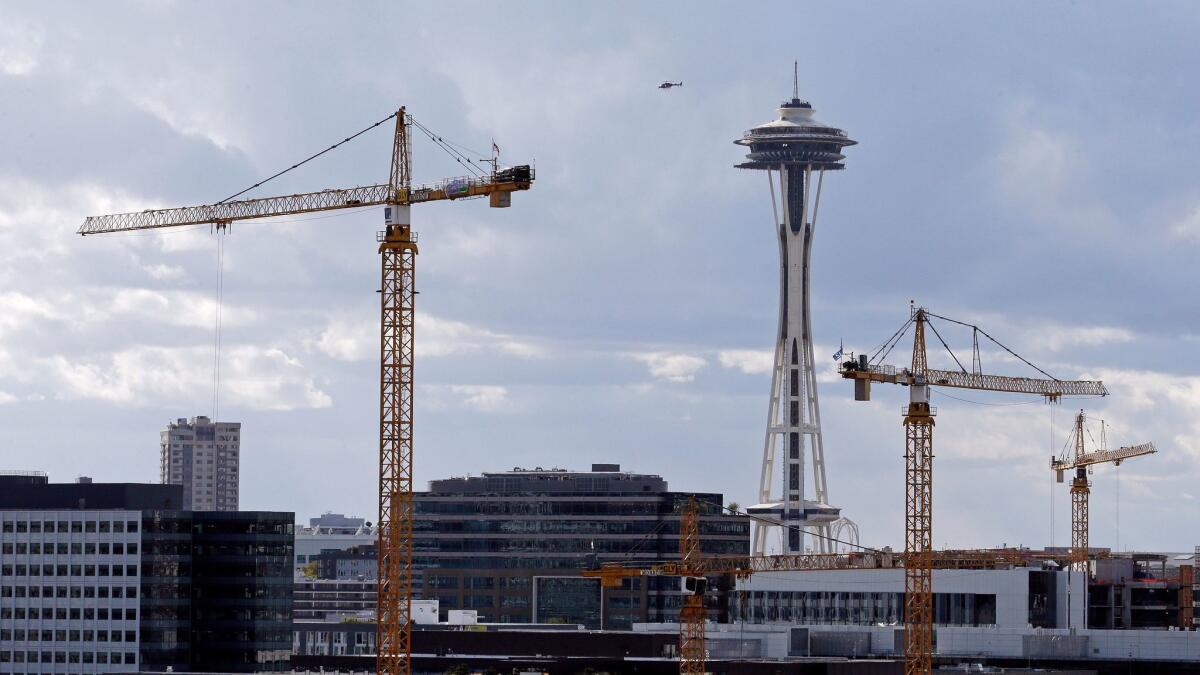 Anderson is a special correspondent.
ALSO
Pike Place Market, a Seattle favorite, freshens up with a new addition and more places to eat and shop
The Seattle of Jimi Hendrix summons the soul of the legendary musician
Sign up for Essential California for the L.A. Times biggest news, features and recommendations in your inbox six days a week.
You may occasionally receive promotional content from the Los Angeles Times.