Amazon fuming after Seattle votes to tax high-grossing corporations to help the homeless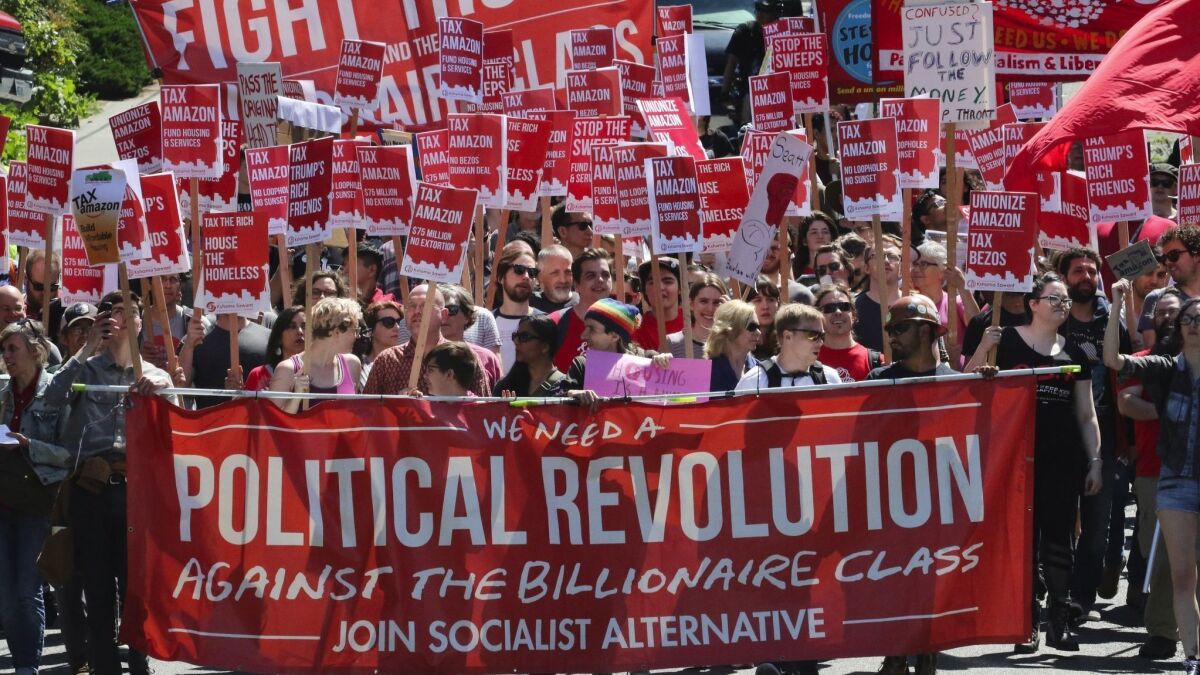 Reporting from Seattle —
After a threat by the world's richest man that he might reconsider investing in Seattle, a divided City Council came together this week and unanimously approved a new tax on high-grossing corporations — but at about half the amount originally proposed.
Both sides — the city, personified by socialist Councilwoman Kshama Sawant, and the corporations, represented by Jeff Bezos, the multibillionaire founder of retail giant Amazon — could claim some measure of victory in the reduced tax.
A council chamber packed mostly with rowdy, shouting supporters of the tax erupted in cheers and sign waving Monday once the 9-0 vote was recorded.
The result is a new tax of $275 per employee per year on companies grossing at least $20 million per year. It replaces what had been a proposed $500-per-head tax.
Mayor Jenny Durkan, who received a $350,000 campaign donation from Amazon through a Chamber of Commerce committee, had threatened to veto the higher tax.
About 3% of Seattle businesses will end up paying the tax, which will be used to help the poor and the homeless. The tax will sunset after five years but can be renewed by the council in 2023.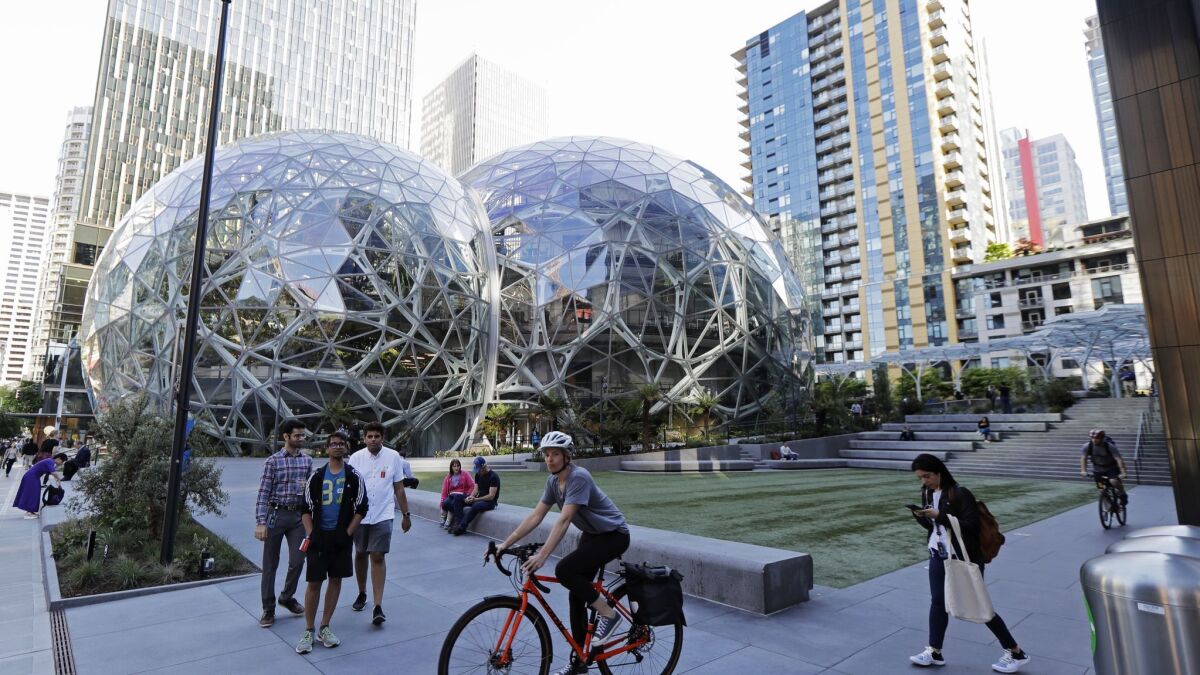 Amazon emerged as the tax's main target after the company announced it would temporarily halt work on a new skyscraper it was building in Seattle and reconsider a separate plan to move into another tower as well.
The company, which has headquarters in Seattle and employs about 45,000 workers here, never said it was flexing its muscle as the city's largest company. But many who follow politics in the Emerald City had little doubt about the intent.
Sawant said Amazon's decision to halt construction was a not-too-subtle message to the city that Seattle's biggest employer was willing to invest elsewhere and amounted to "extortion."
Amazon is already planning to build a second headquarters in another U.S. or Canadian location, offering a $5-billion investment and up to 50,000 jobs in return for free property, tax breaks and whatever else the winning city is willing to part with. Amazon recently reported first-quarter earnings of $51 billion.
Yet, Sawant said after Monday's vote that the downsized tax, which would raise close to $50 million annually to build more affordable housing and aid the homeless, was still a win for the city's poor.
The city does not have a revenue problem — it has a spending efficiency problem.
— Drew Herdener, Amazon vice president
However, Amazon Vice President Drew Herdener indicated that hard feelings linger.
"We are disappointed by today's city council decision to introduce a tax on jobs," he said in a statement. "While we have resumed construction planning… we remain very apprehensive about the future created by the council's hostile approach and rhetoric toward larger businesses, which forces us to question our growth here…
"The city does not have a revenue problem — it has a spending efficiency problem. We are highly uncertain whether the city council's anti-business positions or its spending inefficiency will change for the better."
Starbucks Corp., another of the 300 businesses that will have to pay the job tax, seconded that.
"This city continues to spend without reforming and fail without accountability, while ignoring the plight of hundreds of children sleeping outside," John Kelly, the coffee giant's senior vice president of global public affairs, said in a statement.
"If they cannot provide a warm meal and safe bed to a 5-year-old child, no one believes they will be able to make housing affordable or address opiate addiction. This City pays more attention to the desires of the owners of illegally parked RVs than families seeking emergency shelter."
Speakers told the council Monday that the city continues to fall short of full transparency in tracking how it has spent as much as a billion dollars on homeless issues in recent years. They demanded accountability and audits.
"All that," said one speaker, "and the best you've come up with is to put people in tiny boxes."
After the vote, the mayor tweeted that she would indeed sign the measure into law.
"We have a lot of work to do move aprox 4000 people off the streets and into safer places," Durkan tweeted.
"I am also focused on accountability and transparency in how this new revenue is invested and how we are using taxpayer dollars. I have heard Seattle residents loud and clear that they are concerned about whether our City is investing wisely, efficiently, and responsibly," she wrote in another tweet.
Anderson is a special correspondent.
---
Must-read stories from the L.A. Times
Get the day's top news with our Today's Headlines newsletter, sent every weekday morning.
You may occasionally receive promotional content from the Los Angeles Times.