Chinese President Xi Jinping meets with U.S. billionaires in Seattle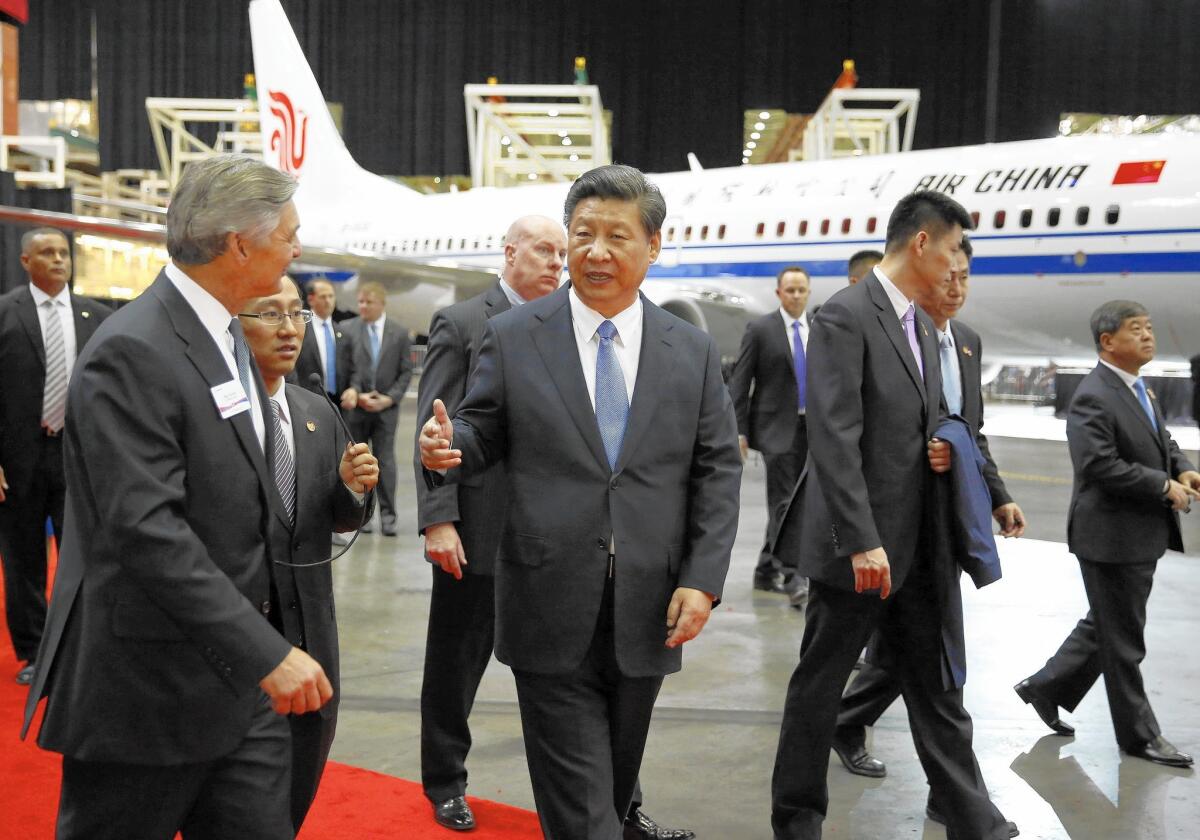 Reporting from SEATTLE —
If one of Chinese President Xi Jinping's main goals in visiting the United States was to project power for the folks back home, he'd be hard pressed to find a better event than his first public meeting here Wednesday.
There he was, at the head of a bright hotel ballroom facing down 30 powerful chief executives, talking about his country's economy in glowing terms, downplaying the difficulties China poses to American industry — things like cyberstalking, a volatile stock market, onerous regulations.
At least four men at the U.S.-China CEO roundtable are on the 2015 Forbes list of the world's billionaires. All have pride of place on the list of the top 100 richest people in the world.
To his right were Jeffrey Bezos, head of Amazon, worth $34.8 billion, No. 15 on the list; and investor Warren Buffett, worth $72.7 billion, No. 3. To his left sat Jack Ma, head of the Chinese Internet giant Alibaba Group, $22.7 billion, No. 33; and Ma Huateng, founder of the Internet services company Tencent Inc., $16 billion, No. 56.
The rest of the 30 chief executives gathered were no slouches either: Apple Inc.'s Timothy Cook and Microsoft Corp.'s Satya Nadella, Howard Schultz from Starbucks and Zhang Yaqin, head of Baidu Inc., China's answer to Google.
They gathered Wednesday at the Westin Hotel at the behest of the Paulson Institute to talk about doing business in each others' countries. And when they were done, they had an audience with Xi, head of the second-largest economy in the world, an important U.S. ally, a lucrative U.S. market, a major U.S. headache.
And they listened as he extolled the virtues of doing business in China. He insisted that his country's economy was still growing at a rate of 7% a year.
He boasted that the middle class had swelled to nearly 300 million, "about the same as the U.S. population. In the next 10 years, such a figure is expected to double, which will create an enormous market."
More than 600 million of his country's nearly 1.4 billion people use the Internet, Xi said, and more than 1.2 billion use cellphones, which has "brought opportunities for Amazon, for Cisco, Apple and other companies in this field."
"We welcome more companies from the U.S. to participate in China's development, and we hope to see more cooperation in advanced manufacturing, clean energy, environment protection, finance, IT, modern agriculture, infrastructure building," he told the group in a rare address to an American audience. "We support big American companies to set up regional headquarters and R&D centers in China."
And about those pesky problems, like cyberattacks and restrictions on foreign investment? A new day is coming, he promised.
"We are working to create a new open economic system, push forward reform of foreign investment management and greatly reduce the restrictions on foreign investment," he pledged. "GM and Ford and other car makers may increase their investment in China and develop more energy-conserving, environment-friendly cars suitable to the Chinese market."
The hotel was tightly locked down, an appropriate precaution when it was filled with politicians and business titans. Streets were closed for blocks around. Local broadcasters warned of apocalyptic Xi-generated traffic jams throughout his 48 hours in the Puget Sound.
After finishing up with the who's who of American and Chinese industry, Xi and his entourage headed off to Everett for a very lucrative visit to Boeing Co.
As is traditional when a Chinese head of state travels to the U.S., there were announcements of major purchases. Hu Jintao was the last Chinese president to visit. Before Hu arrived, Vice Premier Wu Yi sent a vanguard of purchasing groups, and the government announced deals for $16 billion in American goods.
On Wednesday, as Xi toured Boeing's wide-body commercial airplane factory, the company announced orders and commitments for 300 aircraft to Chinese customers. The list price for the planes is about $38 billion, Boeing said.
And in a move that pleased the Chinese government but infuriated Boeing's union workers, the aerospace giant also announced that it would open a facility in China — its first — to finish aircraft destined for Chinese customers.
The new joint venture will not manufacture any aviation components, Boeing said, but rather workers there would complete plane interiors, paint and deliver aircraft to Chinese buyers.
"Boeing is expanding our long-standing relationship with Chinese industry to meet vital goals for our company," said Ray Conner, Boeing commercial airplanes chief executive. "We are bringing the Boeing 737 closer to our Chinese customers, supporting rising 737 production rates and enhancing our access to China's dynamic and fast-growing aviation market."
The plant "will not reduce 737 program employment in Washington state," the company said in a statement. But officials with the International Assn. of Machinists aren't buying it.
"Our union must reiterate that ANY movement of aerospace work from our members and other aerospace workers in Washington state gives rise for great concern," the union said on its website. "Your District 751 leadership is committed to explore all avenues — contractually, legally and legislatively — to preserve and protect jobs in keeping with the fighting machinists tradition."
Twitter: @marialaganga
Sign up for Essential California for news, features and recommendations from the L.A. Times and beyond in your inbox six days a week.
You may occasionally receive promotional content from the Los Angeles Times.