Oregon standoff: Final holdouts say they just want to go home
Reporting from BURNS, ORE. —
The number of armed occupiers of a remote wildlife refuge continued to dwindle Thursday as just four people appeared to be holding out by late morning, surrounded by a large show of federal law enforcement that has blocked off roads to the area.
"We're the grunts that get stuck behind because nobody informed us of what's going on," one of the four, Sandy Anderson, said in a phone interview with the Los Angeles Times.
In interviews with The Times, Anderson and two others, including her husband, Sean, conveyed a complicated position: They said they would leave peacefully -- but only if they are assured they will not go to prison. They said they had not spoken with an FBI negotiator since about midnight.
A television truck and a reporter in a car sit along Highway 78 near Malheur National Wildlife Refuge in Oregon on Jan. 27.
(Rob Kerr / AFP/Getty Images)
Ammon Bundy, leader of a group of armed anti-government protesters, arrives to speak to the media at the Malheur National Wildlife Refuge near Burns, Ore., on Monday.
(Rob Kerr / AFP/Getty Images)
Ryan Bundy talks on the phone at the Malheur National Wildlife Refuge near Burns, Ore. on Sunday. Bundy, son of Nevada rancher Cliven Bundy, is one of the people occupying the refuge.
(Rebecca Boone / Associated Press)
Federal buildings at the Malheur National Wildlife Refuge. Protesters are occupying the refuge in Oregon to object to a prison sentence for local ranchers.
(Rebecca Boone / Associated Press)
They noted that since the occupation began on Jan. 2 many people had been able to freely come and go from the refuge. That changed Tuesday, when several leaders of the occupation were arrested during a traffic stop north of Burns and one of them was killed. In the hours afterward, law enforcement set up roadblocks around the refuge but allowed several people to leave without arrest. Some were arrested, however, including three on Wednesday.
Others chose not to leave, at least initially. The small group remaining Thursday repeatedly said they faced what they viewed as an impossible choice: being arrested -- wrongfully in their view -- or being killed by law enforcement.
"Why can't I get in my vehicle and drive home like I've done four other times since I got here?" said Sean Anderson, 47, of Riggins, Idaho, who was at the refuge along with wife Sandy, David Fry, 27, of Ohio and another man, Jeff Banta. "Because I didn't leave the night they told us to do that? I hope my life and my wife's life and Dave's and Jeff's are worth more than that."
Earlier Thursday, the group believed only Sean Anderson faced arrest. But they said in the interviews that a fifth person, whose first name they said is Jake, was arrested after he left early Thursday with the belief that he would not be. By late Thursday morning, the four remaining presumed they would face the same felony charges others have who have been arrested in relation to the nearly month-long occupation.
The FBI has not confirmed the arrest of anyone named Jake in the last 24 hours. In a release late Wednesday, the FBI did not say those remaining would not face arrest, only that law enforcement would "continue to work around the clock to empty the refuge of the armed occupiers in the safest way possible."
Earlier Wednesday, Greg Bretzing, the special agent in charge for the FBI in Oregon, said at a news conference that "the armed occupiers were given ample opportunities to leave peacefully. They were given the opportunity to negotiate. As outsiders to Oregon, they were given the opportunity to return to their homes and have their grievances heard through legal and appropriate means. They chose, instead, to threaten the very America they profess to love with violence, intimidation and criminal acts."
On Thursday, Sean Anderson echoed his wife's concerns.
"We were the grunts and now we're the shining stars who stayed," he said. "We're either going to accept the charges or they're going to kill us."
When a reporter noted that their choice was not necessarily between going free and dying -- that they could yield to law enforcement and the judicial system, as others who left the refuge had -- they rejected the notion.
"You think we're going to put ourselves into a corrupt court system?" Sandy Anderson said.
They also pointed to the shooting death during the traffic stop on Tuesday of Robert "LaVoy" Finicum, one of the leaders of the group.
Fry has been posting live videos from the refuge for several weeks.
"We're asking them just to just drop the charges and we're willing to go -- and nobody dies," he said on a video early Wednesday. "But if they're not willing to do that, we're all just kind of willing to stay here."
Fry said that in the chaotic two days since one of the occupiers was killed by law enforcement during a traffic stop, many people had been allowed to leave without arrest -- some departed so quickly they left behind their guns -- and that the same option should be offered to those who remain.
"Everybody feels it's unfair," Fry said of Sean's situation. "Right now, we're trying to tell the negotiator guy: Why don't you just give us the other option, that first option, just let us leave if we're willing to leave?"
Fry said the occupiers were willing to let the FBI check their guns to see if they were stolen.
"We're being reasonable," he said. "We're trying to be peaceful, you know? And they keep saying can't do that. He has to be charged is what they keep saying."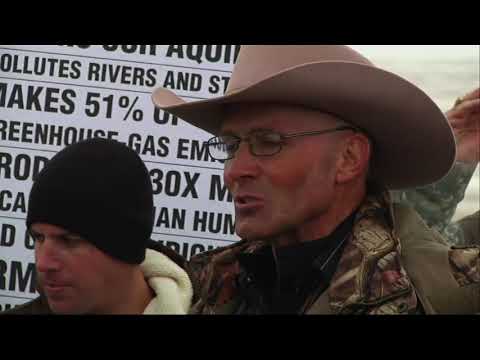 Robert "LaVoy" Finicum died during a clash between law enforcement and his group during a traffic stop. Finicum told the Associated Press in early January that the occupation of a wildlife refuge was "intended to be peaceful." He also said, indicati
The developments came hours after Ammon Bundy, the leader of the standoff who was among several people arrested on Tuesday, urged his colleagues-in-arms to "stand down" Wednesday.
By late Wednesday, several protesters still inside the Malheur National Wildlife Refuge were heeding the request, as three more people were arrested and several others were allowed to leave freely, according to the FBI and other sources.
The FBI, which began setting up checkpoints around the refuge early Wednesday, said eight people had left through the checkpoints, including the three who were arrested.
One of those detained, Duane Leo Ehmer, 45, of Irrigon, Ore., had become a symbol of the occupation. He made a custom of going on morning "patrols" carrying an American flag while riding his horse, Hellboy.
Another, Jason Patrick, 43, of Bonaire, Ga., had become an unofficial leader of the remaining group after the arrest of much of the occupation's top leadership in a traffic stop a day earlier.
Officials identified the third person arrested Wednesday as Dylan Wade Anderson, 34, of Provo, Utah.
"Each chose to turn himself in to agents at a checkpoint outside the Malheur National Wildlife Refuge," the FBI said in a statement Wednesday night.
All three face the same charge faced by the eight taken into custody Tuesday: a federal felony count of conspiracy to impede federal officers from discharging their official duties through the use of force, intimidation or threats.
"The FBI and our partners continue to work around the clock to empty the refuge of the armed occupiers in the safest way possible," the agency said.
Earlier in the day, at least some at the refuge were still expressing defiance.
"There are no laws in this United States now! This is a free-for-all Armageddon!" a heavyset man holding a rifle yelled into a camera transmitting from the refuge. He urged others to join those at the protest site, adding that if "they stop you from getting here, kill them!"
But that was before Bundy, arrested with other protesters Tuesday in a law enforcement operation that killed one of their comrades, called for those remaining in the high-desert refuge to "go home and hug your families."
Bundy and several codefendants appeared in U.S. District Court in Portland on Wednesday afternoon and were ordered held without bond.
"Right now, I'm asking the federal government to allow the people at the refuge to go home without being prosecuted," Bundy said in a written statement read after the hearing by his attorney, Mike Arnold. "To those remaining at the refuge, I love you. Let us take this fight from here. Please stand down. Please stand down. Go home and hug your families. This fight is ours for now -- in the courts."
The standoff took shape in early January when about 15 men and women took over the wildlife refuge after a march in support of Oregon ranchers Dwight and Steve Hammond, a father and son who had been sentenced to prison for setting fires on federal land.
Over the weeks, protesters issued a muddled set of demands for ending the occupation. They demanded freedom for the imprisoned Hammonds and asked that federal land be returned from the U.S. government to local landowners, the county and the town of Burns, near the refuge. And they made it clear they were willing to resort to violence if the federal government moved against them, but also said they did not want such a confrontation.
MORE: Get our best stories in your Facebook feed >>
ALSO
Where was the FBI during the armed standoff in Oregon? Out of sight, but listening and watching
Vote on new costs for solar owners is 'politically a historic moment'
Sign up for Essential California for news, features and recommendations from the L.A. Times and beyond in your inbox six days a week.
You may occasionally receive promotional content from the Los Angeles Times.