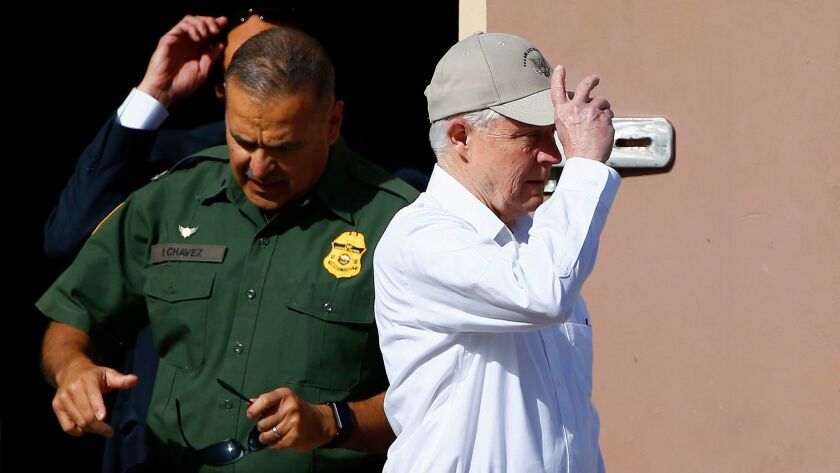 Reporting from Nogales, Ariz. —
Atty. Gen. Jeff Sessions has directed federal prosecutors in the states bordering Mexico to crack down harder on migrants who repeatedly enter the country illegally.
A memorandum made public Tuesday morning orders each of the five federal Southwest border districts — spanning California, Arizona, New Mexico and Texas — to appoint a "border security coordinator" to oversee "the investigation and prosecution" of migrants under the new policy.
"For those that continue to seek improper and illegal entry into this country, be forewarned: This is a new era. This is the Trump era," Sessions said Tuesday in a speech at the Nogales port of entry in Arizona.
The crime of improper entry by a migrant is currently a misdemeanor. Under the new policy, it will be prosecuted as a felony for migrants who already have two such misdemeanor convictions or for those with one conviction if there are aggravating circumstances, such as gang affiliation.
Speaking to a group of Customs and Border Protection agents in his first trip to the border as the nation's top prosecutor, Sessions portrayed the new policy as a move aimed at preventing drug cartel workers from entering the country.
Cartels are "criminal organizations that turn cities and suburbs into war zones, that rape and kill innocent citizens, and who profit by smuggling poison and other human beings across our borders," he said.
But immigrant advocacy groups criticized the new policy for what they said amounted to targeting migrants who pose no threat to U.S. citizens.
"Once again, Atty. Gen. Sessions is scaring the public by linking immigrants to criminals despite studies showing that immigrants commit crimes at lower rates than the native born," said Gregory Chen, director of government relations for the American Immigration Lawyers Assn. "He and President Trump are wasting more federal taxpayer dollars going after illegal border crossers instead of protecting the American public."
Advocates of reducing immigration and strengthening the borders hailed the new policy.
"The strategy is to enforce the laws, and these are crimes that should be prosecuted," said Mark Krikorian, executive director of the Washington-based Center for Immigration Studies. "Adding the emphasis on entry or reentry is what a lawful society calls for."
The policy is part of a broader plan to toughen immigration laws and speed deportations, said David Lapan, a spokesman for the Department of Homeland Security.
"You have individuals being caught here unlawfully who are issued notices to appear two years down the road," he said. The goal is a "surge" of more judges to the border area to try to shorten those waits, he said.
Sessions had already called for immigration courts to speed up prosecutions and for the Justice Department to hire 75 more immigration judges, along with 60 more border enforcement prosecutors. Meanwhile, the Trump administration is moving forward with plans to build a border wall that would require Congress to appropriate billions of dollars.
"This is no accident," Sessions told the federal agents. "This is what happens when you have a president who understands the threat, who is not afraid to publicly identify the threat and stand up to it."
He also said that having relatives in the country legally was no protection from deportation. He was responding to a question from a reporter about Guadalupe Garcia de Rayos, 36, who had been convicted of using false work papers and was suddenly deported in February despite having two teenage children who were U.S. citizens.
"Just because a child or family member enters the country lawfully doesn't mean someone else can't enter unlawfully," Sessions said,
For 20 years in the Senate, including a recent stint as chairman of the Judiciary Committee's immigration panel, Sessions was among the loudest voices opposing illegal immigration and programs for guest workers.
In his confirmation hearings to become attorney general, he faced harsh opposition from Democrats who questioned his record on civil rights.
His trip to the border was his first as the nation's top prosecutor. He was scheduled to continue his Arizona tour on Tuesday in the city of Litchfield Park at the International Assn. of Chiefs of Police Division Midyear Conference, followed by a tour of Luke Air Force Base.
Staff Writer Joseph Tanfani contributed to this report from Washington.
Follow Nigel Duara on Twitter: @nigelduara
---
UPDATES:
7:06 p.m.: This article was updated with additional comments from Sessions and background on the new policy of prosecuting improper entry into the U.S. as a felony.
This article was originally published at 4:45 p.m.
---