'Bomb cyclone' moves north, bringing frigid temperatures and coastal flooding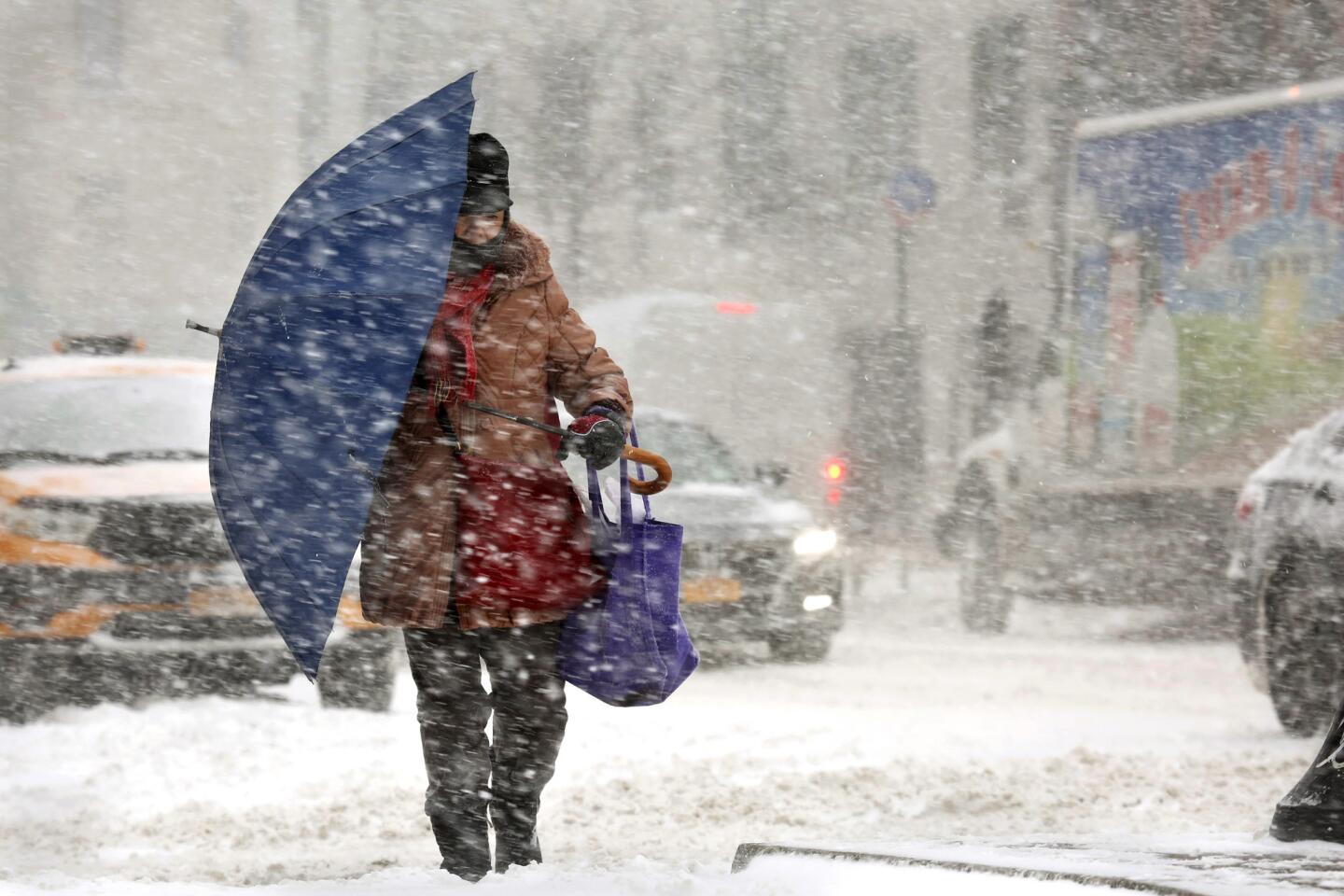 A person walks with an umbrella to block the wind and snow in Manhattan as a winter storm pounds New York on Jan. 4.
(Carolyn Cole / Los Angeles Times)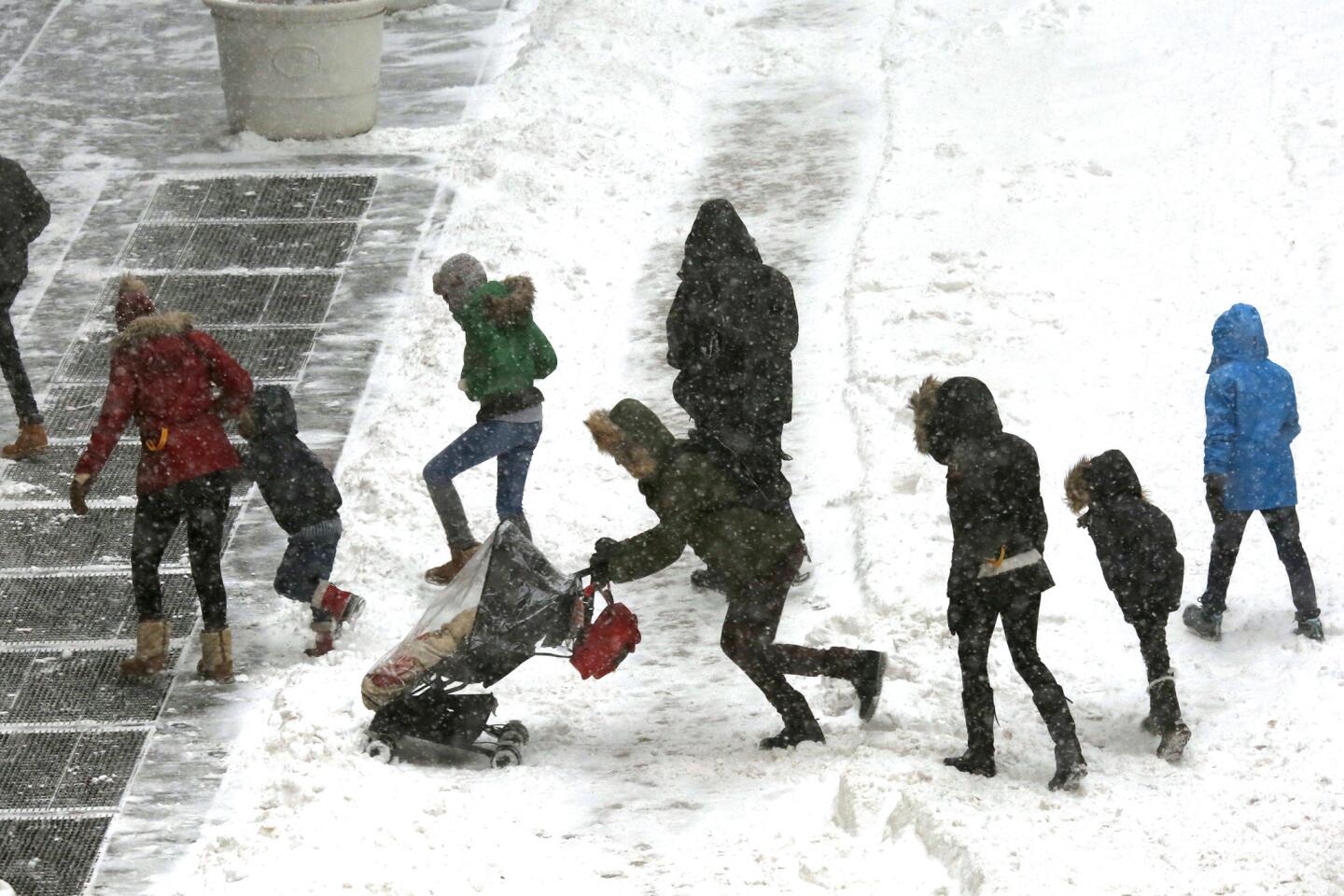 People cross 42nd Street at Grand Central Station in Manhattan as the first major snowstorm of the year hits New York on Jan. 4.
(Carolyn Cole / Los Angeles Times)
A person crosses 42nd Street at Grand Central Station with an umbrella to block the wind and snow in Manhattan on Jan. 4.
(Carolyn Cole / Los Angeles Times)
As a major winter storm pummels New York on Dec. 4, Laura Jackson makes her way across 3rd Avenue and 42nd Street on the way to a rehabilitaion appointment after having knee surgery.
(Carolyn Cole / Los Angeles Times)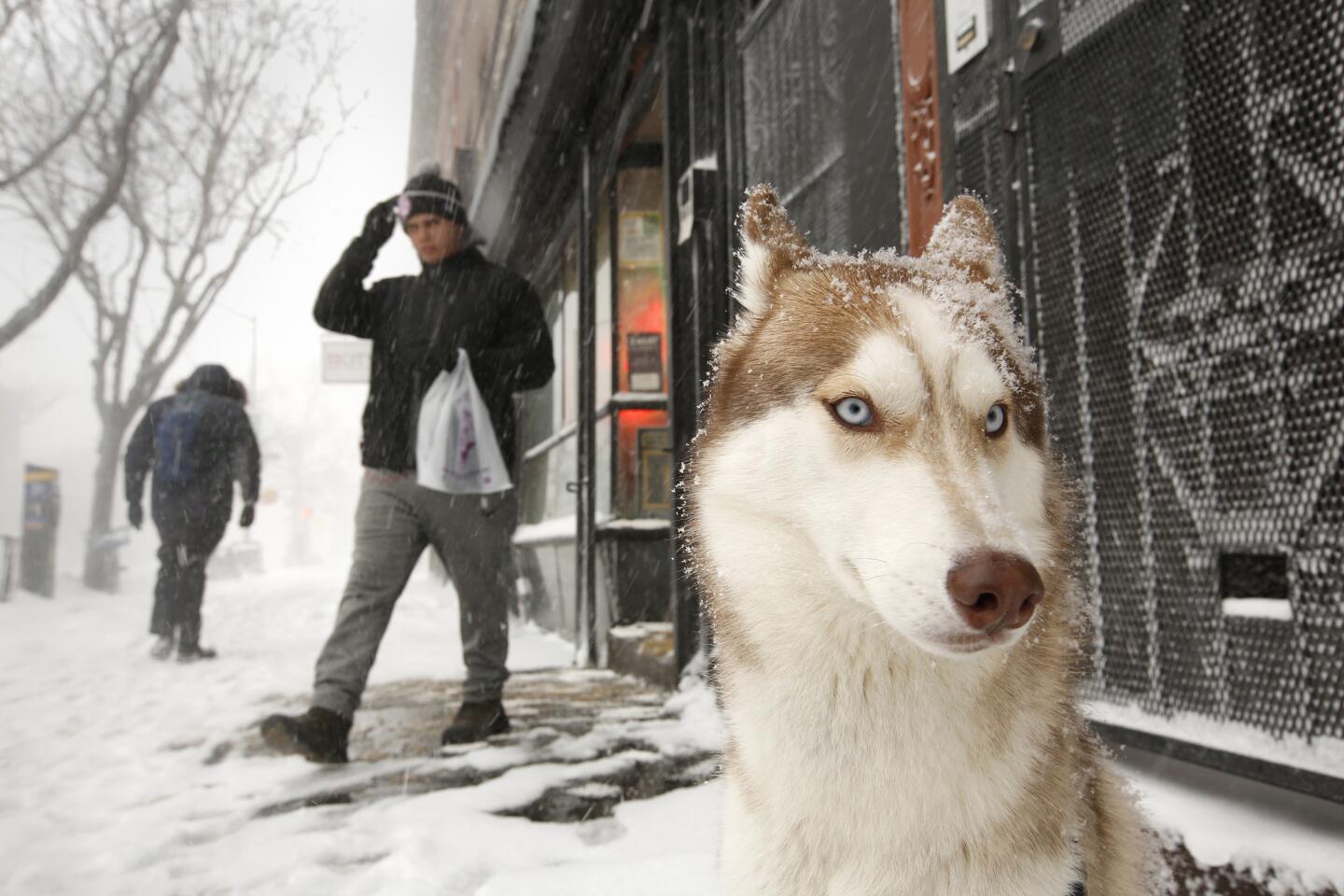 With New York in the grip of a cold and snowy storm, Theo waits for his owner, Honda Wang (not shown), as he shops in a butcher store.
(Carolyn Cole / Los Angeles Times)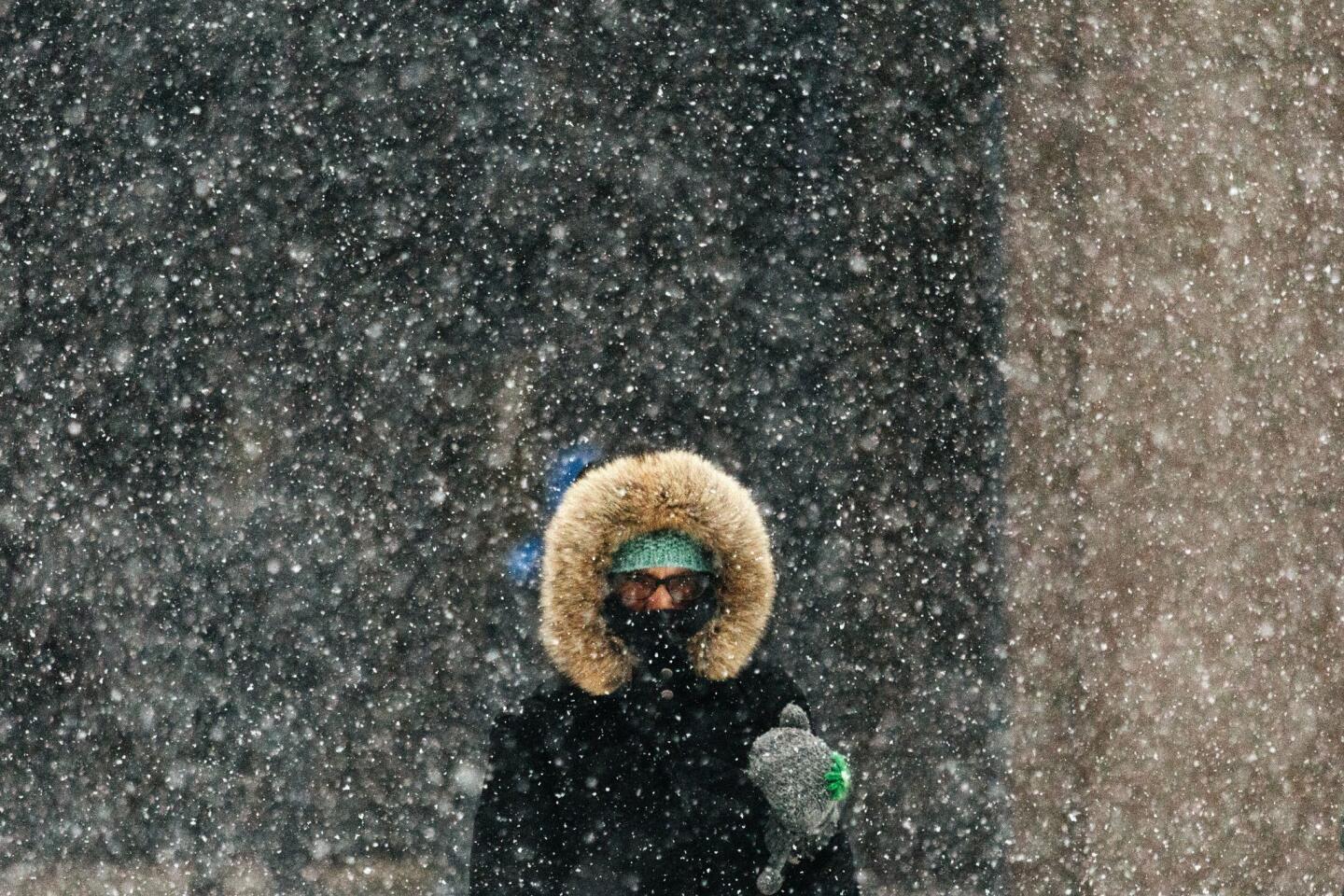 A winter storm covers much of New York in snow on Dec. 4.
(Alba Vigaray / EPA /Shutterstock)
Ice collects on the river in Chicago on Jan. 3.
(Scott Olson / Getty Images)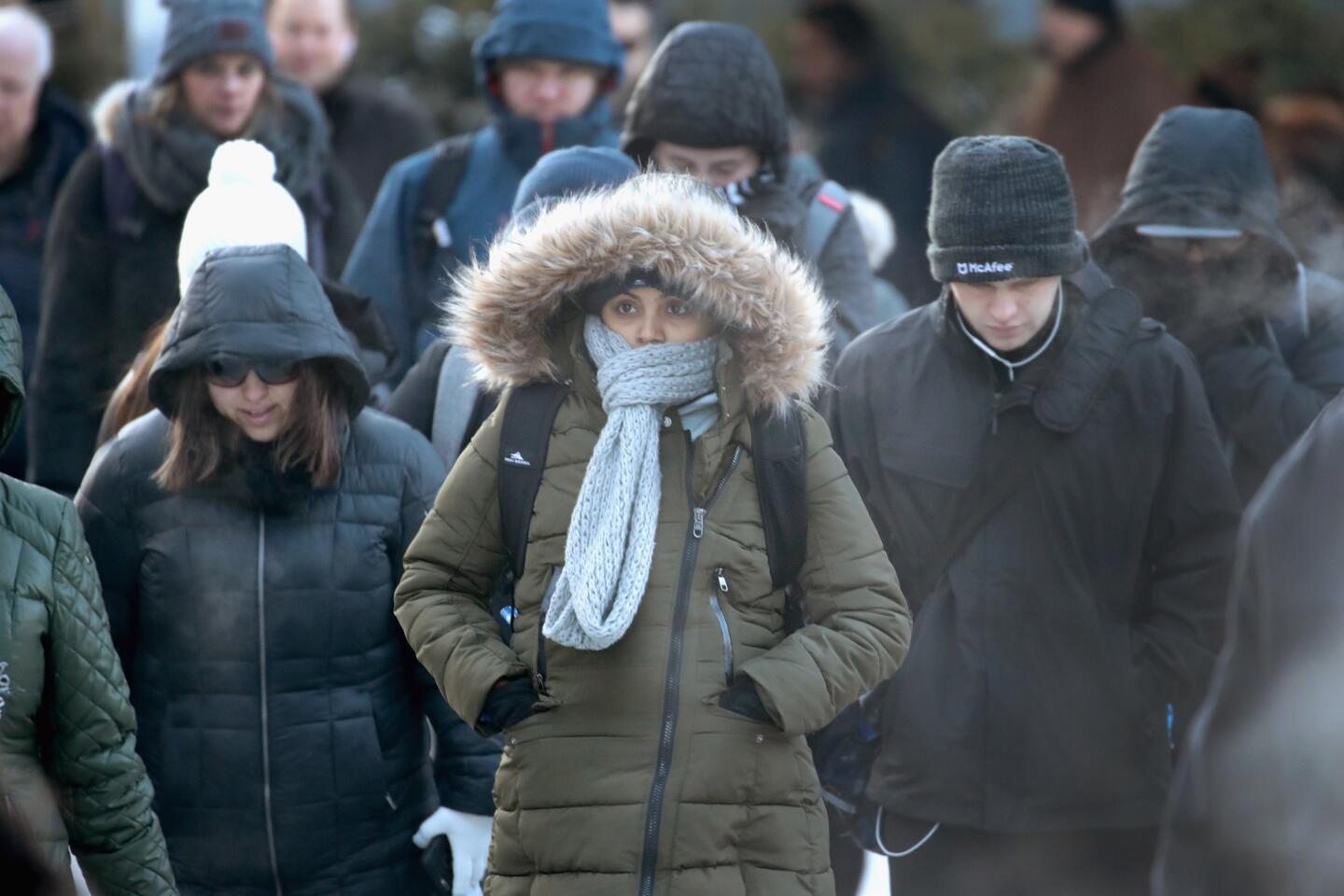 Commuters brave sub-zero temperatures as they make their way to work in Chicago on Tuesday. Record cold temperatures are gripping much of the U.S.
(Scott Olson / Getty Images)
Water squirts from a mostly frozen fountain in Charlotte, N.C.
(Chuck Burton / Associated Press)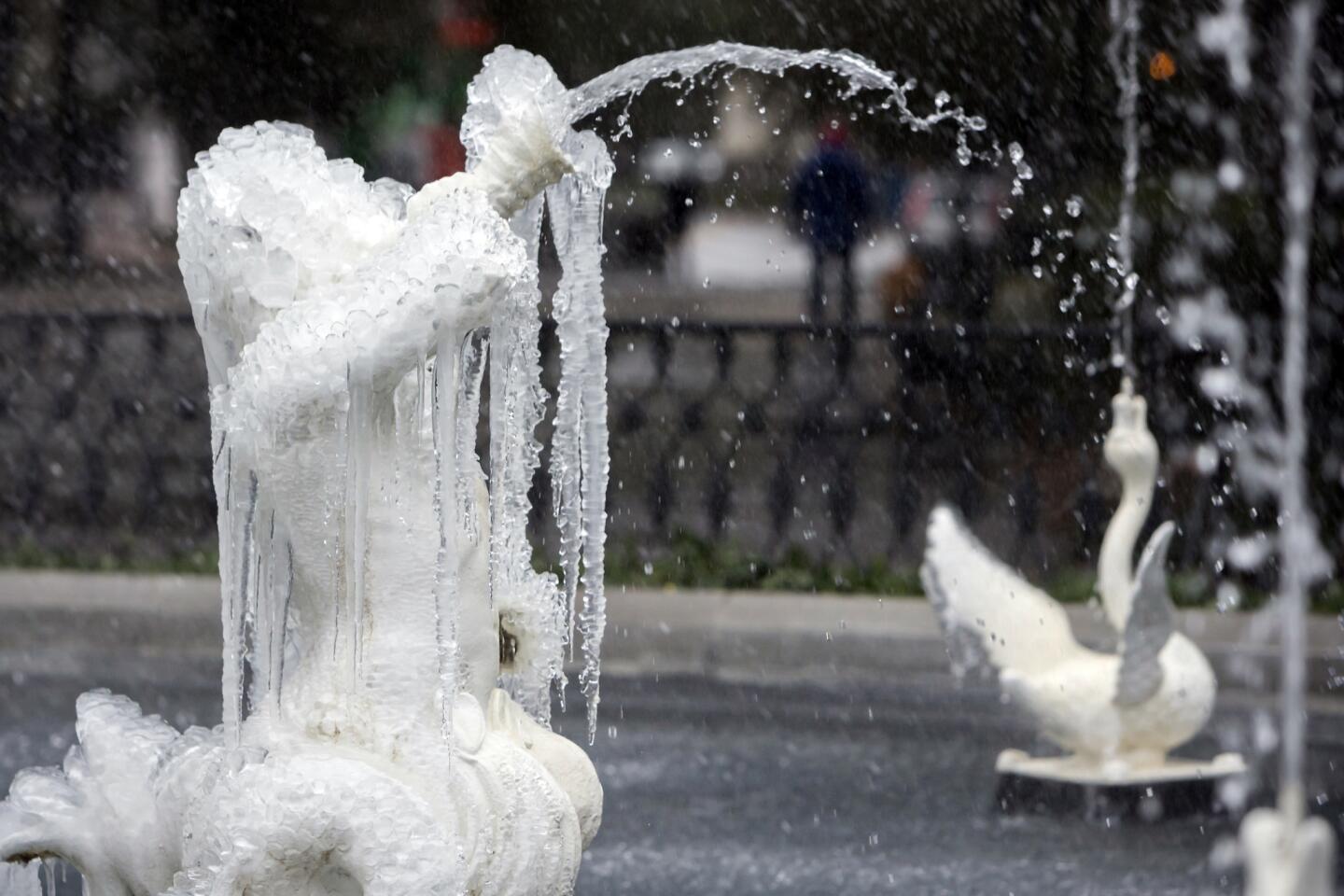 Water sputters through a frozen fountain in Historic Forsyth Park in Savannah, Ga., on Wednesday.
(Stephen B. Morton / Associated Press)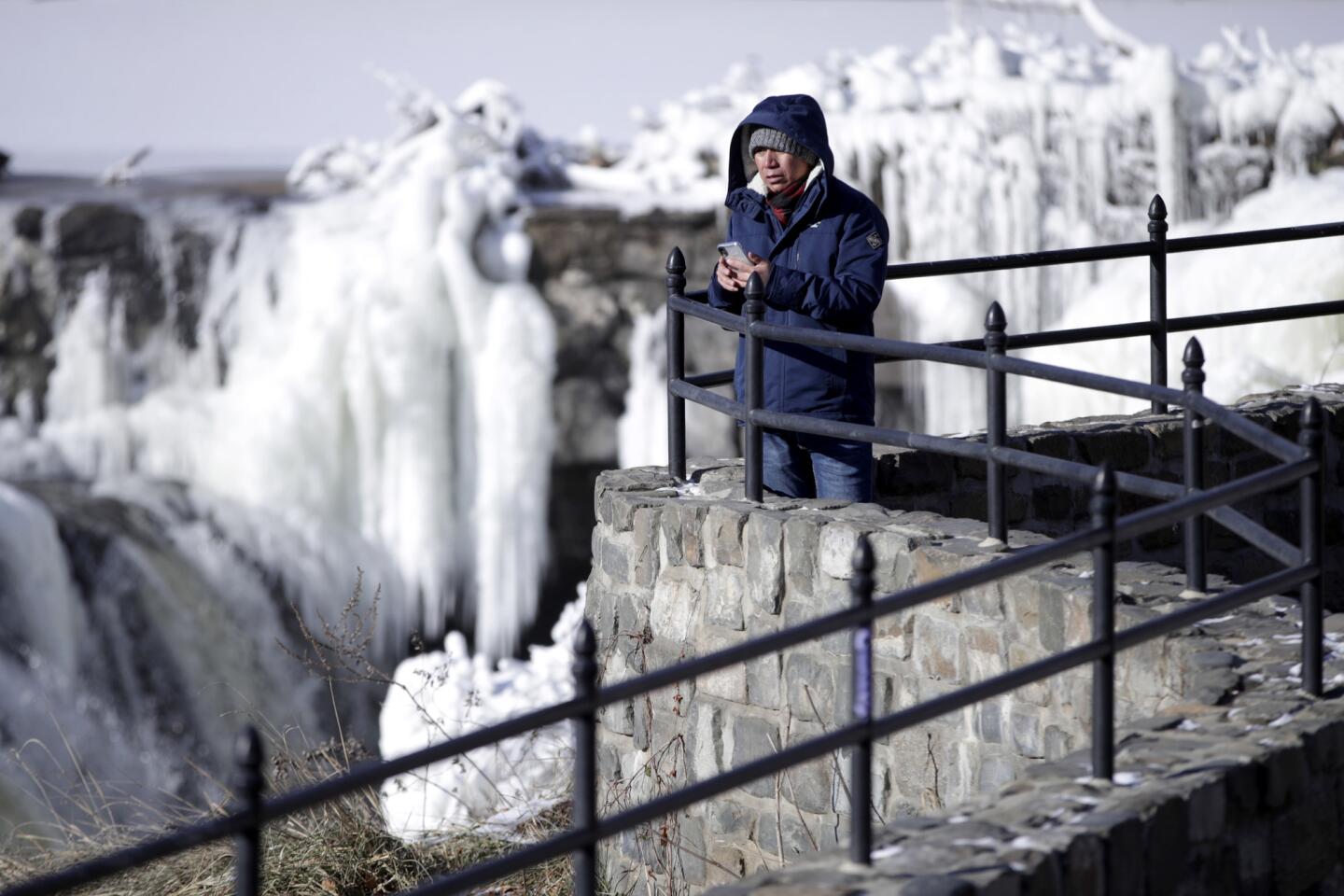 Obdulio Arenas looks over the partially frozen falls at Paterson Great Falls National Historical Park in Paterson, N.J., on Tuesday.
(Julio Cortez / Associated Press)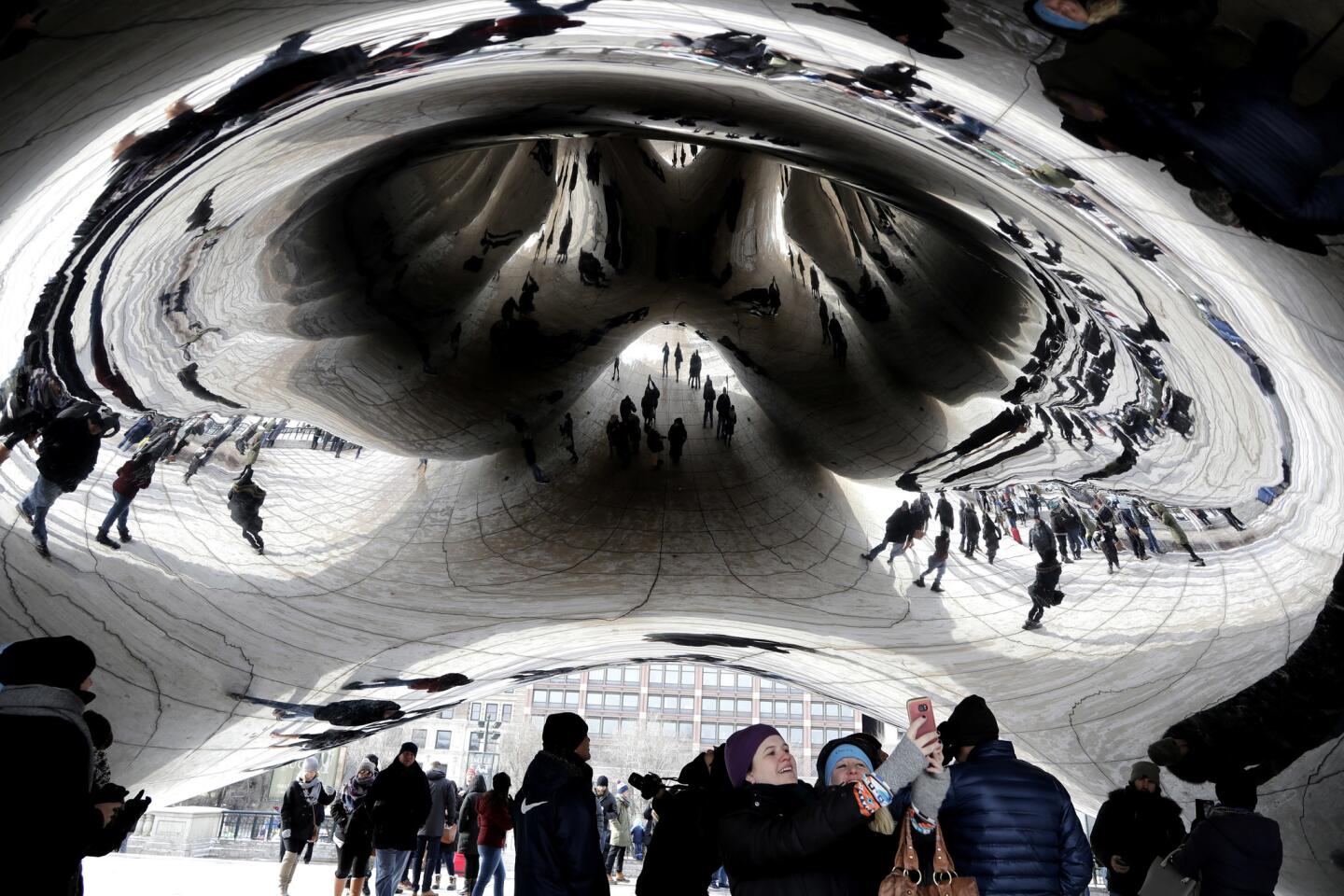 People have bundled up against the cold at the Cloud Gate at Millennium Park in Chicago on Sunday.
(Nam Y. Huh / Associated Press)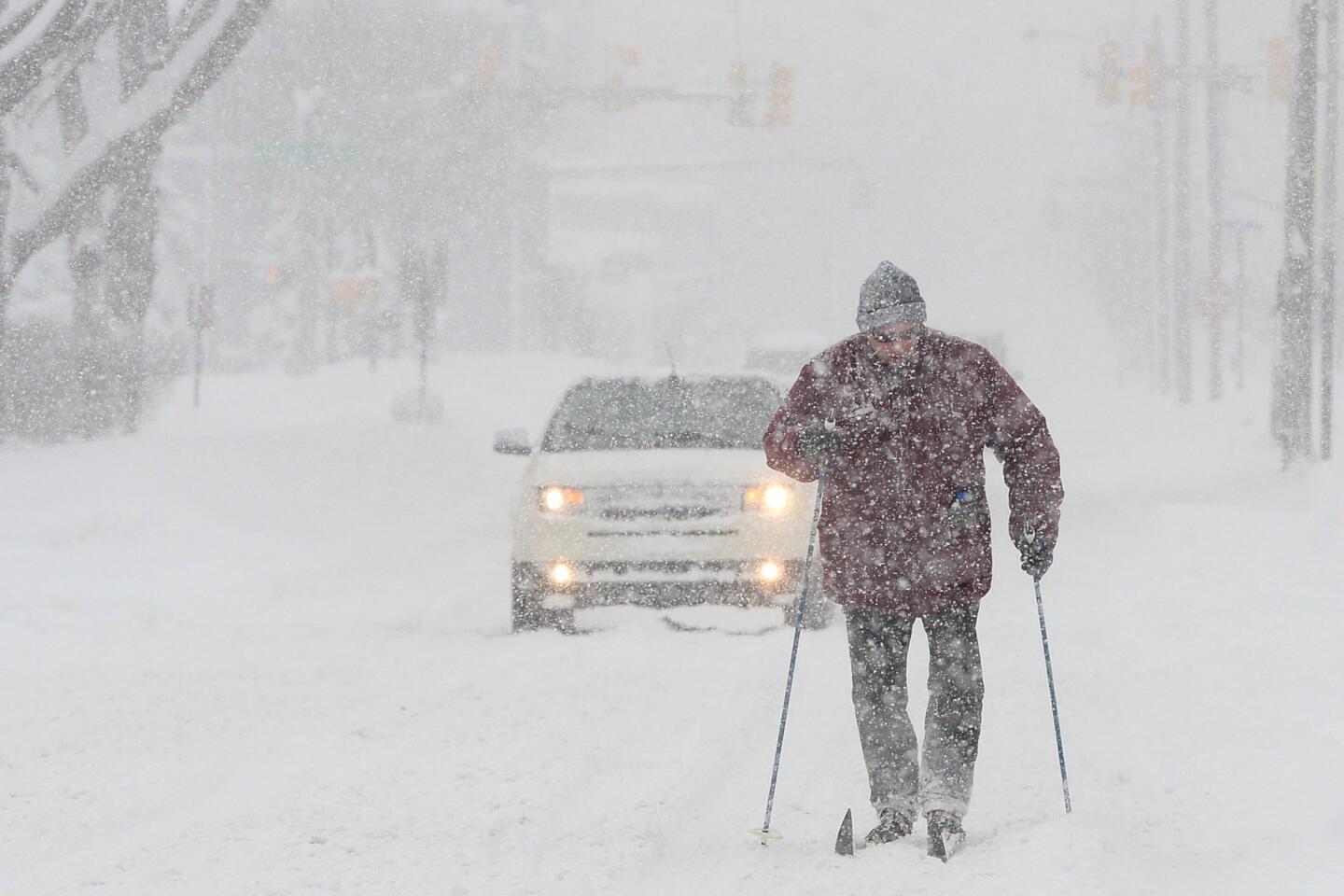 Timothy Gigone, 51, skis along a road in Erie, Pa., on Saturday.
(Jack Hanrahan / Associated Press)
A person fishes near Lock and Dam No. 11 in Dubuque, Iowa, on New Year's Day.
(Nicki Kohl / Telegraph Herald)
People pose for photographs in front of a frozen water fountain in New York's Bryant Park.
(Frank Franklin II / Associated Press)
Reporting from New York —
A monster storm continues to pummel the Northeast, covering cities from eastern Massachusetts to Maine with snow and ice, blowing down trees and downing power lines with hurricane-force winds, and flooding coastal towns with record-high tides.
The first major snowstorm of the year, powered by a "bomb cyclone," began in the South, dropping snow in some areas that hadn't seen it for decades.
On Thursday, it moved up the Eastern Seaboard toward Canada. It is forecast to be followed by frigid cold, with temperatures in the single digits and teens in many areas and wind chills as low as 30 degrees below zero. The snow followed more than a week of frigid temperatures that have affected vast portions of the East, Midwest and South.
Several governors declared states of emergency, and blizzard warnings were in effect up and down the East Coast. At least 4,215 U.S. flights were canceled, according to the flight tracker FlightAware.
In New York City, Mayor Bill de Blasio closed all public schools and urged New Yorkers to stay off the roads as much as possible. He said the Department of Sanitation had deployed some 700 salt spreaders and 1,500 plows.
Describing the storm as a "snowstorm-plus," Gov. Andrew Cuomo declared a state of emergency in New York City, Westchester County and Long Island.
"Snow is one thing — we can handle snow," he said in a briefing Thursday morning. "It's snow plus the wind, which is going to cause the trouble today."
More than 1,000 flights in and out of Newark Liberty International Airport in New Jersey were canceled. All flights at LaGuardia and Kennedy International airports in New York were temporarily suspended due to strong winds and whiteout conditions.
Despite the warnings and caution, many New Yorkers were unfazed by the storm and went about their regular business. City employees reported for work. Some expressed excitement about a snow day, while others scoffed at the notion that schools should be closed for only 6 to 10 inches of snow.
Elsewhere across the Northeast, the storm's impacts were more severe.
Some coastal regions, including parts of Atlantic County in New Jersey and Nassau and Suffolk counties on Long Island, had already received up to a foot of snow by noon Thursday and drifts twice that high. The National Weather Service warned of decreased visibility and snow-covered roads along the Interstate 95 corridor through Maryland, Delaware, Pennsylvania and New Jersey.
Power companies reported outages from Virginia to Massachusetts, with nearly 40,000 customers out of power in Virginia at one point, according to a Dominion Energy outage map.
In Massachusetts, all non-emergency state employees stayed home and the courts were closed. Gov. Charlie Baker urged the public to stay off the roads, check for frozen pipes and shovel out driveways and sidewalks before accumulated snow freezes. The National Weather Service warned of "dangerously cold wind chills" that could cause frostbite to exposed skin in as little as 10 minutes.
In Boston, to ensure a safe arrival, nurses and doctors were transported to hospitals by police officers.
In the seaside town of Duxbury, Mass., firefighters were responding to several water rescues — on land.
"This isn't the ocean," a public information officer for the fire department tweeted. "Streets completely under water."
Eastern Massachusetts and Cape Cod saw significant coastal flooding Thursday afternoon, with water inundating streets and basements. It was one of the highest tides on record, said Hayden Frank, a meteorologist for the National Weather Service office near Boston.
Water has started to recede but in some areas was trapped by forceful winds and could freeze as the temperature drops in the evening.
Pete Costello, the assistant curator at Stone Zoo in Stoneham, Mass., said although some of their animals stayed indoors to keep warm, others, such as the yaks, were doing just fine.
"Reindeer, arctic foxes and snow leopards are also well-suited for extreme cold with their well-insulated coats…. The cold-hardy animals have been doing well — this is really their time of year," he said.
Portland, Maine, reached its third-highest tide on record Thursday afternoon, at 13.79 feet. The southwest coast of Maine and coastal New Hampshire saw significant flooding, according to the weather service.
The winter storm had passed much of the Southeast, although it remained unseasonably cold along the coasts of Southern states.
In North Charleston, S.C., forecasters Wednesday saw a record lowest high temperature — 31 degrees. A normal high for the area in January is about 60 degrees.
In Tallahassee, Fla., residents saw snow for the first time in nearly 30 years. The occurrence of snow there in January was even more unusual — the first time since official weather records started being kept in 1885.
On social media, residents posted images of making snow angels rather than their usual sand castles, and shared rare photos of orange and grapefruit trees speckled with snowflakes. Some Floridians even made snowmen, albeit small ones — some just inches high.
Others posted images of cold-stunned iguanas that had fallen from their perches in trees.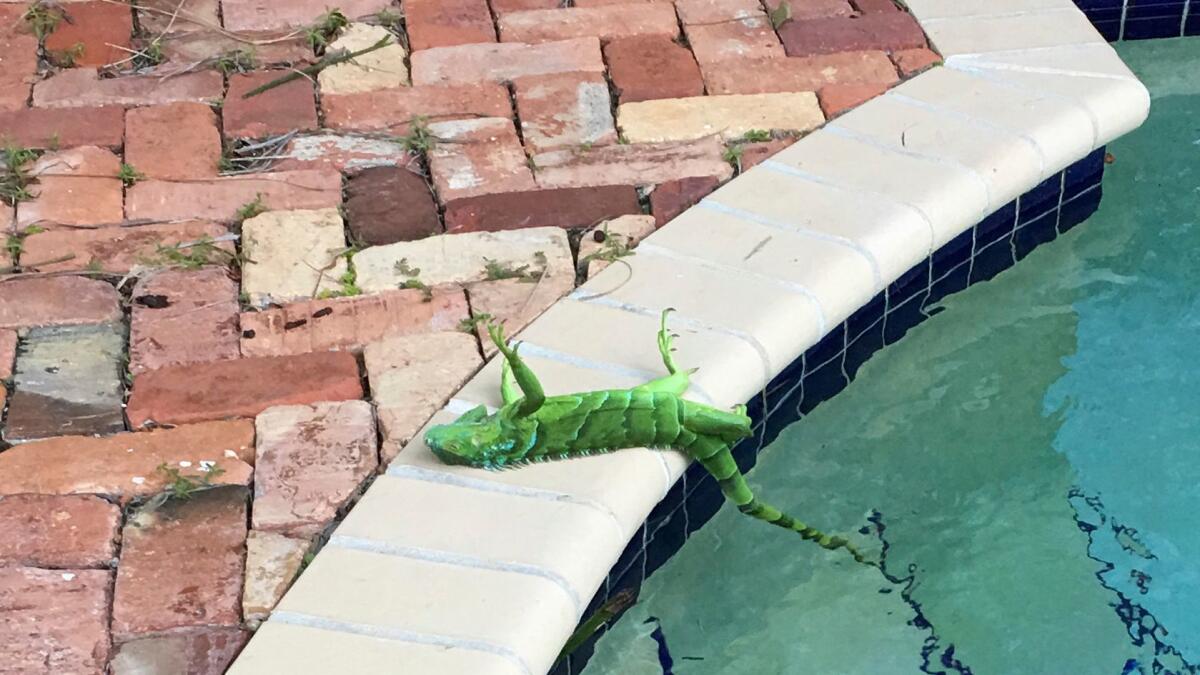 Mark Wool, the warning coordination meteorologist for the National Weather Service in Tallahassee, said usually it's either too dry for enough snow to fall, or the ground isn't cold enough for it to stick.
However, it has been cold for several days in a normally temperate climate. "I've worked here for 19 years, and I don't recall when we've had an entire week where we've had temperatures held below 50 degrees," Wool said.
Twitter: @AgrawalNina
Twitter: @jaclyncosgrove
Agrawal reported from New York and Cosgrove from Los Angeles.
---
UPDATES:
5:30 p.m.: This article was updated with details about coastal flooding and comments from Hayden Frank and Pete Costello.
This article was originally published at 11:20 a.m.
Sign up for Essential California for the L.A. Times biggest news, features and recommendations in your inbox six days a week.
You may occasionally receive promotional content from the Los Angeles Times.