With 'Snowden' set to open, House panel calls former NSA contractor a 'serial exaggerator and fabricator'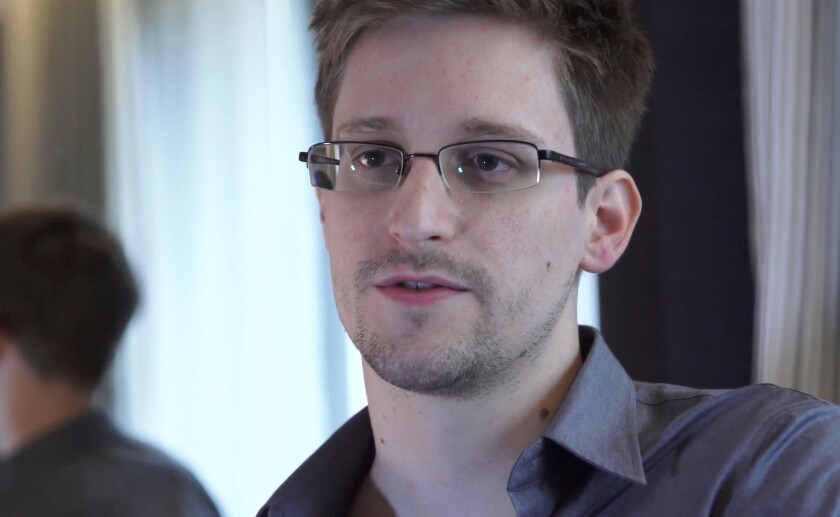 Reporting from Washington —
Edward Snowden exaggerated his resume, stole test answers and failed training on U.S. surveillance law before he copied an estimated 1.5 million classified documents from the National Security Agency, according to a summary of a House Intelligence Committee report released Thursday.
The committee unanimously adopted the investigative report a day before Oliver Stone's "Snowden" premieres in movie theaters. The film apparently portrays the former NSA contractor as a heroic whistle-blower.
Civil liberties advocates have launched a national publicity campaign calling on President Obama to pardon Snowden, who has been accused of espionage, before he leaves office.
Committee members sent a bipartisan letter to Obama urging him not to pardon Snowden.
The House report provides new details about Snowden's background, and calls into question his self-declared motivations and his work at the NSA before he fled to China and then Russia, where he now lives.
It describes him as a "serial exaggerator and fabricator."
"Contrary to Snowden's self-portrayal as a principled whistle-blower," the committee said in a statement, he was "a disgruntled employee who had frequent conflicts with his managers and was reprimanded" shortly before he began downloading the trove of NSA documents.
Release of the digital documents to media groups in 2013 "did severe damage to U.S. national security, compromising the intelligence community's anti-terror efforts and endangering the security of the American people as well as active-duty U.S. troops," the committee said.
The release also led to a public debate about U.S. intelligence powers, and new restrictions on how far the NSA can go in surveillance of U.S. citizens.
Committee members said their two-year investigation found most of the files Snowden took had no civil liberties concerns, but instead revealed spying programs against adversaries and allied governments.
"Edward Snowden is no hero — he's a traitor who willfully betrayed his colleagues and his country," Rep. Devin Nunes (R-Tulare), the committee chairman, said in a statement. "In light of his long list of exaggerations and outright fabrications detailed in this report, no one should take him at his word."
Rep. Adam Schiff (D-Burbank), ranking member of the committee, said the investigation found that Snowden's claims that he acted to defend Americans' privacy were "self serving and false" and that he did "profound" damage to national security.
"While those disclosures did spark a useful public debate, the collateral damage has been extraordinary," Schiff said.
Snowden disputed how he was characterized by the committee, writing on Twitter that "Congress spent two years writing a report to discourage you from going to see" Stone's film.
"Their report is so artlessly distorted that it would be amusing if it weren't such a serious act of bad faith," Snowden wrote.
The 36-page investigative report remains classified, but a three-page summary released by the committee shows that Snowden failed an internal training for NSA employees on Section 702 of surveillance law, which targets foreign Internet traffic.
Part of that training, lawmakers concluded, included privacy provisions in place to protect the rights of U.S. citizens from data collected inadvertently while the NSA vacuumed up online data.
After reviewing Snowden's employment records, the panel found he had engaged in what the summary called a "pattern of intentional lying."
Snowden "obtained new positions at NSA by exaggerating his resume and stealing the answers to an employment test," the summary states.
"He claimed to have left [Army] basic training because of broken legs when in fact he washed out because of shin splints," it says. "He claimed to have obtained a high school degree equivalent when in fact he never did. He claimed to have worked for the CIA as a 'senior advisor,' which was a gross exaggeration of his entry-level duties as a computer technician. He also doctored his performance evaluations and obtained new positions at NSA by exaggerating his resume and stealing the answers to an employment test."
Snowden has lived openly as a fugitive in Russia since June 2013, frequently giving interviews and appearing at conferences via video hookups.
Intelligence officials have said that material he leaked helped Russia and China protect themselves from U.S. surveillance, and taught terrorist groups such as Islamic State to better hide their tracks.
The House report is based on hundreds of secret documents and dozens of briefings with intelligence officials.
The committee concluded that Snowden is not a whistle-blower because he did not try to raise his civil liberties concerns through official channels or with Congress, and most of the data he stole from NSA computers was not related to privacy concerns.
The report does not outline specific damage to national security but lawmakers said the disclosures "exacerbated and accelerated existing trends" in the use of encrypted messages by adversaries and terrorist groups.
Lawmakers also expressed concern that intelligence officials have not done enough to prevent future thefts. The Department of Defense has reviewed all 1.5 million documents Snowden removed, but the intelligence community has not conducted such a comprehensive review.
The government has spent hundreds of millions of dollars "and will eventually spend billions" to mitigate the damage caused by the leaks, the committee concluded.
The American Civil Liberties Union, Amnesty International, Human Rights Watch and other organizations have urged Obama to pardon Snowden.
"It is indisputable that our democracy is better off thanks to Snowden, and it's precisely for cases like his that the pardon power exists," ACLU Director Anthony D. Romero said in a statement. "President Obama should use this power for good instead of leaving an American whistle-blower stranded in exile."
Follow me @ByBrianBennett on Twitter
MORE:
Failures of intelligence bring down Oliver Stone's 'Snowden'
'Snowden' stars Joseph Gordon-Levitt and Shailene Woodley discuss taking risky roles and spying through technology
Aging provocateur: 'Snowden' director Oliver Stone walks us through his storied filmography
---
UPDATES:
4:50 p.m.: This article was updated with a comment by Snowden.
This article was originally published at 4:30 p.m.
---
Must-read stories from the L.A. Times
Get the day's top news with our Today's Headlines newsletter, sent every weekday morning.
You may occasionally receive promotional content from the Los Angeles Times.