Snowmen in Alabama? Sledding in Mississippi? From Texas to Georgia, snow blankets the South
ATLANTA —
Snow blanketed a vast swath of the Deep South on Friday, triggering a flurry of winter weather warnings that closed businesses and schools, canceled hundreds of flights and caused traffic gridlock. It also unleashed a flurry of snowman construction and sledding in places more accustomed to sunshine than snow.
The storm dropped a rare coating of snow as far south as Brownsville, Texas — near the border of Mexico — up through southern Louisiana and parts of Mississippi, Alabama, Georgia and the southern Appalachians.
"This is an unusual event — to see snow falling this early in the season all the way from Texas and the Gulf Coast region to Georgia," said Laura Pagano, a meteorologist with the National Weather Service's Atlanta/Peachtree City office. "It has happened before, but not often."
More than 200,000 customers across the region lost power as snow downed branches and power lines.
"SNOW MEETS SAND!" Wesley Williams, a meteorologist for ABC affiliate WLOX, posted on Twitter as a light dusting of snow fell on the shoreline of Bay St. Louis, a Mississippi coastal city. "The flakes are falling at Mississippi's shore."
Other parts of southern Mississippi recorded some of their heaviest-ever snowfalls in a single day. With 6 inches, Columbia, a small city about 80 miles southeast of Jackson, broke its record of 5.1 inches in December 2008.
Jackson received up to 6 inches of snow, the most seen in the region since 1982, according to the National Weather Service. Dozens of schools closed or had delayed openings, and some businesses also shut.
"It might snow once or twice a year here, but we're not really prepared for this kind of weather, so it really brings the city to a standstill," said Larry Farish, a 61-year-old resident who works as a hotel receptionist.
Matt Lanza, a Houston meteorologist who blogs for Space City Weather, estimated that most of the Houston area got a 2-inch coating of snow. That's more than usual, but well short of its record of 20 inches on Valentine's Day 1895. College Station, a Texas city about 90 miles northeast of Houston, got 5 inches, which Lanza said in a blog post was "their second biggest snow on record."
After snow began to fall across Texas on Thursday night, safety officials in Austin urged motorists to be extra cautious, especially on icy and slick patches on overpasses and highways. Throughout the morning, police closed roads across the city and responded to wrecks.
In Georgia, more than 20 school systems closed ahead of the snow as the National Weather Service in Atlanta/Peachtree City predicted a possible snowfall of 2 to 4 inches and issued a winter storm warning for the north and central parts of the state.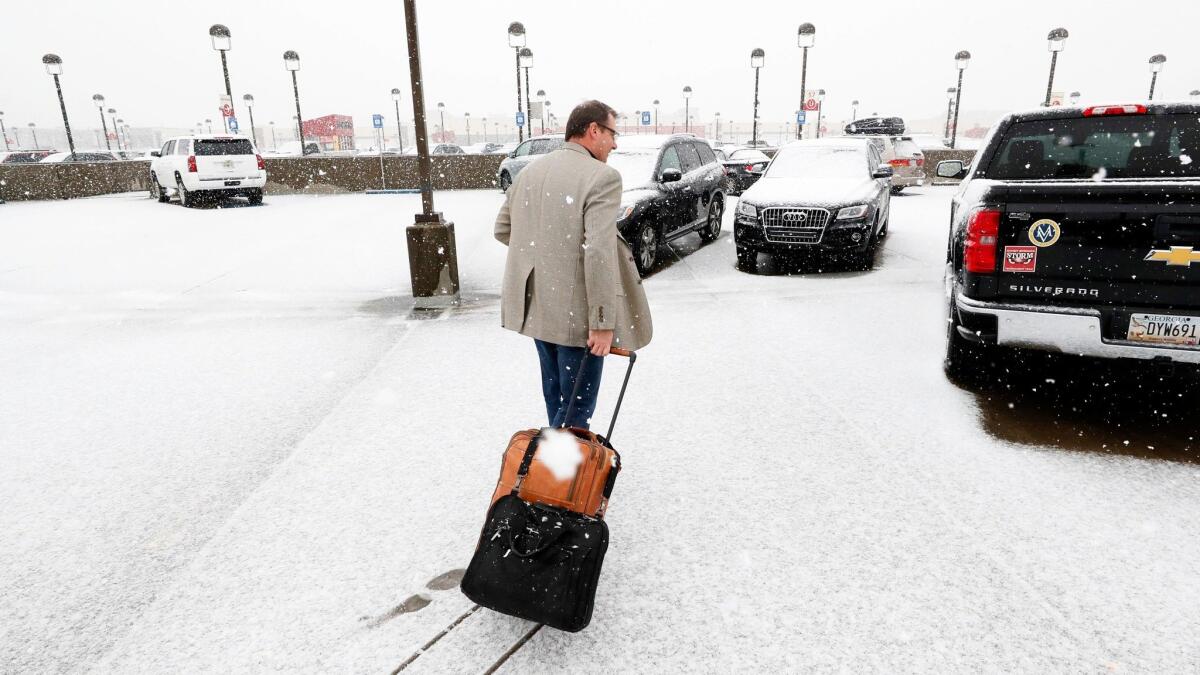 Even a light dusting of snow can create panic in Atlanta. In January 2014, just 2 inches of snow led to gridlock across the sprawling metropolis, preventing salt trucks and plows from traversing the city. Thousands of students and commuters were stranded, and motorists were stuck on icy highways for as long as 16 hours.
As a thin layer of snow began to coat Atlanta rooftops late Friday morning, businesses and schools raced to close early. Roads across the city clogged well before rush hour.
Gale Davis, a 47-year-old insurance agent, was driving home from his office when he got an automated call from the principal of Hawthorne Elementary School urging parents to pick up their children at noon. He got the call at 11:58 a.m. As luck would have it, he was nearby and able to scramble to the school to ferry his 6- and 8-year-olds home.
"I'm now watching my kids have a snowball fight," he said Friday afternoon from his home in northeast Atlanta. "My wife hasn't made it home yet. She's stuck in traffic."
On Interstate 285, the highway that loops around Atlanta, a sign warned motorists that it could take 71 minutes to travel 6 miles.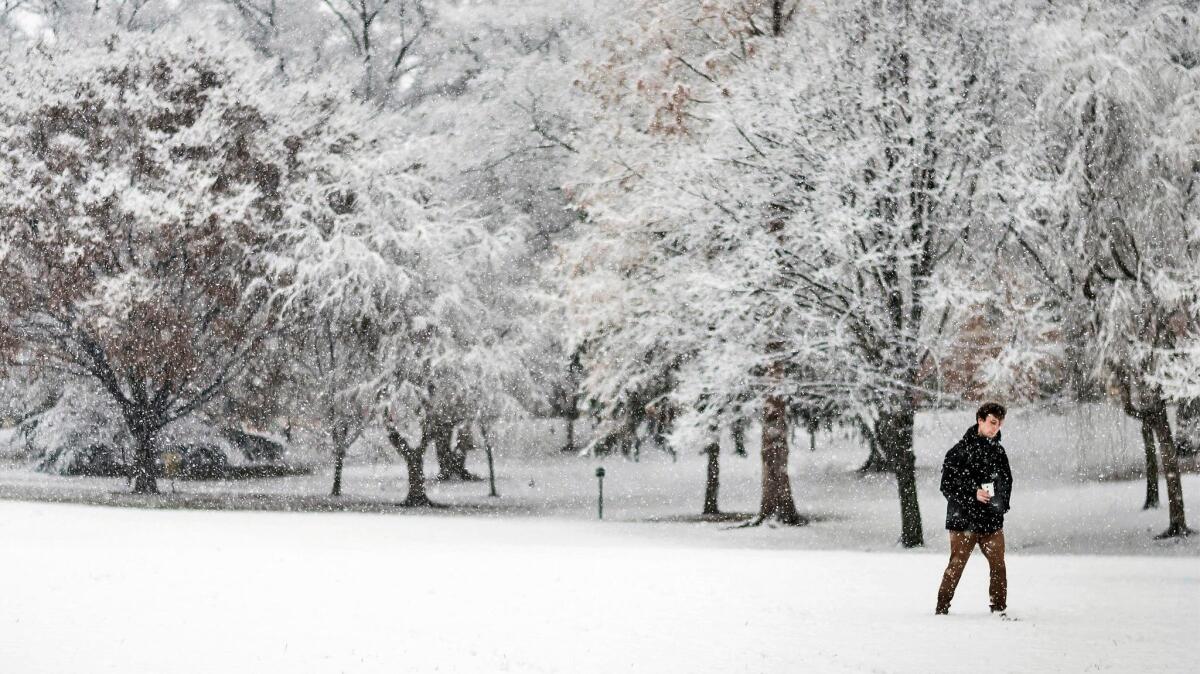 By Friday afternoon, more than 550 flights were delayed at Atlanta's Hartsfield-Jackson International Airport, the busiest airport in the world. A host of institutions, including Emory University and Zoo Atlanta, closed. Even Snow Mountain, a 400-foot tubing hill that bills itself as a "winter wonderland full of real snow," shut down.
As snowflakes the size of quarters dropped across Atlanta on Friday afternoon, meteorologists predicted the region could see another 2 to 4 inches of snow. With temperatures expected to sink below freezing after dusk, they warned that black ice could make roads hazardous and urged residents to limit travel to emergency situations.
The cold weather is forecast to move north over the weekend, with the National Weather Service issuing winter weather advisories for parts of New Jersey, New York and Connecticut. Two to 4 inches of snow are expected in New York City, prompting the city's Department of Emergency Management to issue a travel advisory urging commuters to be extra careful when driving, walking or biking.
"Winter has come early, and we don't want anyone to be caught off-guard," New York City Emergency Management Commissioner Joseph Esposito said in a statement.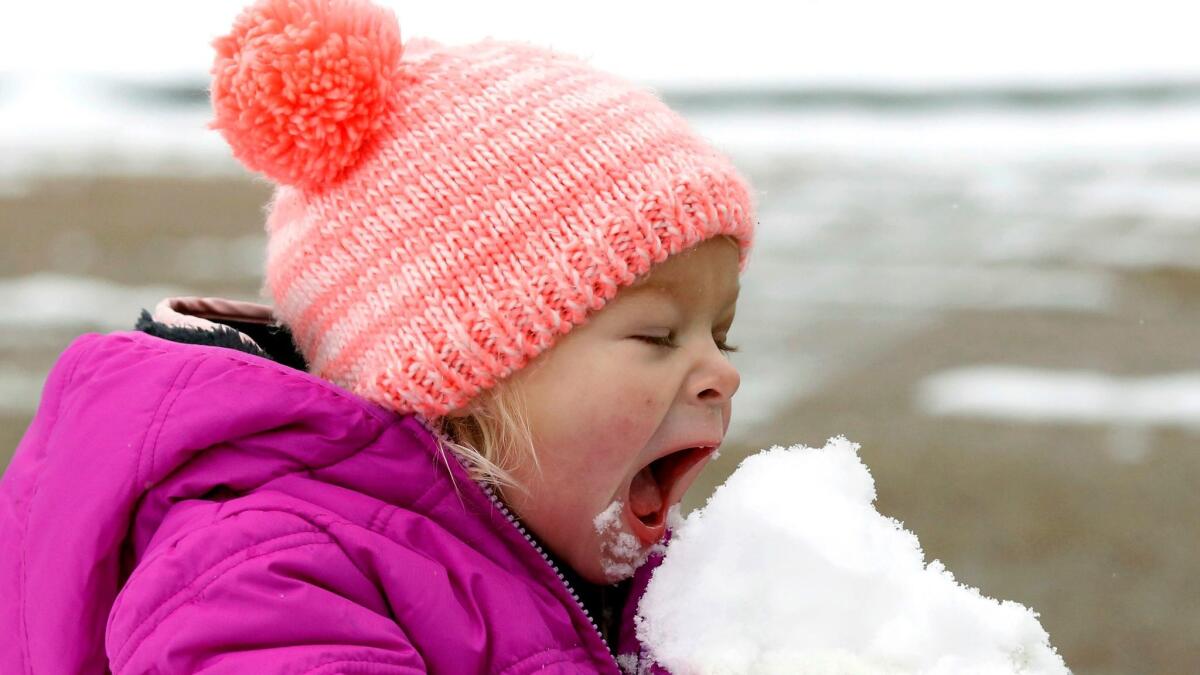 Jarvie, a special correspondent, reported from Atlanta. Staff writer Kaleem reported from Jackson, Miss.
ALSO
Former Arizona police officer acquitted in fatal shooting captured on body camera
Trump doubles down on his demand for a border wall
Roy Moore calls accuser a liar after she admits she added notes to his yearbook inscription
---
UPDATES:
6:05 p.m.: This article was updated throughout with new figures on snow totals and details from Mississippi and Georgia.
This article was originally published at 10:55 a.m.
Sign up for Essential California for news, features and recommendations from the L.A. Times and beyond in your inbox six days a week.
You may occasionally receive promotional content from the Los Angeles Times.