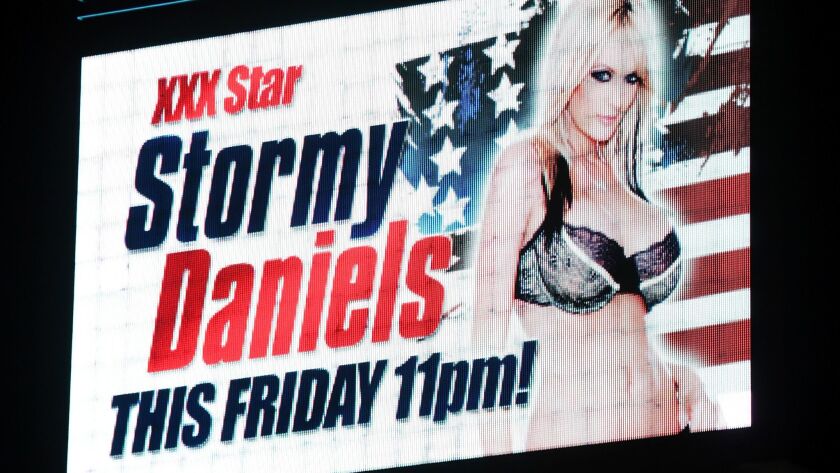 Reporting from Las Vegas —
The inside of the strip club looked festive with red, white and blue balloons tied to golden handrails. A few USA placards had been set up on tables. Patriotism and porn were about to hook up in Sin City.
For hours, the crowd inside waited. Outside, the Little Darlings' marquee burned bright in the black sky: "See The Mistress Live," the club's electronic sign promised. It flashed again: "XXX Star Stormy Daniels This Friday 11 pm."
Beyond its glow, just two miles away, the Trump Hotel loomed.
Friday soon dissolved into early Saturday morning. A loud emcee teased Daniels' appearance between calls for two-for-one private dances with strippers. "Don't forget, the president's mistress, Stormy Daniels, will be here," he said. As if anyone would — or could — forget this.
The president has denied the affair. Fake news. But the economy of fame needs fuel, so America is watching the story of the porn star and the president unfold. It now seems inevitable that a chapter would take place in Las Vegas, land of the improbable becoming possible — and anything seems possible in politics these days.
This saga may crescendo on Tuesday, when Trump delivers the State of the Union address and a Daniels interview with Jimmy Kimmel airs later that night. A denouement in tweets is always a possibility.
But for now, the story is rooted in a Wall Street Journal report that alleged Trump paid Daniels $130,000 late in the 2016 campaign to stay quiet about an affair they had a decade earlier, shortly after his wife, Melania, gave birth to their son, Barron. The stories have included such details as her slapping Trump with a Forbes magazine — which may have blazed a pioneering moment of kink in the porn industry.
There were no copies of Forbes visible at Little Darlings, however. Nobody there came to read. There were plenty of other distractions to keep them occupied as they waited for Daniels to appear. (And no, she couldn't do an interview, she would say politely when she arrived later.)
Dozens of women dressed in lingerie — or less — walked the club's floor in heels that made them look like giraffes carefully navigating an icy sidewalk. Television screens flashed X-rated puns and advertisements. Free bags of Cheetos — a nod to a derogatory nickname for Trump — were handed out and devoured.
Little Darlings manager Johnny Terlitsky — who goes by Johnny T — delivered some bad news to a local television news crew around midnight: They wouldn't be allowed to take pictures or shoot video of Daniels when she came out. Johnny T was crestfallen.
"It was last-minute," he said. "Contractual obligations and things like that."
The manager said a fortuitous confluence of events had led Daniels to Little Darlings. He said she'd performed at the club before and was already going to be in town for the Adult Video News Awards. Toss in the controversy, and a personal appearance made business sense.
But he said because it was a last-minute scheduling, she couldn't do a performance.
"Performances require costumes and planning, and she didn't have the time to pull that all together," Johnny T said. "An appearance means she signs autographs and poses with fans for pictures. It was a good chance for her to meet her fans."
If Twitter is any indication, Daniels has plenty, with 417,000 followers. She was promoting her appearances on what was billed as the "Make America Horny Again 2018 Tour"; she had a kickoff gig in South Carolina a week before the Las Vegas stop.
The start of her appearance caught several patrons off guard when she finally took the stage around 1 a.m. The emcee — Donny — introduced her again as the president's mistress, and the 38-year-old Daniels, wearing a black, low-cut dress, smiled and flashed her breasts. The whole thing took a few minutes and was downright chaste compared with the performances by Annie Cruz and Cindy Starfall, the featured performers in Little Darlings' "Asian Invasion" event about an hour later.
A club dancer known as Harmony said the crowd was much bigger than a week earlier, and figured Daniels had something to do with it. Aura, another dancer, was vaguely aware of Daniels' presence: "She's the Trump girl, right? She was smiley backstage. She seemed nice."
Daniels, whose real name is Stephanie Clifford, was soon ensconced in large, red leather-trimmed booth in the corner of the club, and a small line began to form to pose for pictures with her. She allowed several men to stand behind her as she took off her top and let them put their hands on her breasts. She was all smiles. So were the men.
Well, we didn't talk politics.
Fan of Stormy Daniels
"Well, we didn't talk politics," said one of the men, who sized up the photo on his smartphone and got a nod of approval from his friends.
A younger man did the same with his hands and pulled out his phone to look at the moment several times throughout the evening. Unsurprisingly, people demurred when asked to provide their names.
Daniels stayed in the corner until a little after 3 a.m. She said she was simply waiting for Cruz and Starfall to finish another X-rated encore performance before leaving. Next to her a few DVDs were stacked at the ready in case a fan wanted an autographed copy.
But for several stretches, no one focused on the adult film star who's been the talk of social media — hailed or vilified, depending on the point of view. She often was left alone. She didn't seem to mind, joking with a few friends in the corner while the strip club powered on. "Get to know Chloe VIP!" Donny suggested with all the subtlety, softness and nuance of an emcee at a monster truck rally.
When Daniels left, her departure barely registered among the thinned-out crowd. She slid on a jacket and slipped out a back door — the familiar strains of Average White Band's "Pick Up the Pieces" thumping through the club. No wave. No splashy goodbye.
A few new arrivals at the club paid their $40 entry fee — $20 for locals — unaware they'd missed Daniels. Outside, the marquee still advertised her upcoming appearance, which had now become history.
To read this article in Spanish, Click here
Twitter: @davemontero
---