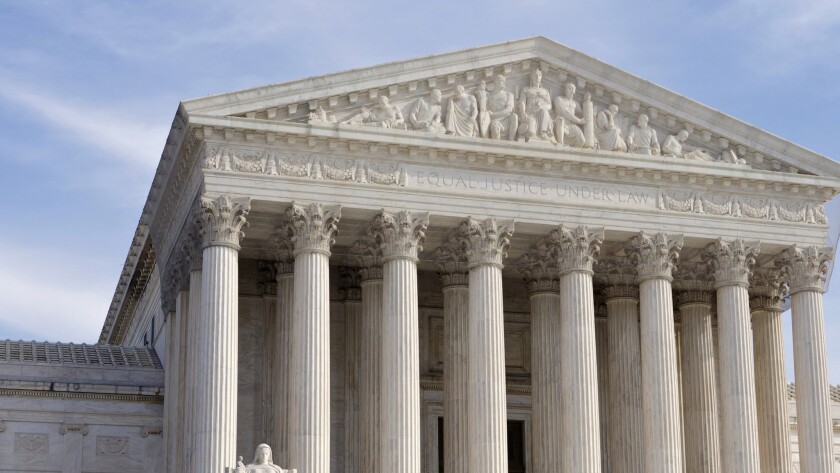 Reporting from Washington —
The U.S. Supreme Court on Tuesday turned down a plea from Ohio Democrats who had sought to restore an extra week of early voting that was used by more than 80,000 people in their state to cast ballots in the 2012 presidential election.
Instead, the justices — without comment or dissents — let stand a decision by Ohio's Republican-controlled Legislature to eliminate the so-called golden week, which had permitted voters to register and cast a ballot in one trip to the county's election center.
Democrats had maintained that African American voters were most likely to take advantage of this early voting week, in part to avoid long lines at polling places in Cleveland and other cities.
But Republican state attorneys countered that Ohio allows 23 days for early voting, and the Democrats "could not identify a single person who would be unable to vote under Ohio's broad schedule."
Tuesday's order marks the third time in the last three weeks when the eight-member high court has refused to intervene in a partisan election dispute. The justices, split 4-4, refused a plea from North Carolina Republicans to revive several voting restrictions that have been struck down as racially biased. They also turned away a bid by Michigan Republicans to eliminate straight-ticket voting this year.
In Ohio, a federal judge ruled in May that reducing the early voting period would have a discriminatory effect on black voters, and he ordered the state to open the polls five weeks before election day. But in August, the U.S. 6th Circuit Court of Appeals reversed his decision on a 2-1 vote.
The Ohio Democrats lodged an emergency appeal with Supreme Court, but it was denied Tuesday morning.
On Twitter: DavidGSavage
ALSO
Most California voters support legalizing recreational marijuana, poll finds
Democratic and Republican voters are further apart than they've been in a generation. Here's why
Median incomes are up and poverty rate down, surprisingly strong census figures show
---