Down on the border, Texas volunteers open their homes and hearts to asylum seekers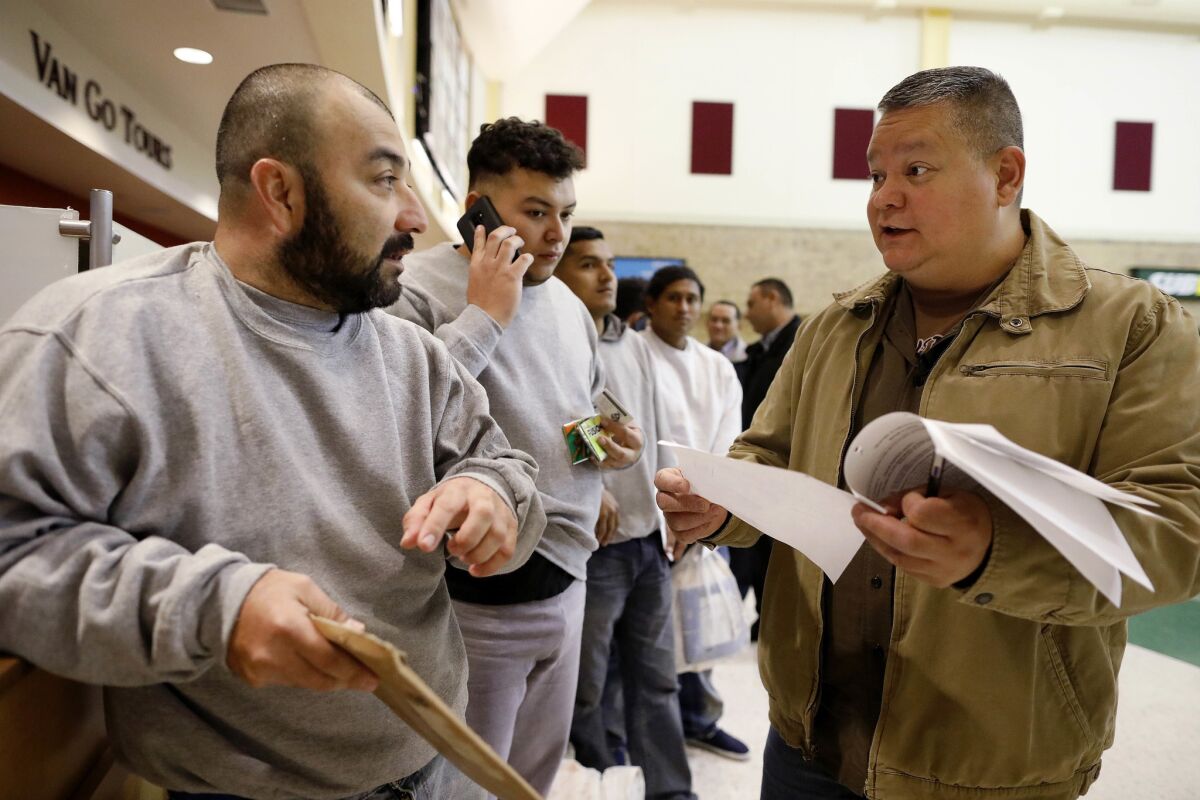 Reporting from Brownsville, Texas —
Tugging wagons loaded with chicken dinners, blankets, coats and shoes, Mike Benavides and his partner, Sergio Cordova, guided half a dozen volunteers across the bridge from Texas into one of Mexico's most dangerous states.
They walked past Mexican customs and headed to a group of about two dozen migrants camping under tarps at the foot of the bridge. Days before, the volunteers had brought them the tarps.
It's a routine repeated every evening as the volunteers enter Mexico to feed and clothe the stranded asylum seekers.
U.S. Customs officers stationed at the center of the bridge wave volunteers through but keep asylum seekers from entering the country. Mexican immigration officials instruct the migrants to add their names to a waiting list that has now stretched to 80 people. Some had been waiting for more than a month.
The lucky ones would be allowed to cross the bridge, be held in immigration detention and then released at the bus station in neighboring Brownsville, Texas. There, some of the same volunteers would greet them with donated backpacks of supplies, breakfast tacos and help deciphering their bus tickets and court paperwork.
In a sense, it's the new Ellis Island, but run by local volunteers.
"Sergio and I sometimes feel like we're spitting on a bonfire. Shouldn't they have the Red Cross or somebody over here?" said Benavides, 49. "But if we don't do it, they go hungry."
Asylum seekers surged into Matamoros and surrounding Tamaulipas state even before a migrant caravan arrived in Tijuana last week. With attention focused on the caravan, asylum seekers here say they've languished.
Tamaulipas is a perilous place to get stuck waiting. Drug cartel violence — kidnappings, disappearances, murders — has turned it into one of the most dangerous states in Mexico. Some of the U.S. volunteers like Cordova hadn't crossed the bridge in more than a decade.
Now, Cordova said, it's a daily mission. "If we're not going to the bus station or the bridges, we're sorting clothes. There's no free time."
He and Benavides started crossing to help the migrants after volunteering at the bus station in nearby McAllen in July. Separated due to the Trump administration's "zero tolerance" policy, migrants were being dropped off there by Immigration and Customs Enforcement with notices to appear in immigration court.
The next week, the couple posted a donation drive on Facebook, gathered items at Sam's Club and began taking them to migrants at the Brownsville bus station and across the bridge in Matamoros. If migrants were sick, Benavides and Cordova picked up medication and took it to them. Before long, they rented an apartment near the border bridge for $440 where fellow volunteer Brendon Tucker, 23, started cooking the nightly dinners they deliver.
The couple, who both work for the local school district's special education department, grew up in the Rio Grande Valley. Like many here, they descended from immigrants. Benavides was one of 14 children born to Mormon parents. He served two years on a mission in the Dominican Republic and fought in the U.S. Army during Desert Storm before returning to south Texas. Cordova was the youngest of four boys and a product of the Brownsville public schools system.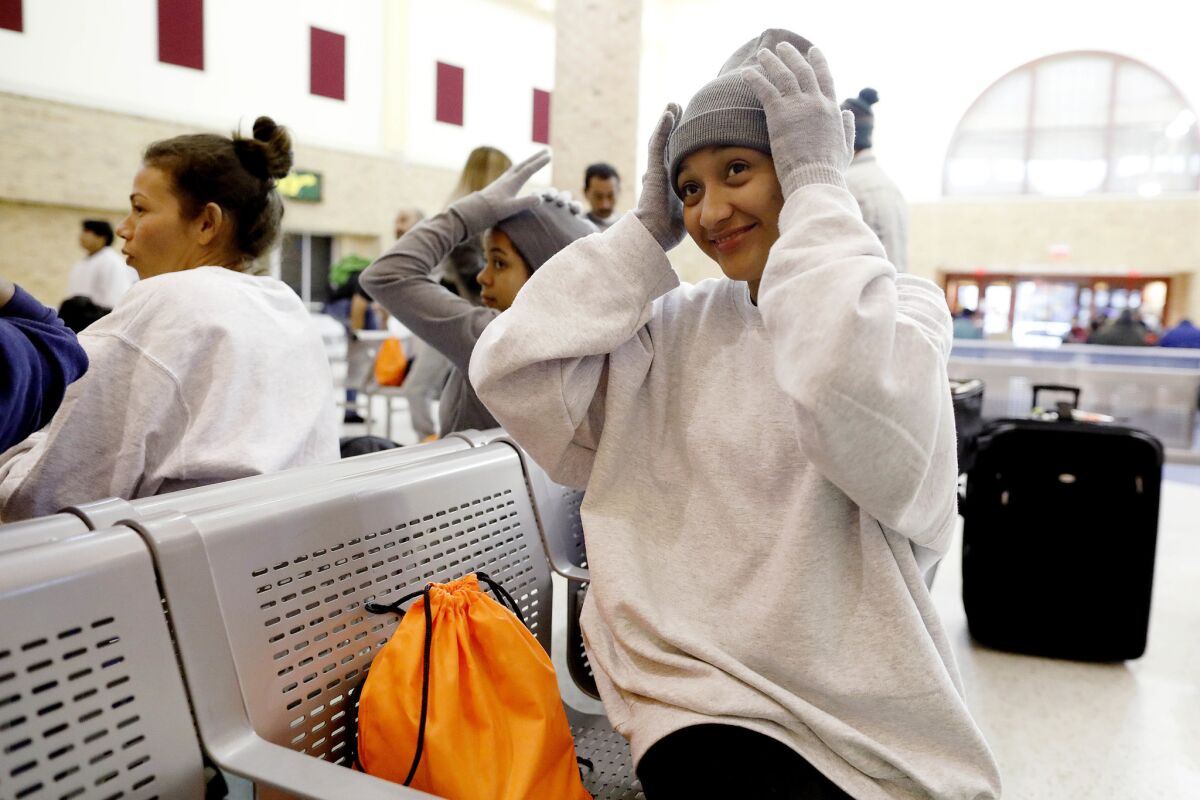 The two don't have nonprofit status or a budget, relying instead on donations through Facebook and a GoFundMe page. They have recruited 20 helpers, whose ranks sometimes swell to 50. They call themselves Team Brownsville.
For now, they operate out of the couple's ranch-style house. The garage is packed with supplies, its walls lined with donated toiletries, underwear, shoe laces and other essentials. Migrants' shoe laces are confiscated for safety reasons when they're detained, and they often don't get a chance to bathe while in detention.
The couple converted two spare bedrooms into temporary shelters. They've hosted 20 migrants so far, and persuaded a local homeless day program to open a temporary migrant shelter to take in more. The migrants generally leave the next day by bus. If they have far to go, the couple gives them $10 to $20 for food. They call the migrants "our sons for the day."
Migrants who have stayed with the couple keep in touch via text messages and social media. Earlier this month, a Guatemalan asylum seeker messaged Benavides for advice. His court case in New Jersey was still pending, but his attorney told him he likely would not be granted asylum.
Benavides replied with a text showing asylum denial rates for various nationalities. Guatemala was among the highest.
"He could either show up for court and get deported or take his chances," Benavides said later. "I said that's between you and God."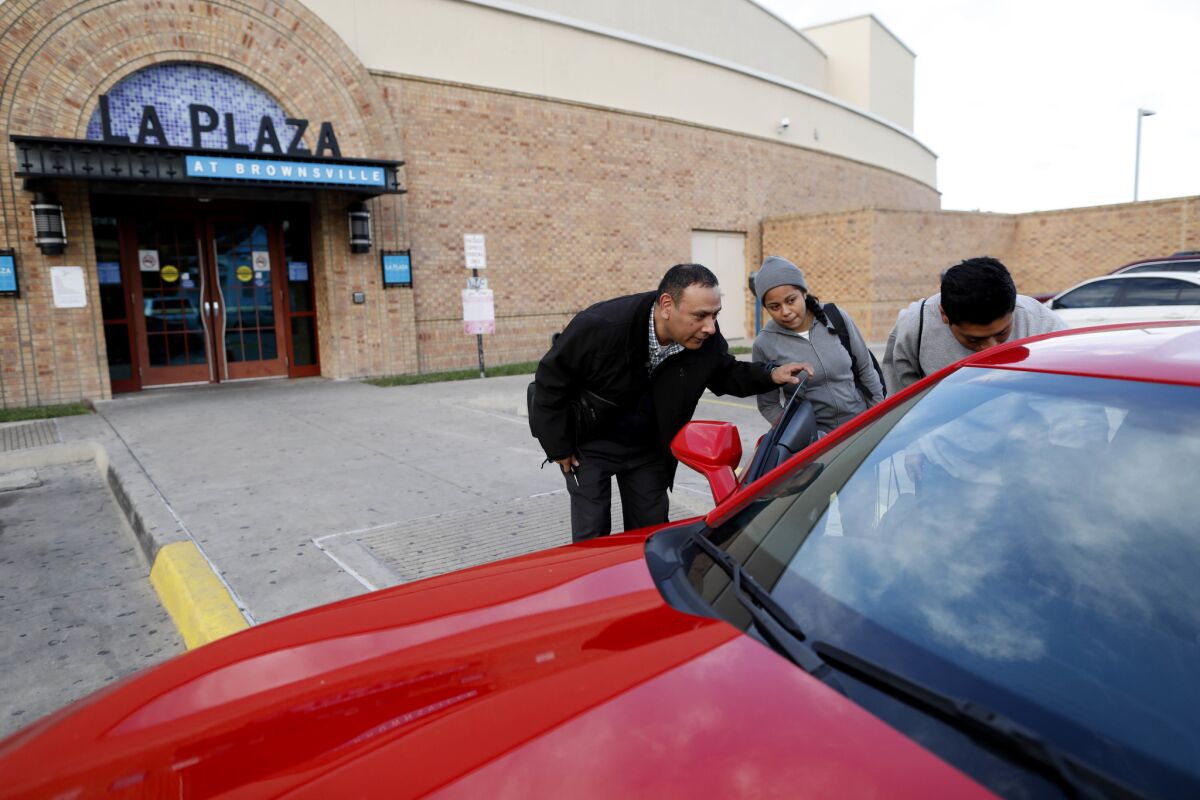 Cordova, 51, receives several texts a day from migrants he's helped. They call him padrino — godfather. He always replies. The men are lonely and see him as part of their family, he said. Many don't have friends in the U.S.
"I don't want them to think I forgot, or I don't care," Cordova added.
The couple are careful not to offer legal advice. When migrants call in search of lawyers or rides to court, the men refer them to apps and advocacy groups. All of the asylum seekers the couple stays in touch with have attended their court hearings, they said. But so far, only one has been granted asylum, a 17-year-old Honduran who brought police reports documenting that he had seen his mother killed by an assailant who wielded a machete and also attacked him.
A Guatemalan man who recently stayed with the couple told them he fled after drug traffickers threatened him because he'd refused to work for them. Benavides wasn't optimistic the man would be granted asylum since he had not brought along any evidence of the attack.
"It's emotionally draining," he said as he waited at the bus station.
As the morning dragged on, immigration officials dropped off five Central American women, all pregnant. The next morning, they dropped off several dozen men from Central America and Cuba.
Benavides gave the migrants maps that traced their routes, listing stops and transfers. He scanned the crowd for migrants who had been allowed to cross from Matamoros, but didn't see any. Fewer have been allowed to cross lately, he said. Most of those who had crossed came on foot illegally through the Rio Grande river.
Asylum seekers blocked at Texas border bridges say Mexican officials are demanding money to let them pass »
Benavides knows two elderly women from the southern Mexican state of Oaxaca who have been waiting to cross for more than a month. One of the women had trouble talking to Mexican immigration officials because she speaks an indigenous language.
"People just keep passing by them," Benavides said.
Even after migrants are allowed across the bridge, it can take years for them to be released from U.S. immigration detention, especially if they can't afford to pay their bond. One Honduran man spent two and a half years in detention, Benavides said, so long that he emerged fluent in English.
Over the last few months they have also helped migrants from as far as Bangladesh, Cameroon, China, Ethiopia, Kosovo and Russia.
"History is going to say: Did we welcome them, or did we turn our back on them?" Cordova said.
For Thanksgiving, the volunteers plan to deliver three turkeys: One baked, one barbecued, one fried. They will celebrate the holiday by sitting at the foot of the bridge and sharing the meal with the migrants.
molly.hennessy-fiske@latimes.com
---
Must-read stories from the L.A. Times
Get the day's top news with our Today's Headlines newsletter, sent every weekday morning.
You may occasionally receive promotional content from the Los Angeles Times.