Border Patrol prepares for the arrival of both U.S. troops and migrant caravan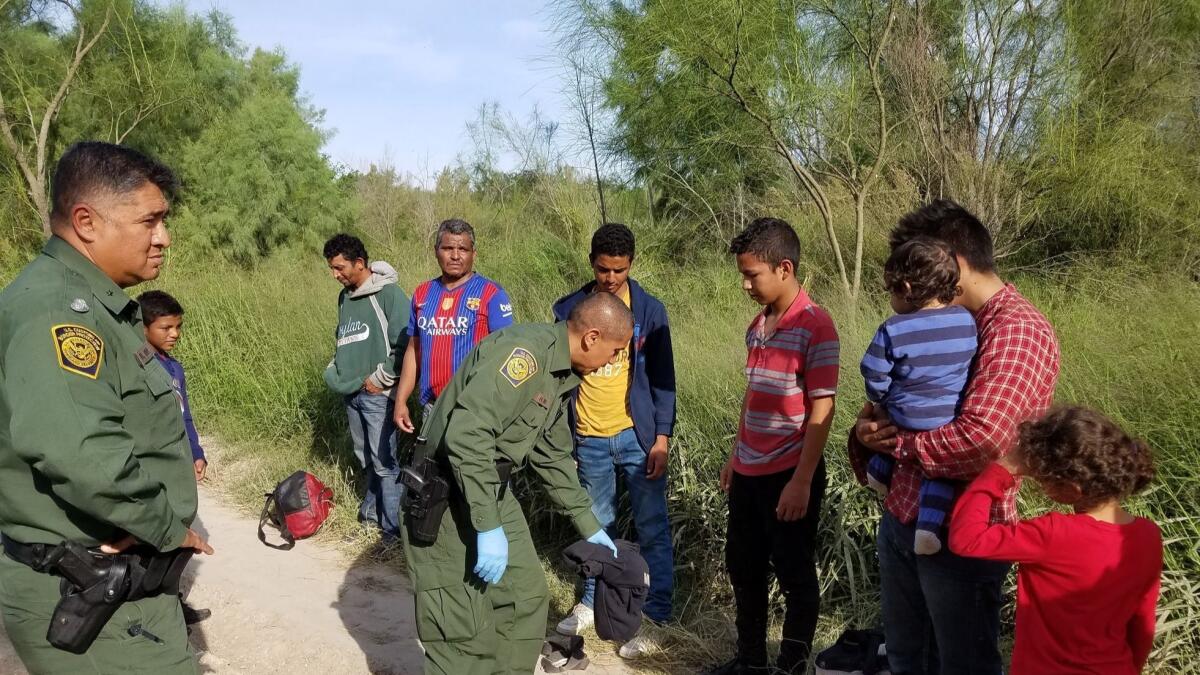 Reporting from McAllen, Texas —
Here in the Border Patrol's busiest region, agents and military officials are preparing for the arrival in coming days and weeks of 800 U.S. troops and an immigrant caravan of thousands.
An emergency operations center has been activated at U.S. Customs and Border Protection Rio Grande Valley headquarters in Edinburg for what commanders called a "mass migration event." Military planners have arrived in the valley this week, and are expected to meet with Border Patrol, state troopers, game wardens and other law enforcement on Monday. Troops are gathering equipment and preparing to deploy to the valley from Lackland Air Force Base in San Antonio.
President Trump announced earlier this week he is deploying a total of 5,200 troops to the border in Arizona, California and Texas to help stop the caravan of Central American immigrants heading north from Honduras through Mexico. He later said that the number of troops could go as high as 15,000 if he deems it necessary, a move critics call pre-election pandering to his supporters who fear an influx of asylum seekers and others seeking to cross the border illegally.
"Our military is being mobilized at the Southern Border," Trump tweeted Wednesday. "Many more troops coming. We will NOT let these Caravans, which are also made up of some very bad thugs and gang members, into the U.S. Our Border is sacred, must come in legally. TURN AROUND!"
On Wednesday, the Border Patrol referred questions about military preparations and tracking the caravan to Homeland Security headquarters and the Pentagon. But Rio Grande Valley Acting Sector Chief Raul Ortiz discussed his efforts during a ride-along.
"My plan is to have agents on the front line as much as possible," he said.
Border Patrol agents in riot gear have been training at a border bridge in Brownsville. Commanders are prepared to shore up border crossing with concertina wire and call in another 800 agents, including a specially trained national response team, once the caravan of several thousand immigrants, now on foot in southern Mexico, approaches.
The Border Patrol is already coping with a surge of illegal crossings, particularly by families, most of whom cross through the Rio Grande Valley. This month, agents have caught an average of 641 immigrants crossing illegally each day, including 373 family members and 73 unaccompanied minors, according to Ortiz. Last week, their busiest week this year, agents caught 5,600 people, he said.
Ortiz expects total apprehensions in October to approach 20,000 compared to 9,722 last October. He compared the increase to 2014, when thousands of unaccompanied youths overwhelmed Border Patrol holding areas and forced federal officials to open massive temporary shelters at military bases. Federal officials opened a temporary "tent city" to house thousands of unaccompanied youth east of El Paso in Tornillo last summer, but no similar shelters have opened yet for families.
Rio Grande Valley border agents are accustomed to such surges. In addition to the 2014 influx, they have seen waves of immigrants from Cuba, Haiti, and in recent months, Bangladesh, Ortiz said. Last year, they saw immigrants arrive from 60 countries, including ones in the Middle East.
On Wednesday morning, agents' radio buzzed with reports of immigrant groups spotted at illegal crossings near Anzalduas Park in Mission, a popular spot for smuggling.
Driving down a brush-lined dirt road toward an area known as Rincon Village, Ortiz came upon a group of 10 immigrants, including two children and a baby in a blue striped onesie.
Ortiz stopped, and asked where they were from. Honduras, they said. As agents arrived and started processing the groups, recording names and other identification, they explained that they had left a month earlier — about average travel time for immigrants caught here, Ortiz said.
They said they had heard about the caravan and understood why so many people would flee.
"It's because of the situation in our country," said Jose Luis Padilla, 26, who made the journey with his 6-year-old daughter, Breana, who wore a red shirt that said "We've got spirit."
They left their town after Padilla's uncle was fatally shot at his home in the coastal region of Colon. Padilla left behind his wife and 1-year- old son, Joseph, hoping to join relatives in New York City, find work and send money home. Others in the group were headed to Florida and Nebraska.
The agents processed the group and then ushered them aboard a Border Patrol van to be taken back to the station.
In addition to the caravan, similar small groups are expected in coming weeks. The challenge will be processing them en masse. In the Rio Grande Valley, agents have space to temporarily house 3,400 immigrants at nine stations and a massive central processing center. On Tuesday night, they already held about 3,000, and were working with immigration officials to process people more quickly. Due to a lack of longer term detention space, which is run by Immigration and Customs Enforcement, many families would be released with ankle monitor and notices to appear in immigration court, Ortiz said.
Agents are also preparing for U.S.-based non-governmental militias to arrive ahead of the caravan.
Shannon McGauley, president of the Texas Minutemen, said they had volunteers in the Rio Grande Valley this week and plan to send least a hundred people.
"We have the biggest border. We need to let the military know we're there to support them, and the Border Patrol," he said of Texas, adding that their goal is not to confront the caravan.
"We're 'observe and report,'" he said. "Most of us are sitting in lawn chairs with binoculars."
But he conceded that militia members are also armed. Ortiz, the Border Patrol commander, said the arrival of militias could make his agency's job more difficult as they attempt to minimize confrontations on the Rio Grande in coming days.
"We certainly don't want any acts of violence out here. We don't want people crossing the river to be vulnerable or people in our communities to feel [Border Patrol] doesn't have a handle on it," he said.
molly.hennessy-fiske@latimes.com
Sign up for Essential California for the L.A. Times biggest news, features and recommendations in your inbox six days a week.
You may occasionally receive promotional content from the Los Angeles Times.