Confusion spreads about reunifying immigrant families and the future of 'zero tolerance'
Reporting from MCALLEN, TEXAS —
Officials meeting on the southern border Friday vowed not to split immigrant families, but said that it was unclear whether parents would be charged criminally and that it could take months to reunify those already separated under the Trump administration's "zero tolerance" policy.
The policy, which took effect in April, calls for criminal prosecution of all who cross the border illegally, regardless of whether they are traveling with children.
During a meeting at the Border Patrol station in McAllen, Texas — about 10 miles north of Mexico — with border agents, elected officials, religious leaders, shelter operators and others, Ryan Patrick, the U.S. attorney for the Southern District of Texas, said "zero tolerance" would remain in effect.
The difference now is that families would be kept together, he said. That was the essence of the executive order President Trump issued Wednesday.
"We are prosecuting all referrals we get from Border Patrol," Patrick said.
But Manuel Padilla, the chief of the Border Patrol here in the Rio Grande Valley, said that his agency was still deciding whether it would exercise discretion in referring cases for prosecution.
Immigrants who have criminal records or are suspected of having committed a felony, including entering the country illegally after having been deported, would still be referred to the Justice Department for prosecution, he said. But Padilla said the agency was still determining whether to refer immigrants crossing for the first time — a misdemeanor.
"We are looking at what we are going to do," he said.
Adding to the confusion, the federal public defender's office for the west Texas region said in an email that prosecutors will no longer charge parents with illegally entering the U.S. if they have children with them.
And Peter Ormsby, a federal judge in McAllen, had said Thursday that "the government no longer intends to seek prosecutions" for misdemeanor first-time entries.
His comment came during a hearing over whether to order officials to reunite a Guatemalan child and mother, who is seeking asylum. The woman — whose May 21 crossing of the Rio Grande on a raft to Hidalgo, Texas, was the first time she was caught in the U.S. — was given a "time served" sentence in federal district court.
Officials at the Friday meeting said they agreed that the government needs to stop separating immigrant families.
Sen. John Cornyn of Texas, a Republican, called family separations a "humanitarian crisis."
He and fellow GOP Texas Sen. Ted Cruz toured two federally contracted shelters for immigrant children in the Rio Grande Valley on Friday, one housing boys and the other "tender age" children.
"We saw babies, weeks old, there in these facilities actually being treated really well," Cornyn said. "We asked the mother how old she was, and she said 16 years old and the baby was 8 weeks old.
"We want to make sure that all the families get to stay together. These children should not be victims of a broken system," he said.
Cruz blamed human traffickers. "Seeing little kids brought here, it is heartbreaking," he said. "There's a right way and a wrong way to come to America."
The senator said he planned to meet Monday with two Democratic colleagues — Sens. Richard J. Durbin of Illinois and Dianne Feinstein of California — to discuss legislation that would keep families together. Both Cruz and Feinstein have proposed bills.
Despite such assurances, Efren Olivares, an attorney with the Texas Civil Rights Project, said separations were still occurring.
Immigrants who appeared in federal district court in McAllen on Friday to face charges of illegal entry included two brothers separated from younger siblings and a cousin separated from a younger cousin, Olivares said at the courthouse.
The government still faces a backlog of families separated during the last two months, and it's not clear how they plan to reunite them.
Of 2,300 children separated from their parents, 463 were quickly reunited after their parents returned from court to a Border Patrol processing center in the Rio Grand Valley, where most crossings have occurred, Padilla said.
But Olivares said that of the 381 parents he and other attorneys have interviewed at the McAllen courthouse, none had their children returned.
In a few cases, children were placed with other relatives in the U.S., he said. One parent told him she had to pay for her daughter's airfare in order for her to be released to an aunt.
He said it was unclear how immigration authorities track families. Some relatives have called looking for children, and though his group tries to help, he said their names sometimes don't appear in immigration records.
"We're still trying to find many of them," Olivares said. "Every night a child spends without a parent is one too many nights."
Many of the parents remain detained by immigration, Olivares said.
At the meeting of officials, Norma Pimentel, a nun who runs a Catholic Charities respite center for immigrant families released by Border Patrol in McAllen, asked why some parents had been told they could be separated from their children for months.
Jose Gonzales, a field supervisor for the Department of Health and Human Services Office of Refugee Resettlement, said officials try to reunify children with their parents quickly.
They conduct DNA tests within seven to 10 days to verify that parents and children are related — and that the children are not being trafficked — as well as home studies and screenings to ensure parents don't pose a threat to a child. Those "may take up to four months," he said.
Some community leaders at the meeting said that was too long.
"To wait four months, my God, that's agonizing," said Daniel Garza, president of the Libre Initiative, a nonprofit Latino advocacy group.
Roger Rocha, president of the League of United Latin American Citizens civil rights group, called on the senators to find a legislative solution.
"These families can't wait anymore. They can't wait four months. The world is watching," Rocha said.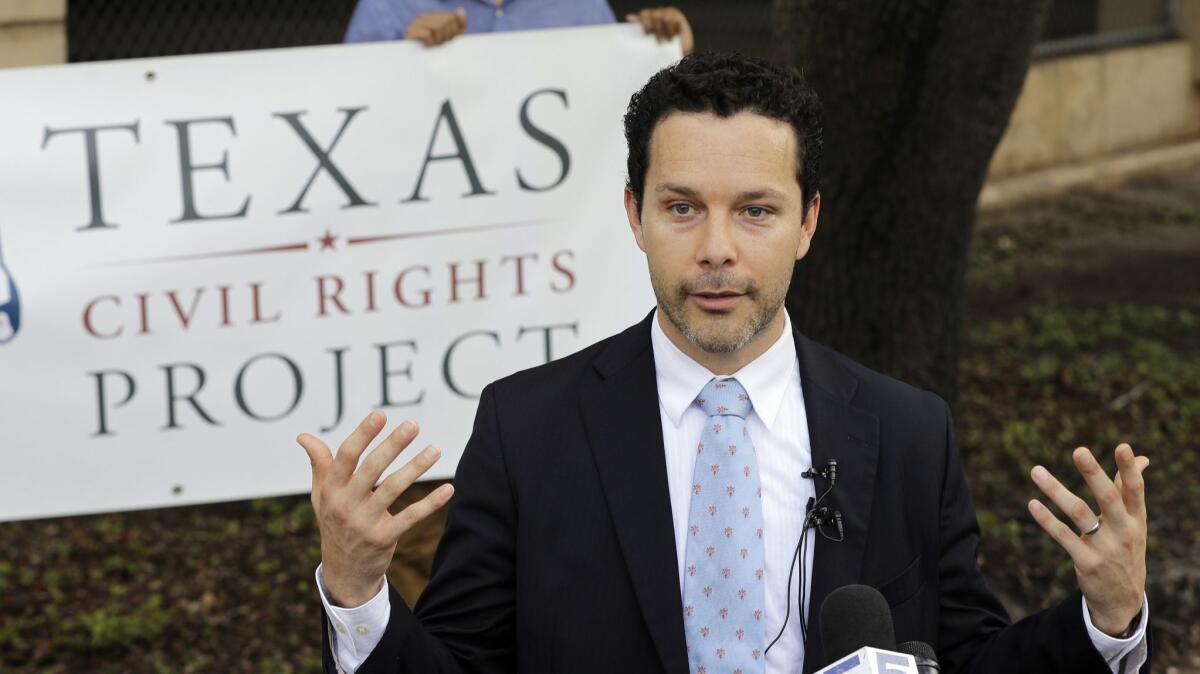 molly.hennessy-fiske@latimes.com
Twitter: @mollyhf
Sign up for Essential California for news, features and recommendations from the L.A. Times and beyond in your inbox six days a week.
You may occasionally receive promotional content from the Los Angeles Times.