Activists push bill to openly carry handguns in Texas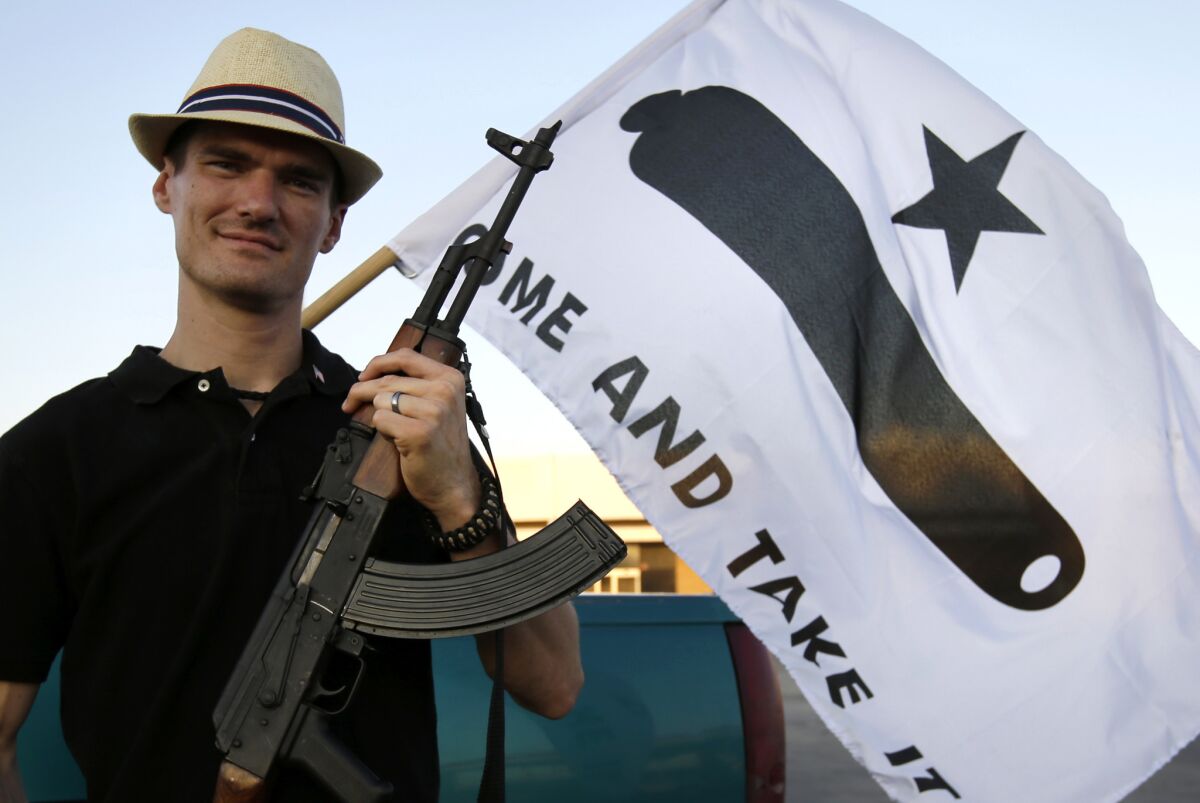 Reporting from Austin, Texas —
When a group of activists pushing legislation that would allow them to openly carry firearms refused to leave the office of Democratic Rep. Alfonso "Poncho" Nevárez, the lawmaker had one thought: "Guess what? They're armed."
It is legal to carry concealed firearms with a license at the Capitol, which even has a separate security entrance for those who are armed, including some lawmakers. Still, it was an uneasy scene, with the activists confronting Nevárez in front of his staff and family on the day he was to be sworn in. The incident last month encapsulated the ongoing and often heated debate over proposed laws that would expand gun rights in Texas.
Nevárez asked the activists to leave. Instead they demanded to know whether he had read the Constitution he had sworn to uphold.
"I knew I had to defuse it," Nevárez, a gun owner, said as he recounted the scene while sitting in his office under two mounted antelope heads, hunting trophies from his ranch near the border.
------------
FOR THE RECORD
Texas and guns: An article in the March 1 Section A about activists in Texas pushing for legislation that would allow people to openly carry handguns said that Claire Larson, who is opposed to such legislation, is a gun owner. She is not.
------------
The group left without incident, posting video of the encounter on YouTube. Nevárez got a security detail, panic buttons were installed at lawmakers' Capitol offices and his peers started sporting "I am Poncho" stickers.
Texas may be one of the most pro-gun states in America, with more than 825,000 licensed to carry concealed handguns, but it remains one of six states without open-carry handgun laws on the books, which has led to impassioned, gun-toting protests at the Capitol, Starbucks, Home Depot and other public places in Texas. With conservative Republicans ascendant in the Legislature, open-carry activists believe a gun bill will become law, but opponents say their antics show why it shouldn't pass.
California, Florida, Illinois, New York, South Carolina and Texas, as well as the District of Columbia, prohibit the open carrying of handguns in public places. Massachusetts, Minnesota and New Jersey prohibit the open carrying of a long gun, but not a handgun.
Thirty states allow the open carrying of a handgun without a license or permit, although in some cases the gun must be unloaded, according to Laura Cutilletta, a senior staff attorney at the Law Center to Prevent Gun Violence.
Kansas and Missouri passed open-carry laws last year. Advocates are working to build support in other legislatures and courts: Last week, after a Florida appeals court upheld the state's ban on open carry, activists vowed to appeal.
It is legal in Texas to openly carry rifles and other long guns. But Texas barred the open carrying of handguns 125 years ago, in the wake of the Civil War, as a way to disarm Confederate sympathizers.
More than two dozen gun-related bills have been filed in Texas this legislative session. One would allow adults to publicly tote a pistol without a license; another would require them to pass the same criminal background check for a concealed handgun license.
Rep. Jonathan Stickland, a Fort Worth-area Republican, proposed the unlicensed open-carry proposal, which he calls "constitutional carry."
He described the incident in Nevárez's office as "unfortunate" (afterward, he wore an "I am Poncho" sticker). But he said restricting gun rights is offensive, too. "Texans are shocked when they hear places like Vermont have more rights than we do," Stickland said.
Lt. Gov. Dan Patrick, a tea party Republican, met last month with Kory Watkins, one of the activists who confronted Nevárez, and afterward referred both open-carry proposals to committee, fast-tracking them along with "campus carry" legislation that would allow concealed handgun licensees to bring their guns to universities.
Watkins, leader of Open Carry Tarrant County, has drawn criticism for accusing lawmakers who oppose open carry of treason, which they interpreted as a threat.
Earlier this month, after a nearly eight-hour public hearing that included testimony from a slew of opponents and supporters, a state Senate committee approved the proposals for campus carry and open carry for those with licenses.
Austin Police Chief Art Acevedo was among those who testified against open-carry proposals, saying they would place a burden on police, who would have to be retrained and would likely have to respond to more calls involving guns.
Watkins was among those testifying for the unrestricted open-carry proposal, noting afterward that once the state requires a license, "You no longer have a right — you're asking for a privilege."
Republican Gov. Greg Abbott has said open-carry legislation is likely to pass. In his state of the state address this month, Abbott vowed to "expand liberty in Texas by signing a law that makes Texas the 45th state to allow open carry."
Opponents said gun rights activists' behavior shows they can't be trusted with open carry.
"This is not a reality show — this is real life, and these laws will have a real effect on the safety and sanity of our communities," said Claire Larson, a veteran and former rifle instructor who represents the Texas Chapter of Moms Demand Action for Gun Sense in America.
"There are too many safety concerns for us," Larson said. "We don't want to be at the playground or the grocery store and have to make a split-second decision — is that a good guy with a gun or a bad guy?"
Nevárez, the Eagle Pass Democrat, said he wasn't opposed to all open-carry legislation, but the confrontation in his office convinced him that it would be irresponsible now. He criticized Patrick for changing his stance after meeting with the activists.
"If they had come here another way, they might have found an ally," Nevárez said, but now, "I don't want to reward bad behavior."
Watkins countered, "The only bad behavior there was, was his. He took an oath to defend the Constitution."
C.J. Grisham is president and founder of Open Carry Texas, a nearly 38,000-member group that helped draft the unlicensed open-carry proposal. He said all gun rights supporters shouldn't be judged by the actions of one group.
"To hold that against an entire movement is absurd," Grisham said. "If people vote what Texas wants, we're going to get it."
Twitter: @mollyhf
Must-read stories from the L.A. Times
Get the day's top news with our Today's Headlines newsletter, sent every weekday morning.
You may occasionally receive promotional content from the Los Angeles Times.