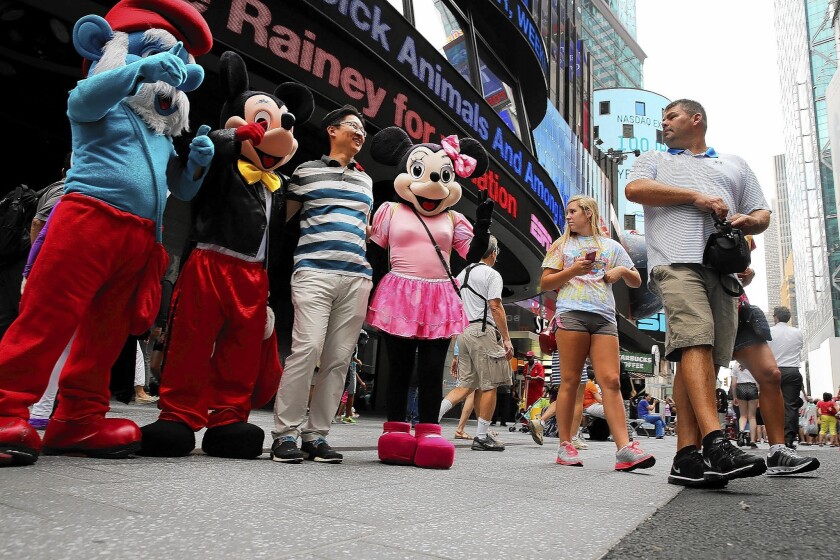 Reporting from NEW YORK —
These are tough times for Batman in Gotham City.
His fellow comic book characters hustling for tips in Times Square are giving superheroes a bad name. Spider-Man even punched out a cop last week.
And there's a new mayor with an attitude that does not bode well for the caped crusader, or for the Minnie Mouses, Mickey Mouses, Hello Kitties, Cats in Hats, Cookie Monsters, Elmos and other masked creatures who mill about the Crossroads of the World.
"Absolutely, I think this has gone too far," Mayor Bill de Blasio said Monday when asked by reporters whether it was time to rein in the colorful characters. "I don't know whether to call it an industry or what you call it, but it needs to be regulated."
This isn't the first time city officials have discussed imposing restrictions on the costumed hordes, who number in the dozens in Times Square. Each time one of them is accused of acting more creepy than cute, there are demands for legislation.
In 2012, an Elmo was captured on video in an anti-Semitic rant. Last year, a Cookie Monster was arrested after allegedly pushing a toddler and yelling at his mother for failing to tip him generously. In January, a man dressed as Woody from "Toy Story" was charged with sex abuse for allegedly touching young girls. There have been several allegations of characters groping women.
City officials have been hesitant to act, citing freedom-of-speech issues that give street performers the right to work for tips. But Saturday afternoon's assault on the police officer has given new energy to civic and business leaders who want to control what Police Commissioner William J. Bratton has called "the Elmo craze."
According to the official police report, Saturday's violence erupted after a man and a woman had their picture taken with Spider-Man on Broadway near West 42nd Street. As is the norm, the woman gave Spider-Man a tip.
Apparently, it was not enough.
"The female attempted to donate $1 to Spider-Man, who refused it, put out his hand and told the woman fives, tens or twenties only," police said, citing the account of the officer who had been standing nearby. "Overhearing this, the officer approached the female and told her she can donate whatever she wants to the male dressed as Spider-Man."
Thus began an expletive-laced diatribe from Spider-Man, officials said, which ended with him punching the policeman in the face.
Police identified Spider-Man as 25-year-old Junior Bishop of Brooklyn, who faces charges of assault, resisting arrest, criminal mischief and disorderly conduct. Shoppers, tourists, Minnie Mouse and Elmo — a shaggy mitt over his mouth in shock — watched as officers tackled Spider-Man, pulled his mask from his face and handcuffed him.
It was a quieter Times Square two days later. At least a dozen costumed characters roamed the pedestrian plaza near a toy store, homing in on parents with children or on tourists obvious by their cameras and giddy smiles.
Every so often, a police officer strode through the crowd.
Even under many watchful eyes, it was clear the characters have a modus operandi designed to squeeze profits from passersby naive to their ways.
Pascal Tomasso, visiting from Paris with his family, stopped to take a picture of his two daughters with Minnie Mouse. Instantly, four more characters materialized beside the girls and got into the photograph. Then, each put out gloved hands while dangling signs reading, "Tips please."
Tomasso, who handed over $5, said he would not have given as much if the additional characters had not appeared. "But they did it properly. They were polite," Tomasso said, adding that such things are to be expected in New York. "It's a business city," he said with a shrug.
Danielle and William Holly, who visit regularly from Trenton, N.J., with their toddler son, were not as tolerant. They're wise to the ways of the Times Square characters, and William Holly was engaged in a complicated exchange of bills with Hello Kitty after handing over cash for a picture and asking for change.
"I gave you change for nothing," the woman under the giant head muttered to Mr. Holly, who said that sort of behavior gave the others a bad name.
"Batman was very nice," Danielle Holly said, "but you have to be in control here."
She shoos away characters who try to squeeze into pictures and tips only those she wants in the frame. Even though she is confident dealing with the characters, Holly said they should be licensed and undergo background checks to ensure none is a pedophile or violent criminal.
In the past, some characters have said they favor regulation. On this day, no doubt because of bad publicity surrounding the Spider-Man incident, most refused to speak to reporters.
Only Batman would chat, and he denied that anybody was pressured to tip well.
"A tip can be whatever you want," said Batman, who refused to give his name but who has been interviewed on TV in the past and identified as Jose Escalona Martinez.
Sesame Workshop, the nonprofit organization behind Sesame Street, said in a statement that it had not authorized the appearance of any Sesame Street costumed characters on public streets in any city.
"We care about our fans and the image of our brand, and, like everyone else, we care about public safety on our streets," the statement said. "We have been talking to other concerned groups, including third-party intellectual property rights holders, to determine appropriate actions that we can take."
Costumed characters aren't limited to New York City. On the Las Vegas Strip, sidewalks teem with Freddy Kruegers, Super Marios and Mickey Mouses. The same used to be true for Hollywood, but about 10 years ago, Los Angeles police started busting self-employed impersonators who posed for tips on the Walk of Fame. Among those arrested: an Elmo, a Freddy Krueger and a Mr. Incredible.
Today's Times Square is a friendly and far safer place than in the 1970s and '80s, when peep shows and porn parlors dominated. Business leaders, though, say the gains of the last 30 years will be undermined if the families and tourists who flock there come away repelled by aggressors in mouse ears.
"Quirky is fine. Creepy is not," said Tim Tompkins, president of the Times Square Alliance, who has long advocated for regulation of the costumed characters. At a meeting this month convened by the alliance, the Broadway League, which represents theater owners, speculated that the characters were discouraging prospective theater-goers.
At least one City Council member has proposed legislation that would require each performer to undergo a background check and wear a photo ID. The draft bill is expected to have its first hearings in August.
Spider-Man, a.k.a. Bishop, meanwhile, was released on $3,500 bail.
---