Climate change may not be the culprit for a record-setting spate of tornadoes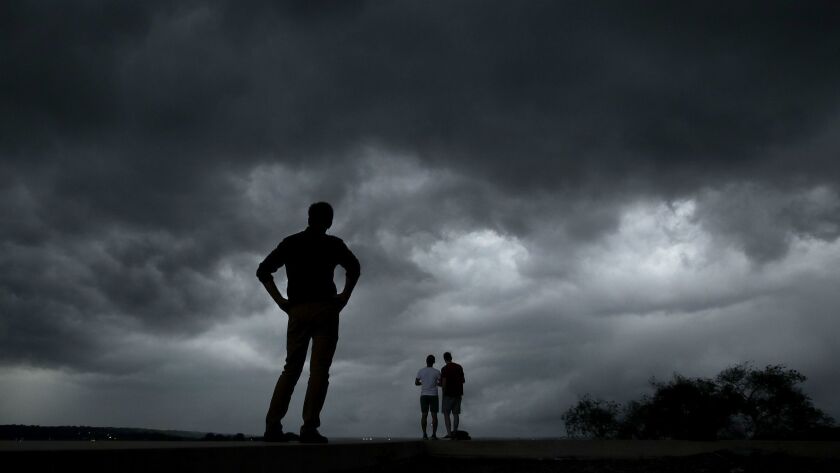 Over the last month, about 500 tornadoes have struck the central United States, part of a pattern of unusual weather that has pummeled communities day after day with flooding, hail and thunderstorms along with the twisters.
The latest round of damaging weather came Tuesday, a day after violent storms killed one person and injured at least 130 others in Indiana and Ohio.
When a tornado touched down on the western edge of Kansas City, Kan., according to the National Weather Service, it marked the 12th consecutive day of tornadoes reported to the National Oceanic and Atmospheric Administration's Storm Prediction Center, which collects eyewitness reports to estimate a preliminary number. That broke a record set in June 1980, when there were 11 consecutive days of tornadoes.
During the latest streak, there were at least eight tornadoes every day. And there appears to be no simple answer for why it is happening.
Scientists have linked other extreme weather, such as drought and hurricanes, to climate change, but the same cannot be said for tornadoes. Experts say a lack of data on tornadoes makes it hard to conclude whether climate change is a contributing factor.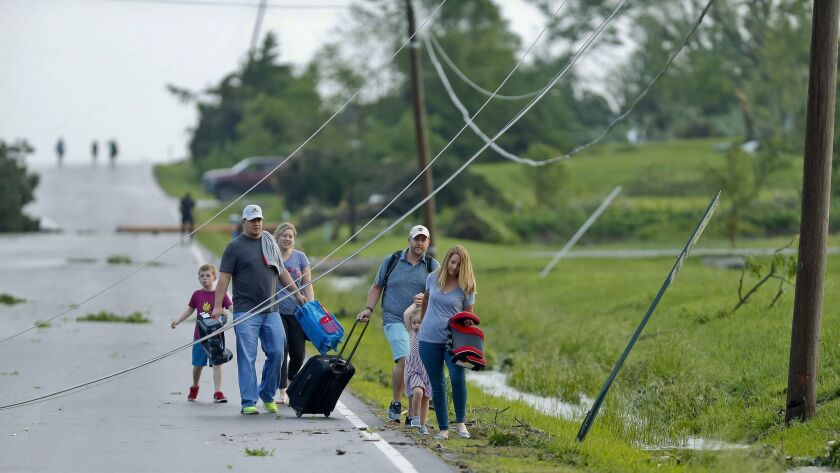 It's possible that more tornadoes are being reported because it's easier to do, via social media and cellphone, than it once was. What is significant, said Bill Bunting, chief of forecast operations at the storm center, is the weather pattern that has gripped the region, pounding the same areas with severe storms.
"Normally the atmosphere doesn't get stuck in these patterns," he said. "This kind of persistent pattern, with so many events in a short amount of time, is unusual."
In the central United States, May is the height of tornado season, which starts in April and extends into early June. There is high pressure over the Southeast, low pressure in the West, and a river of strong winds extending from the southern plains into New England. The strong winds, combined with warm, moist air from the Gulf of Mexico, create "a perfect recipe" for severe storms and tornadoes, Bunting said.
The central U.S. has had below-average tornado seasons since 2011, Bunting said, and so far this year it is about 200 tornadoes above average.
The wave of severe weather is already shifting to the east. On Thursday, the main areas that will be at risk will be from Kentucky eastward, including Pennsylvania and Maryland, Bunting said. Friday is expected to be the first quieter day, and the severe storms are expected to lessen over the weekend.
Reliable historical data on tornadoes only dates to the 1950s, Bunting said, and it is not enough to say whether climate change directly contributes to frequency trends.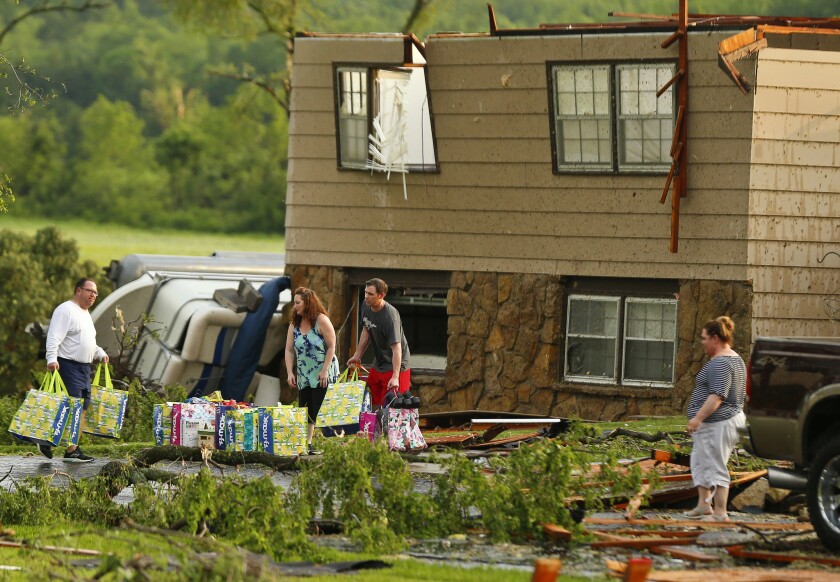 "Tornadoes are rare events themselves, so ascribing any trends to changes in the large-scale atmosphere is challenging," he said.
Victor A. Gensini, an assistant professor of meteorology at Northern Illinois University, co-wrote a study published in October that examined whether climate change plays a role in the frequency of tornadoes, but the lack of data makes it unclear, he said.
It's possible, he said, that the number of tornadoes annually could decrease, but a high level of devastation could remain because of urbanization.
"It might just be because our footprint on the surface of the Earth, the human-built environment, is just continuing to grow and grow and grow," he said.
The Associated Press contributed to this report.
---
Must-read stories from the L.A. Times
Get all the day's most vital news with our Today's Headlines newsletter, sent every weekday morning.
You may occasionally receive promotional content from the Los Angeles Times.