Opponents face uphill battle as they vow to fight Trump's new travel ban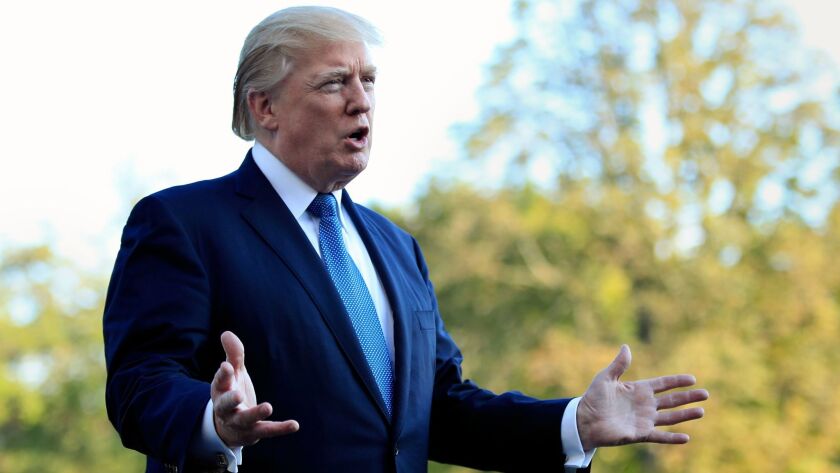 As soon as the White House announced President Trump's new travel ban, advocates for immigrants roundly condemned it, vowing to fight what they described as an unconstitutional abuse of presidential authority.
But after months of swift court victories blocking prior bans — often criticized as bans on Muslims — legal experts said opponents may face their greatest challenge yet.
The new ban addresses some of the legal challenges that brought down prior versions, said Stephen Yale-Loehr, an immigration attorney and law professor at Cornell University.
"The proclamation goes into depth about how the administration conducted its survey of other countries' identity management and information-sharing protocols. The proclamation bars only certain people from certain countries, not everyone from a given country. The proclamation includes North Korea and Venezuela, two non-Muslim-majority countries. And the new travel ban does not bar refugees from entering the United States," Yale-Loehr said.
The White House order, which cites national security concerns and a global review of vetting procedures for entry to the U.S., calls for an indefinite ban on almost all travel to the U.S. by nationals of seven countries, which include most that were targeted in Trump's initial ban, issued after he took office.
Effective Oct. 18, the new measure bans entry by most citizens of Syria, Libya, Iran, Yemen, Somalia, Chad and North Korea. It also imposes restrictions on a small number of citizens in Venezuela and additional screenings for Iraqis. The ban allows for some exceptions, such as for Iranians who are students or participants in cultural exchange programs.
Sudan, whose nationals were previously blocked from coming to the U.S. under a prior temporary ban that expired Sunday, has been dropped off the list. Chad, Venezuela and North Korea are new entries.
"It's clearly an uphill battle against this one," said Peter Spiro, a constitutional and international law professor at Temple University. "This travel ban is detailed, more professional and a much tougher target for anyone to challenge."
On Monday, the Supreme Court canceled arguments over the prior travel ban that were scheduled for Oct. 10. Justices were supposed to hear lawyers for the Trump administration and immigrant rights groups make their cases on the ban, which district judges in Hawaii and Maryland and appeals courts in Virginia and California had deemed unconstitutional.
But with major portions of that travel ban expired and replaced by the new one, the court ordered lawyers to submit letters on what should happen next. The court could decide the case is moot. That would leave challengers who had fought since Trump's initial ban in January to get a final decision on the president's immigration authority from the highest court to start over again in district court lawsuits.
The new ban does not address a refugee ban that is still in place through late October or the soon-to-expire fiscal year cap on refugee admissions. The White House has said it will announce a new cap on refugee admissions in the coming days.
Activists derided Trump's previous bans, and federal judges said they were unconstitutional for discriminating nearly exclusively against Muslims.
Experts said the addition of nations without Muslim majorities — North Korea and Venezuela — and Chad, which has a slight Muslim majority, hurt the argument that the ban is directed only at Muslims. The addition of North Korea is somewhat of a formality as, in practice, almost no North Koreans are currently allowed in the U.S. The ban on Venezuelans is limited to a small sliver of the nation's population.
The president's first travel ban, issued Jan. 27, spurred tens of thousands of visa cancellations, chaos at U.S. international airports and dozens of lawsuits before it was blocked in court.
Iraq was included in that ban, and exceptions such as those for green card holders and people with valid visas were added when the president signed a revised ban in March that removed Iraq and had a more orderly implementation. Judges also blocked that ban before the Supreme Court let part of it move forward with some exceptions, and an appeals court ordered the government to allow travelers with close relatives in the U.S. to be exempt.
But immigrants in the U.S. have routinely complained to advocacy groups and State Department officials that the travel ban and the president's hard-line stance on immigration have nonetheless made coming to the U.S. a harder and slower process.
Fears of additional travel troubles resurfaced Monday in Los Angeles, home to the nation's largest Iranian American community. At Amiri Tour and Travel, an agency that caters mostly to Iranians, owner Mike Amiri said calls about bookings had mostly stopped since Trump announced the new travel rules.
"I'm worried this new travel ban is going to make business even worse now. This phone was ringing up 'til 11 p.m. and we were getting them plane tickets to the United States and Iran but now it's not ringing," Amiri said. "We've been trying to figure out if they can get visas so we can arrange travel for them to the United States, but it's just not happening."
Mohammed Janfar, a 39-year-old Iranian American insurance agent, feared the new ban could thwart his fiancee's travel plans, which had been on-and-off since January. His fiancee, who is Iranian, is in Abu Dhabi, United Arab Emirates going through the final stages of approval for a visa to move to Los Angeles. Janfar said he's afraid she won't receive a visa before the new ban takes effect.
"I don't want to keep wasting her time. At this point I don't know what else to do. Everything is in turmoil. We went through this in June and now here we are again," said Janfar, a veteran of the U.S. Navy. "This is just a really bad roller-coaster ride. I served this country, so why can't I bring someone into this country that I want to marry? She has been thoroughly vetted. I've never witnessed anything like this."
The National Iranian American Council decried the ban and said the administration "has now taken steps to make its Muslim ban … permanent." The new measure, it said in a statement, was "nothing but an extension of the same discriminatory policy first rolled out in January."
Becca Heller, director of the International Refugee Assistance Project, agreed.
"This is still a Muslim ban — they simply added three additional countries," said Heller, whose group is among those challenging the Trump administration in the Supreme Court.
The National Immigration Law Center, another litigant in the Supreme Court case, tweeted that "the original intent behind this always was an attempt to ban Muslims."
Some legal experts said the newest ban could be vulnerable to a legal challenge.
"I think this version of the travel ban is likely unconstitutional for the same reason as the prior two versions: It is directed primarily at countries with large Muslim populations; it is national origin discrimination; and there is no evidence linking terrorism to these countries," said Erwin Chemerinsky, dean of the UC Berkeley School of Law.
Peter Margulies, a law professor at Roger Williams University in Rhode Island, said the new restrictions could even be easier to challenge because they are permanent. This "undermines the structure and purpose" of the federal immigration law, he said.
Spiro, the Temple University professor, said that although he was not convinced of the new ban's unconstitutionality, district court judges could be.
"The fact this ban comes on the heels of two amateurishly produced and blocked executive orders, for one, leaves the door open for successful challenges," he said. "It's not necessarily 100% bulletproof."
Kaleem and Etehad reported from Los Angeles. Times staff writers Laura King, David G. Savage and Joseph Tanfani in Washington contributed to this report.
ALSO
Michael Hiltzik: The GOP's revised Obamacare repeal bill is even worse for people with pre-existing conditions
As Trump continues his attacks, NFL players protest by kneeling or locking arms
Senate Republicans sweeten Obamacare repeal bill to win over GOP holdouts as opposition mounts
---
UPDATES:
6:25 p.m.: This article was updated with the Supreme Court decision to cancel oral arguments over the prior travel ban, analysis from legal experts and interviews with Iranian Americans.
This article was originally published at 9:30 a.m.
---
Must-read stories from the L.A. Times
Get the day's top news with our Today's Headlines newsletter, sent every weekday morning.
You may occasionally receive promotional content from the Los Angeles Times.