Column: The GOP's revised Obamacare repeal bill is even worse for people with pre-existing conditions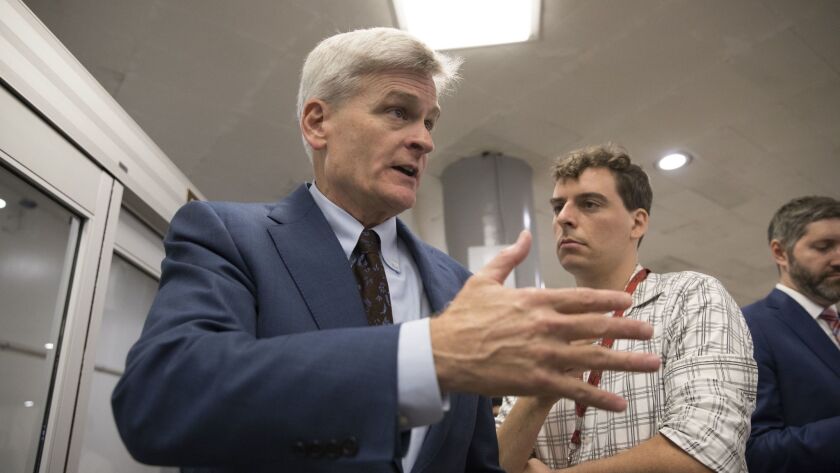 In a last-gasp effort to push their Affordable Care Act repeal bill over the finish line, Republican Sens. Bill Cassidy and Lindsey Graham issued an amended version over the weekend, sweetening the federal handouts for states of such holdout voters as Alaska's Lisa Murkowski and Kentucky's Rand Paul.
What may be of more interest to Americans in all states, however, is that in their revised draft, the sponsors also weakened protections for people with pre-existing conditions even more than did their original version.
"If there was any question about Graham-Cassidy's removal of federal protections for pre-existing conditions, this new draft is quite clear," Larry Levitt of the Kaiser Family Foundation tweeted after its release.
It's pretty clear that states could let insurers do pretty much anything they wanted.
Sarah Lueck, Center on Budget and Policy Priorities
Cassidy, of Louisiana, and Graham, of South Carolina, are engaged in a desperate campaign to get their bill passed by Saturday. That's when procedural rules allowing the measure to be passed with only 50 votes (plus a tie-breaker by Vice President Mike Pence, if necessary) expire. After that, the bill would be subject to filibuster and therefore would need 60 votes.
Since Democrats are united against it, the GOP's Senate caucus of 52 wouldn't be enough for passage. At least two Republicans, Paul and John McCain, R-Ariz., have said they'd vote "no," and others, including Murkowski and Susan Collins, R-Maine, are thought to be likely opponents.
Only one hearing on the 146-page bill has been scheduled — Monday afternoon, before the Senate Finance Committee. Possibly in response to pressure, committee Chairman Orrin Hatch, R-Utah, expanded the witness list beyond the original roster, which named only Cassidy and Graham. The panel will now hear from several witnesses likely to offer a more critical take, including Medicaid and health officials from Pennsylvania and Arkansas, former Obama administration Medicaid official Cindy Mann, and Dick Woodruff of the American Cancer Society. State-level Medicaid administrators and virtually every advocacy group representing disease patients and doctors, hospitals and insurers have come out against the bill.
As my colleague Noam Levey reports, this single hearing won't be nearly enough to educate senators about what they may be voting on this week. The hearing schedule doesn't compare with the process that led to passage of the Affordable Care Act itself — nearly 180 hearings in the Senate and House over 15 months.
We've already reported that the Cassidy-Graham bill would end the ACA's Medicaid expansion funding and subsidies for premiums and cost-sharing and substitute a block-grant of funding for states. The block grants, however, would represent a shortfall from both categories of funding under current law, and the formula for distribution would favor states that refused Medicaid expansion over those that accepted it. After 2026, however, the block grants would end, with no provision for replacing them, and by 2036 every state would experience a relative loss.
The original draft of Cassidy-Graham would have allowed states to apply for a waiver of federal rules prohibiting the use of medical histories to set premiums for individuals and families in the insurance markets. The revised draft doesn't even require a waiver application.
"It's pretty clear that a state could let insurers do pretty much anything they wanted," says Sarah Lueck, a policy analyst at the Center on Budget and Policy Priorities.
This mandate that all applicants be treated alike for rate-setting — except for modest differences based on age and surcharges for smokers — was an all-important protection for those with pre-existing conditions. It prevented a return to the pre-Obamacare days when insurers could pore over applicants' medical histories looking for reasons to deny coverage or jack up the rates on putatively high-risk applicants to unaffordable levels. Some lists of excludable conditions used by insurers, such as this one from Blue Shield of California ran on for pages and pages.
Protection against this so-called medical underwriting always has been one of the most popular provisions of the Affordable Care Act. It's also a guarantee that Republicans always promised would be preserved in one form or another. Cassidy and Graham asserted over the weekend that it's still preserved, but that's dubious.
The revised bill removes the original requirement that a state's waiver application receive at least cursory review by federal officials to test its claim that the state would "maintain access to adequate and affordable health insurance coverage for individuals with pre-existing conditions" if the waiver were approved.
Under the revision, no waiver application would be needed: A state would merely need to describe how it would maintain access to those applicants. As in the first version, no standard for "adequate and affordable" coverage is specified. Nor is there any enforcement mechanism if a state falls short of its promises. The revised bill also allows states to raise or eliminate caps on out-of-pocket expenses and eviscerate the Affordable Care Act's list of minimum required benefits, including maternity care, mental health services, hospitalization and prescription drug coverage.
"It's not even a waiver anymore," observes Lueck. Rather, a state is deemed to know what it's doing without showing how.
Keep up to date with Michael Hiltzik. Follow @hiltzikm on Twitter, see his Facebook page, or email michael.hiltzik@latimes.com.
---