What will Trump say tonight? Here's how the past few presidents handled it
President Trump on Tuesday plans to make his debut address to a joint session of Congress in a nationally televised speech expected to cover such topics as immigration, healthcare and the military.
The prime-time address comes as Trump looks to reframe his presidency after what many observers described as a chaotic first month in office that included a rocky rollout of a temporary travel ban focused on seven Muslim-majority countries, tension with allies such as Mexico and ongoing hostility toward the press.

For the record:
1:34 a.m. Sept. 25, 2022A previous version of this story gave the impression that President Reagan used the slogan "It's morning again in America" during his 1980 presidential campaign. He used it in his 1984 reelection campaign.
Trump has said he "inherited a mess" that only he can fix, but with the stock market up and unemployment down, experts say he has some convincing to do.
"For Trump, things are actually going pretty well," said Michael Genovese, a political science professor at Loyola Marymount University. "This is his chance to really chart a course for the future, and if he does it by tearing down America, I think a lot of people are going to find that to be unacceptable."
White House officials said the theme of Trump's address will be the "renewal of the American spirit," focusing on defense, immigration, repealing and replacing the Affordable Care Act, and creating economic opportunity.
Historically, Genovese said, presidents have used the opportunity to inspire optimism and hope about the future, even in dire circumstances. Here's a look at how some presidents described the challenges facing the nation in their first speeches to Congress.
Barack Obama: Feb. 24, 2009
Obama inherited the worst financial crisis the country had seen since the Great Depression. Millions of workers across the country had been left gripped by anxiety after losing their jobs and their homes. The banking system was in shambles. Meanwhile, U.S. troops were involved in grueling conflicts in Iraq and Afghanistan.
In his debut address, Obama carried a serious tone while tapping into the optimism and ambition that was a trademark of his campaign.
"While our economy may be weakened and our confidence shaken, though we are living through difficult and uncertain times, tonight I want every American to know this," Obama said. "We will rebuild, we will recover, and the United States of America will emerge stronger than before."
He laid out an expansive agenda, pledging to hold big banks accountable for the government assistance they received, reform healthcare, double the nation's supply of renewable energy and make higher education more affordable.
George W. Bush: Feb. 27, 2001
Bush entered office with a historically low approval rating coming off a contested election against Vice President Al Gore that led all the way to the U.S. Supreme Court.
But in his address, Genovese said, Bush "ignored his critics and forged ahead."
Bush, who inherited a healthy economy, laid out an agenda that included the largest tax cut proposal since that of President Reagan in 1981, while proposing more spending for defense, education and healthcare.
"Our generation must show courage in a time of blessing, as our nation has always shown in times of crisis," he said. "And our courage, issue by issue, can gather to greatness and serve our country. This is the privilege and responsibility we share. And if we work together, we can prove that public service is noble."
Bill Clinton: Feb. 17, 1993
Clinton took office on the heels of the deadly riots in Los Angeles, which erupted in April 1992 after a jury acquitted four police officers who were on trial for the beating of Rodney King.
Elected on his "It's the economy, stupid" platform in 1992, Clinton focused his 65-minute address largely on economic recovery and creating half a million jobs with a $30-billion stimulus, especially in cities and poor rural communities.
He also called for healthcare and welfare reform, spending cuts and tax increases on the wealthy.
"We have always been a people of youthful energy and daring spirit," Clinton said. "And at this historic moment, as communism has fallen, as freedom is spreading around the world, as a global economy is taking shape before our eyes, Americans have called for change. And now it is up to those of us in this room to deliver for them."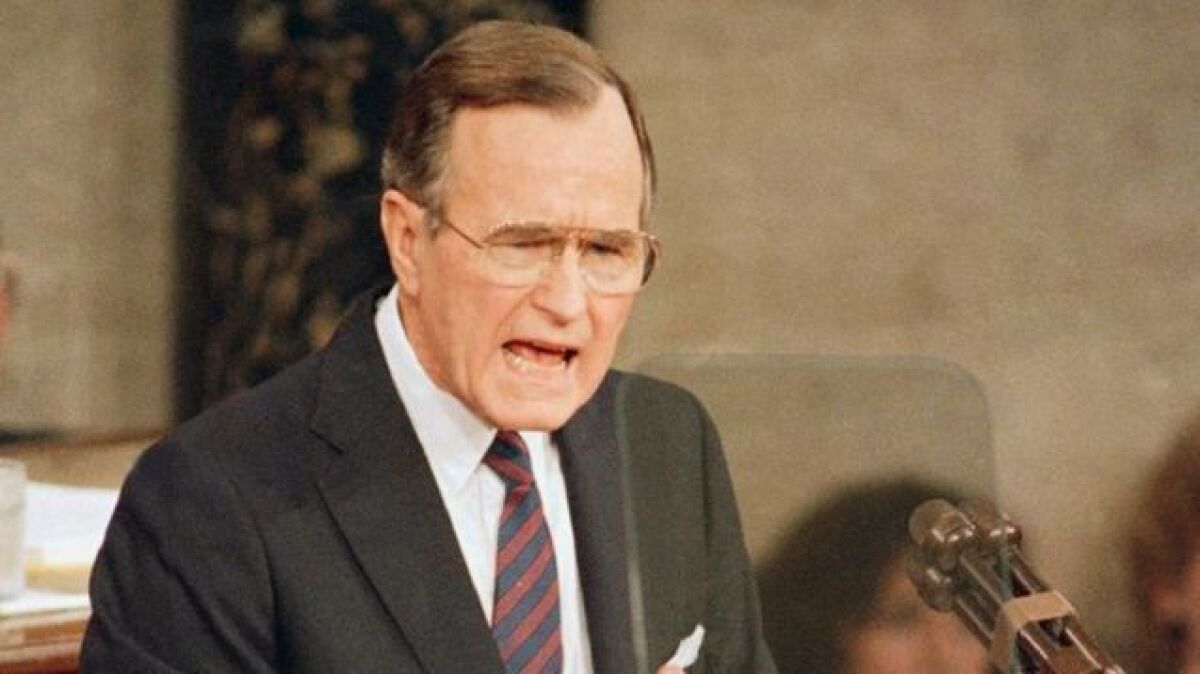 George H.W. Bush: Feb. 9, 1989
Bush inherited a large federal budget deficit and in his address presented modest spending increases while vowing to avoid new taxes. Bush advocated for an increase in government spending for education, science and the environment, as well as to tackle homelessness, drug abuse and the AIDS epidemic.
"We meet at a time of extraordinary hope," he said. "Never before in this century have our values of freedom, democracy, and economic opportunity been such a powerful and intellectual force around the globe. Never before has our leadership been so crucial, because while America has its eyes on the future, the world has its eyes on America."
Ronald Reagan: Feb. 18, 1981
Early in 1981, many in the U.S. were upset by the Iran hostage crisis. For 444 days, Islamic revolutionaries held 52 Americans captive after seizing the U.S. Embassy in 1979.
The hostages were freed the day Reagan assumed office after the Carter administration. Although the hostages' release brought relief, the country faced an economic crisis.
The year before Reagan took office, inflation was nearly 13% — in the double digits for a second year in a row. Millions of Americans were out of work. High interest rates made it difficult for many people to buy homes.
Reagan, a former California governor, painted a grim portrait of the economy during his first address.
Reagan equated the $1-trillion national debt to a stack of $1,000 bills 67 miles high and pointed to an "explosion" of government regulations he said hampered productivity.
In his narrowly focused speech, Reagan proposed sweeping cuts in almost every area of federal spending except defense, as well as a reduction in personal income taxes.
"This, then, is our proposal — America's new beginning: a program for economic recovery," he said. "I don't want it to be simply the plan of my administration. I'm here tonight to ask you to join me in making it our plan."
Members of Congress — who during his 33-minute speech interrupted him more than a dozen times with applause — responded with a standing ovation.
"I should have arranged to quit right there," he quipped during his speech.
alene.tchekmedyian@latimes.com
Follow me on Twitter @AleneTchek
ALSO
Why Rep. Darrell Issa is breaking with his fellow Republicans on the Russian hacking probe
In first major address to Congress, Trump will demand more military spending and cuts to domestic programs
White House denies any collusion between the Trump campaign and Russia
---
Must-read stories from the L.A. Times
Get the day's top news with our Today's Headlines newsletter, sent every weekday morning.
You may occasionally receive promotional content from the Los Angeles Times.