President Trump seems keen on picking fights with athletes. Or is it with black athletes?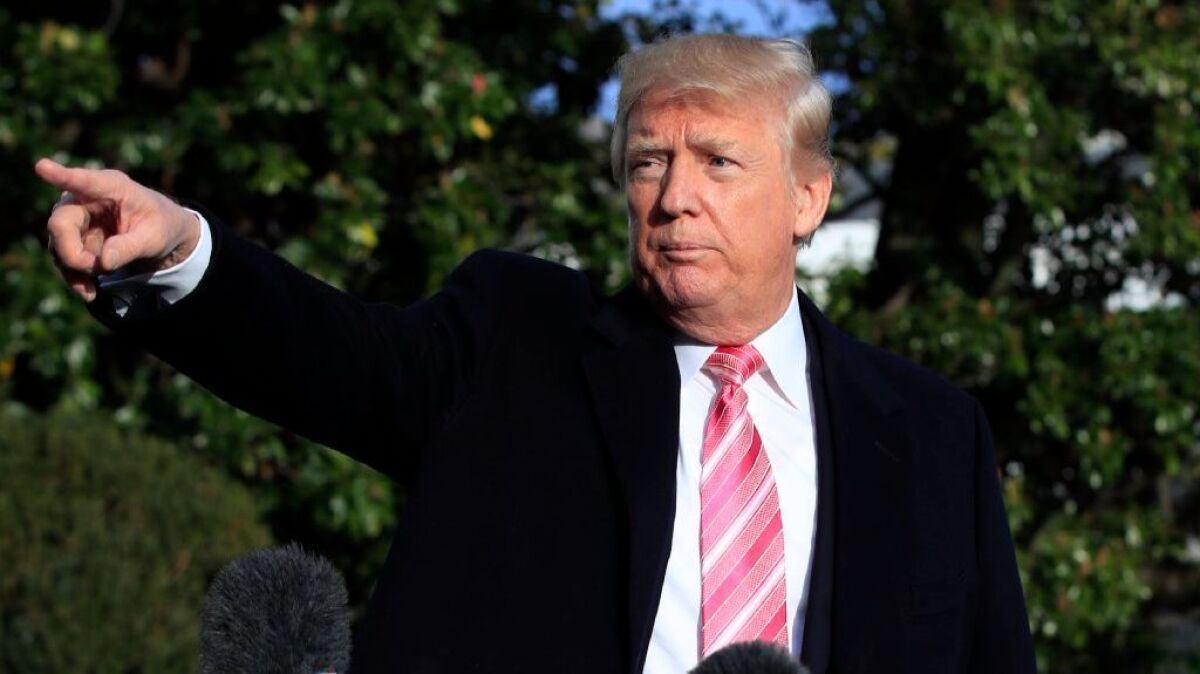 President Trump has berated them on Twitter and at rallies as disrespectful ingrates who deserve punishment.
Athletes and their surrogates, similar to some political foes and celebrities, have upset him. As is his nature, the president has responded in ways that have generated intense publicity, often via tweets.
In recent months, Trump has called on the NFL to suspend or fire players who have not stood during the national anthem, a position many players have embraced to draw attention to police brutality against African Americans. Nearly 70% of the athletes in the league are black.
After an NBA star said he would not attend a White House ceremony, Trump said the player's entire team was no longer invited. And, after Trump said he helped secure the release of three college basketball players who were in Chinese custody after shoplifting, he criticized the reaction of one player's father who he said did not seem grateful enough.
Here's a recap of some of the tense moments involving Trump and athletics.
What happened with the Oakland Raiders' Marshawn Lynch in Mexico?
On Sunday, the Oakland Raiders battled the New England Patriots in Mexico City.
Before the game, Lynch, a running back for the Raiders, stood for Mexico's national anthem, but sat during "The Star-Spangled Banner." When Trump saw pictures of the pregame moment, he tweeted in disgust.
"Marshawn Lynch of the NFL's Oakland Raiders stands for the Mexican Anthem and sits down to boos for our National Anthem. Great disrespect!" the president wrote Monday. "Next time NFL should suspend him for remainder of season. Attendance and ratings way down."
Neither the Raiders, who lost the game 33-8, nor Lynch had responded to Trump's tweet as of Thursday.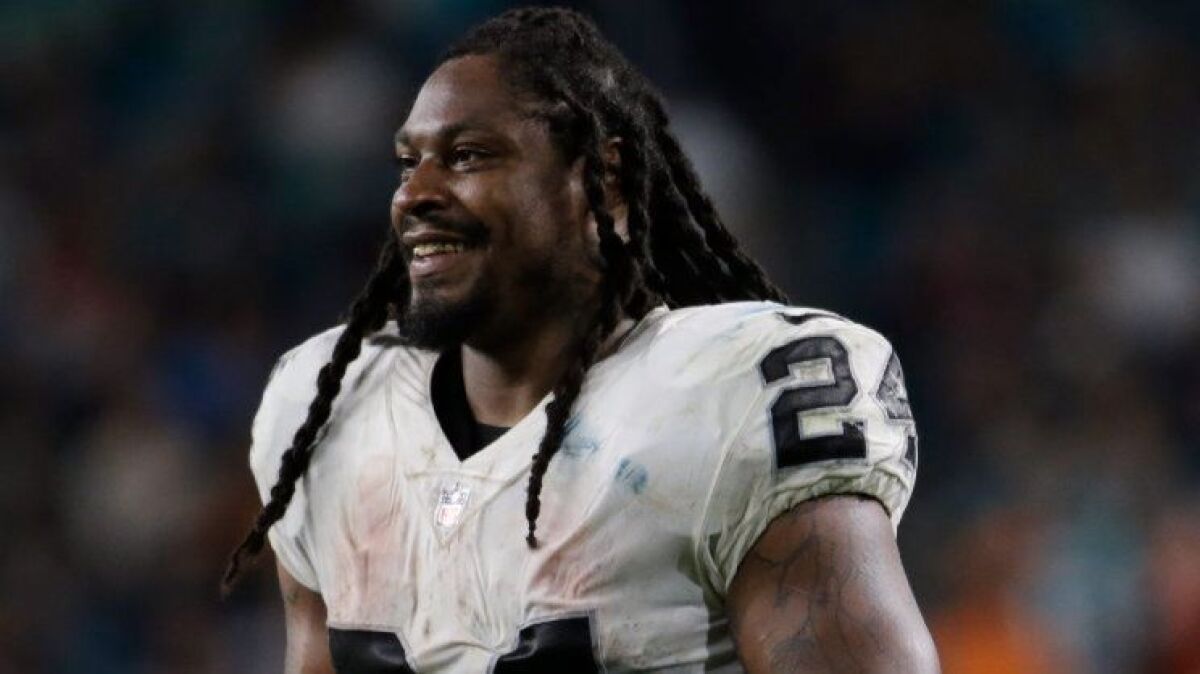 How often has Trump criticized the NFL protests?
He repeatedly criticized NFL players and executives on Twitter this fall and complained about the league during a rally in Alabama in September.
"Wouldn't you love to see one of these NFL owners, when somebody disrespects our flag, they say get that son of a bitch off the field right now — he's fired! Fired!" Trump roared at the rally. "That's a total disrespect of our heritage. That's a total disrespect of everything that we stand for, OK?"
Between Sept. 23 and Oct. 23, nearly 12% of Trump's tweets directly addressed the NFL or referred to respect for the national anthem, according to an analysis by Business Insider. The only thing he tweeted about more during that time frame was Puerto Rico, which was hammered by Hurricane Maria.
In October, Vice President Mike Pence abruptly left a game between the San Francisco 49ers and Indianapolis Colts after players took a knee during the national anthem.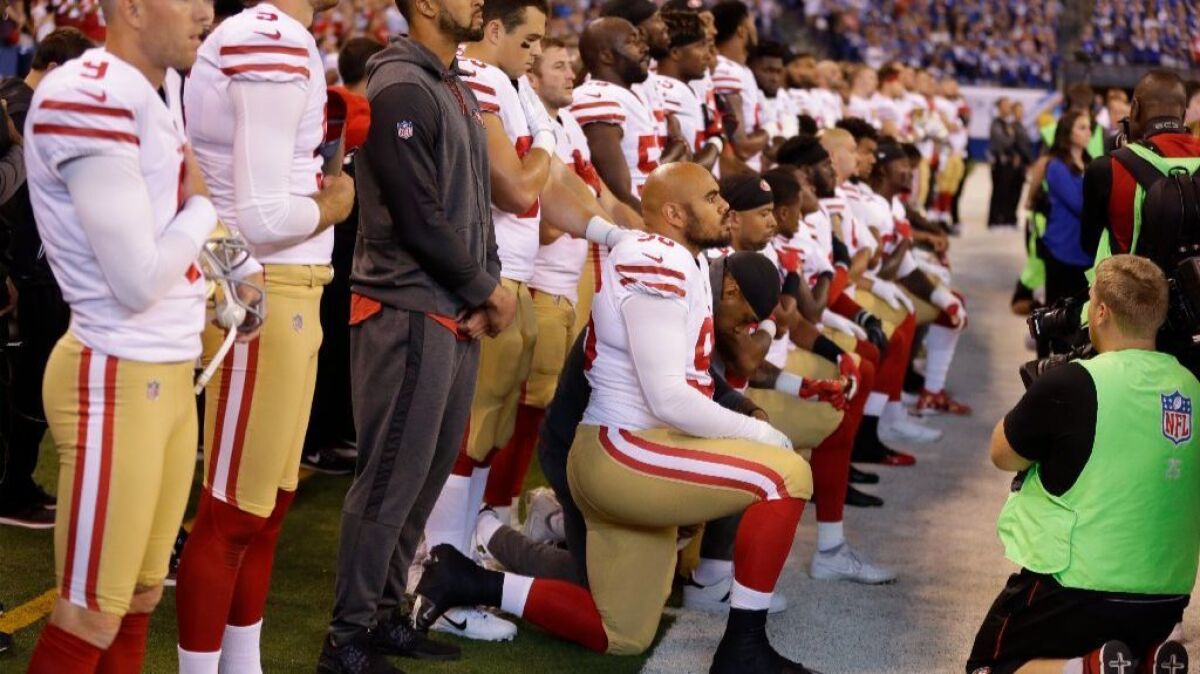 How has the NFL responded?
So far, officials haven't required players to stand for the national anthem. But last month, NFL Commissioner Roger Goodell issued a memo noting he would like to see players "honor our flag and our country, and our fans expect that of us."
He added, "We also care deeply about our players and respect their opinions and concerns about critical social issues."
And yet, Colin Kaepernick, the former 49ers quarterback who began the protests last season, remains out of the league and unsigned, drawing concerns from some who believe he's being barred from the NFL for starting the movement.
When it comes to professional athletes, is the president's criticism limited to the NFL?
No. Trump has also scolded NBA players.
In September, days after Golden State Warriors guard Stephen Curry suggested he would not attend a traditional White House champions visit, Trump opted to not invite the entire team.
"Going to the White House is considered a great honor for a championship team. Stephen Curry is hesitating, therefore invitation is withdrawn!" he tweeted.
In response, the Warriors issued a statement, saying, among other things, "we believe there is nothing more American than our citizens having the right to express themselves freely on matters important to them."
Cleveland Cavaliers star LeBron James pushed back even harder at Trump.
"U bum @StephenCurry30 already said he ain't going! So therefore ain't no invite. Going to White House was a great honor until you showed up!" James tweeted.
More recently, Trump complained that the father of one of the three UCLA basketball players arrested in China for shoplifting had downplayed his role in winning the players' release. The president suggested that perhaps he shouldn't have spoken with China's president about the matter.
"Now that the three basketball players are out of China and saved from years in jail, LaVar Ball, the father of LiAngelo, is unaccepting of what I did for his son and that shoplifting is no big deal. I should have left them in jail!" he tweeted.
Are there racial undertones to Trump's criticism?
Marc Morial, president of the National Urban League, said it's important to remember that the athletes — many of whom are black — are protesting racism and racially motivated police brutality.
"It's a missed opportunity to focus on the method, rather than the purpose of the protest," he said. "The sad fact is a significant contingent of the president's most ardent supporters are motivated by racial hostility, and whether it's his intention or not, the president's attacks do reinforce their resentment."
"Protesting injustice," Morial said, "has been a tradition for black athletes from Jackie Robinson to Muhammad Ali to Colin Kaepernick and LeBron James. It's their right as Americans and it's distressing to see the commander in chief vilifying anyone for exercising the constitutional rights that he is sworn to uphold."
Derrick Johnson, president of the National Assn. for the Advancement of Colored People, said the president "continues to operate like a bully." "The optics speak loudly," he said.
Trump has said his criticism of NFL players who do not stand during the national anthem has nothing to do with race.
"I never said anything about race," he said in September aboard Air Force One. "This has nothing to do with race or anything else."
---
Must-read stories from the L.A. Times
Get the day's top news with our Today's Headlines newsletter, sent every weekday morning.
You may occasionally receive promotional content from the Los Angeles Times.