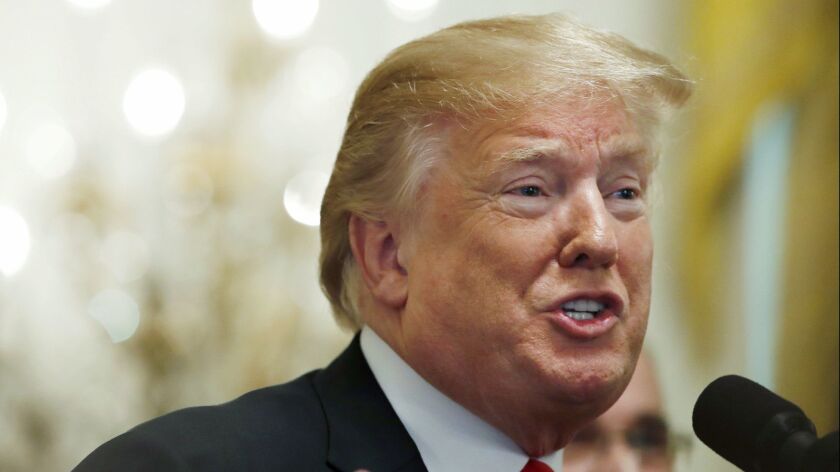 Reporting from BERKELEY HEIGHTS, N.J. —
President Trump said Saturday that he never pushed House Republicans to vote for immigration bills that failed last week, offering his latest display of whiplash on the legislation.
Trump tweeted from his New Jersey golf club that he didn't press GOP lawmakers to support the plans because it wouldn't have cleared the Senate. He wrote that he released many House Republicans "prior to the vote knowing we need more Republicans to win in Nov."
But the president's statement contradicted his commentary three days ago in which he tweeted that House Republicans should approve the "STRONG BUT FAIR" bill even though Democrats wouldn't allow it to pass the Senate. A week earlier, he urged Republicans to stop wasting their time on the bill until after the elections.
HOUSE REPUBLICANS SHOULD PASS THE STRONG BUT FAIR IMMIGRATION BILL, KNOWN AS GOODLATTE II, IN THEIR AFTERNOON VOTE TODAY, EVEN THOUGH THE DEMS WON'T LET IT PASS IN THE SENATE. PASSAGE WILL SHOW THAT WE WANT STRONG BORDERS & SECURITY WHILE THE DEMS WANT OPEN BORDERS = CRIME. WIN!

— Donald J. Trump (@realDonaldTrump) June 27, 2018
I never pushed the Republicans in the House to vote for the Immigration Bill, either GOODLATTE 1 or 2, because it could never have gotten enough Democrats as long as there is the 60 vote threshold. I released many prior to the vote knowing we need more Republicans to win in Nov.

— Donald J. Trump (@realDonaldTrump) June 30, 2018
Trump's tweets were another twist in Republicans' efforts to adopt changes to the nation's immigration laws in the aftermath of highly publicized images and cries from young immigrant children being separated from their parents at the southern border. Trump's statements coincided with people across the country marching Saturday in opposition to his immigration policies.
The GOP-led House soundly rejected a wide-ranging immigration bill last week despite Trump's endorsement, a vote that followed the defeat on a harder-right package that garnered more conservative support.
GOP leaders are considering an alternative that would focus narrowly on preventing the government from separating children from migrant families caught entering the country without authorization. But any changes are not expected to happen before the July 4 holiday as lawmakers attempt to agree on bill language.
The issue has also been complicated by a federal judge who ordered that divided families be reunited with 30 days. Republicans have been working on legislation that would keep migrant families together by lifting a court-ordered, 20-day limit on how long families can be detained.
Trump issued an executive order reversing his own family separation policy, but about 2,000 children have been removed from their relatives, prompting an outcry for action.
The president tweeted Saturday that when people enter the nation illegally, "we must IMMEDIATELY escort them back out without going through years of legal maneuvering. Our laws are the dumbest anywhere in the world."
---