In his own words: Trump on Russian interference and Vladimir Putin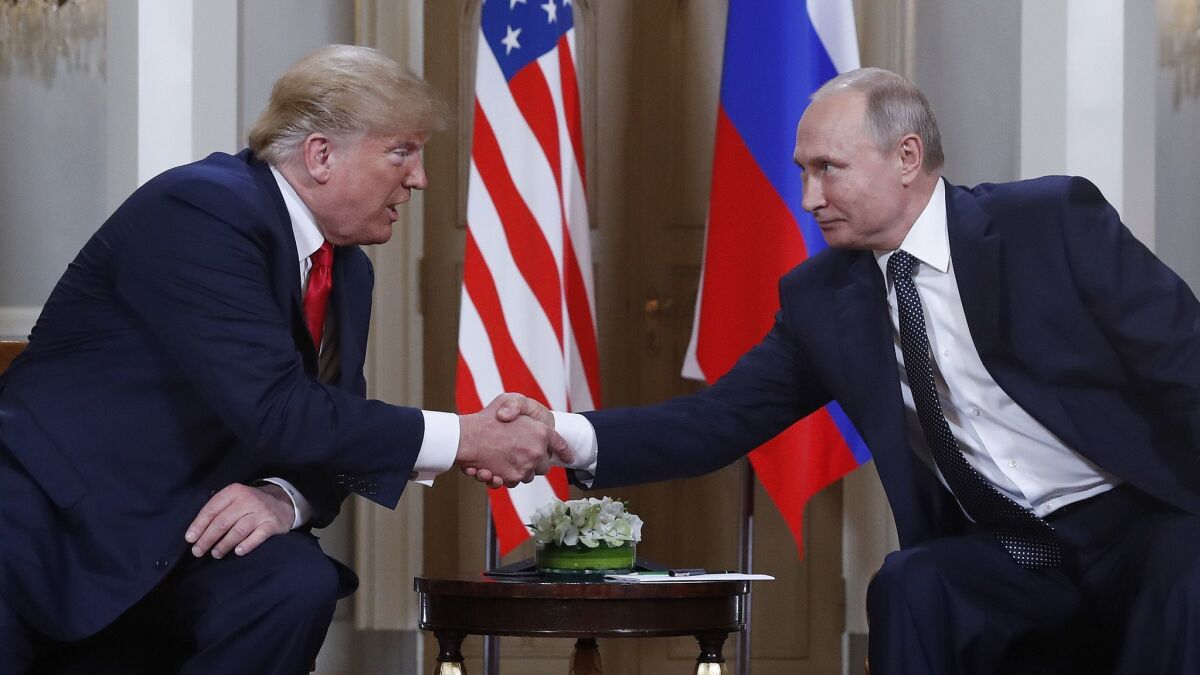 In October 2016, U.S. intelligence agencies concluded that Russia was interfering in the U.S. presidential election at the behest of Russian President Vladimir Putin in an effort to help the candidacy of Donald Trump. They have been unwavering in that finding.
But it's hard to keep track of where President Trump stands on the issue.
In a recent seven-day stretch, he suggested that Russia didn't meddle in the election, then he sided with the intelligence community's findings, at least in part, and then appeared to reverse himself again when he tweeted that "it is all a big hoax."
The CIA, FBI, Office of the Director of National Intelligence and other agencies have found that Russian intelligence operatives were behind the hacking of Democratic National Committee emails that were released by WikiLeaks in July 2016 — the eve of the Democratic National Convention — and showed favoritism by party leaders for Hillary Clinton over opponent Bernie Sanders.
The agencies also concluded that Russians ran fake accounts on Facebook and Twitter to spread anti-Clinton and pro-Trump propaganda.
The Obama administration had evidence of Russian interference at least as early as August 2016, but chose not to make it public until a month before the November election, in part because of concerns about appearing to get the intelligence agencies involved in politics.
That December, after Trump was elected, the Obama administration imposed sanctions against Russia, kicked out 35 of its diplomats and closed its compounds in New York and Maryland. Less than a month later, in January, U.S. intelligence officers briefed Trump on their conclusions.
Trump has been consistent in at least one respect — denying that he or his campaign team worked with the Russians to influence the election, a key element of the current investigation by special counsel Robert S. Mueller III into Russian interference.
Here's a look at what Trump has said about Russian involvement in the election, as well as Trump's relationship with Putin and the family's business dealings in Russia:
Trump on Russian interference in the election:
June 15, 2016
"We believe it was the DNC that did the 'hacking' as a way to distract from the many issues facing their deeply flawed candidate and failed party leader. Too bad the DNC doesn't hack Crooked Hillary's 33,000 missing emails."
— In a statement referring to Clinton's use of a private email server during her time as secretary of State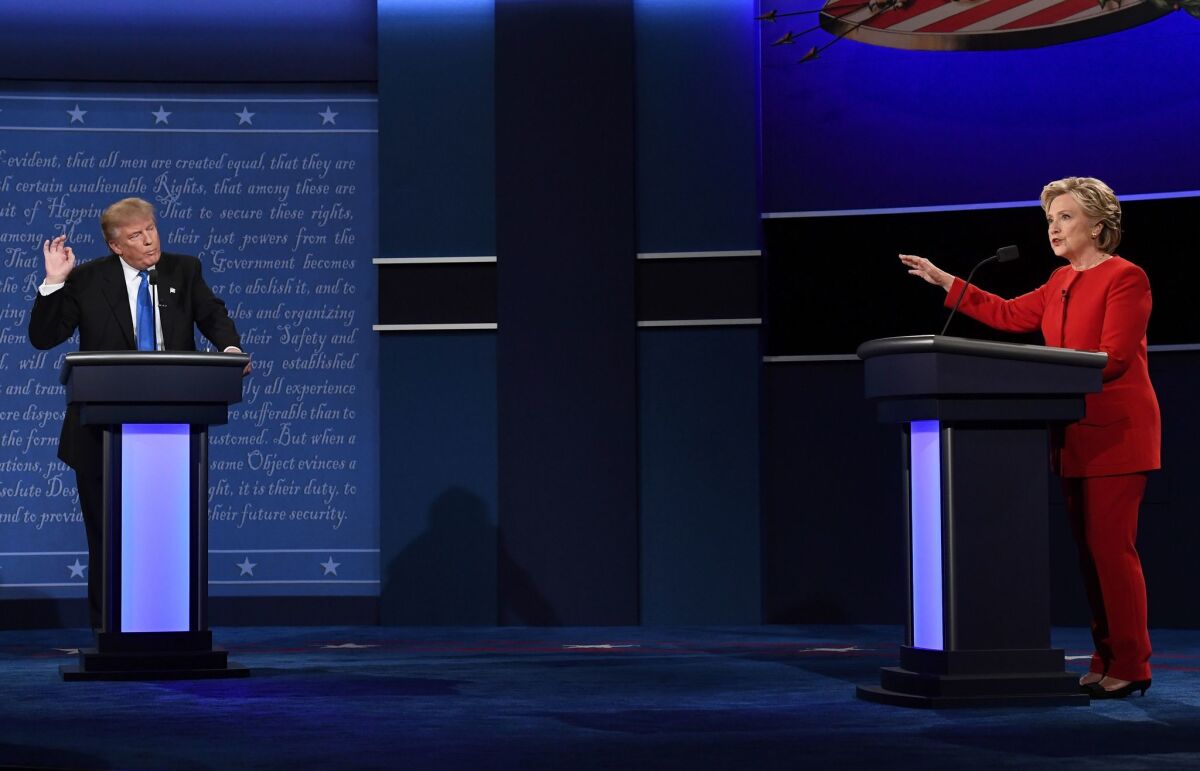 July 27, 2016
"Russia, if you're listening, I hope you're able to find the 30,000 emails that are missing. I think you'll probably be rewarded mightily by our press."
— At a news conference in Doral, Fla.
July 27, 2016
"No, that's not what I said, and I was having fun. We were all having fun."
— In an interview with the Detroit News, saying he was joking earlier in the day when he asked Russia to find Clinton's emails
Sept. 26, 2016
"It could be Russia, but it could also be China. It could also be lots of other people. It also could be somebody sitting on their bed that weighs 400 pounds."
— In a presidential debate with Clinton, speculating about the hacking of the DNC's email
Nov. 11, 2017
"He said he didn't meddle. He said he didn't meddle. I asked him again. You can only ask so many times. But I just asked him again, and he said he absolutely did not meddle in our election. He did not do what they're saying he did."
— In comments to reporters aboard Air Force One, describing a brief conversation he had with Putin during the Asia-Pacific Economic Cooperation forum in Danang, Vietnam
"As to whether I believe it or not, I'm with our agencies, especially as currently constituted with their leadership. I believe in our intel agencies, our intelligence agencies. … Now, at the same time, I want to be able — because I think it's very important — to get along with Russia."
-- Speaking later that day during a news conference in Hanoi.
July 16, 2018
"There was no collusion at all. Everybody knows it."
— In remarks after meeting with Putin in Helsinki, Finland, with only their translators present
July 16, 2018
"I have great confidence in my intelligence people, but I will tell you that President Putin was extremely strong and powerful in his denial today."
"My people came to me — [Director of National Intelligence] Dan Coats came to me and some others — they said they think it's Russia. I have President Putin; he just said it's not Russia. I will say this: I don't see any reason why it would be."
— In the same news conference with Putin in Helsinki
July 17, 2018
"I actually went out and reviewed a clip of an answer that I gave, and I realized that there is a need for some clarification. It should've been obvious. I thought it would be obvious, but I would like to clarify just in case it wasn't. In a key sentence in my remarks, I said the word "would" instead of "wouldn't." The sentence should have been, 'I don't see any reason why I wouldn't or why it wouldn't be Russia.'"
— In an Oval Office statement, taking back his remark from the previous day
July 17, 2018
"I have the strongest respect for our intelligence agencies, headed by my people. We're doing everything in our power to prevent Russian interference in 2018."
— Speaking to reporters pressing about his stance on Russian meddling
July 22, 2018
"So President Obama knew about Russia before the election. Why didn't he do something about it? Why didn't he tell our campaign? Because it is all a big hoax, that's why, and he thought Crooked Hillary was going to win!!!"
— In a tweet
On his relationship with Putin:
June 18, 2013
"Do you think Putin will be going to the Miss Universe Pageant in November in Moscow — if so, will he become my new best friend?"
— In a tweet
November 2013
"I can tell you that he's very interested in what we're doing here today. He's probably very interested in what you and I are saying today, and he's going to be seeing it in some form."
— In an interview with MSNBC's Thomas Roberts to promote the Trump-owned Miss Universe Pageant, when asked, "Do you have a relationship with Vladimir Putin?"
Feb. 17, 2016
"I have no relationship with [Putin] other than he called me a genius. He said Donald Trump is a genius and he is going to be the leader of the party and he's going to be the leader of the world or something."
— At a campaign event in Bluffton, S.C.
On his business connections in Russia:
Oct. 17, 2013
"Well, I've done a lot of business with the Russians. … They're smart and they're tough."
— In an interview with talk show host David Letterman, when asked: "Have you had any dealings with the Russians?"
Feb. 16, 2017
"And I can tell you, speaking for myself, I own nothing in Russia. I have no loans in Russia. I don't have any deals in Russia. President Putin called me up very nicely to congratulate me on the win of the election."
— At a news conference announcing his choice for a new labor secretary
Follow me on Twitter @melissaetehad
---
UPDATES:
5:55 p.m., Aug. 1: This article has been updated to include Trump's statement on Nov. 11, 2017, supporting U.S. intelligence agencies.
This article was originally posted at 3 a.m. on July 25.
---
Must-read stories from the L.A. Times
Get the day's top news with our Today's Headlines newsletter, sent every weekday morning.
You may occasionally receive promotional content from the Los Angeles Times.