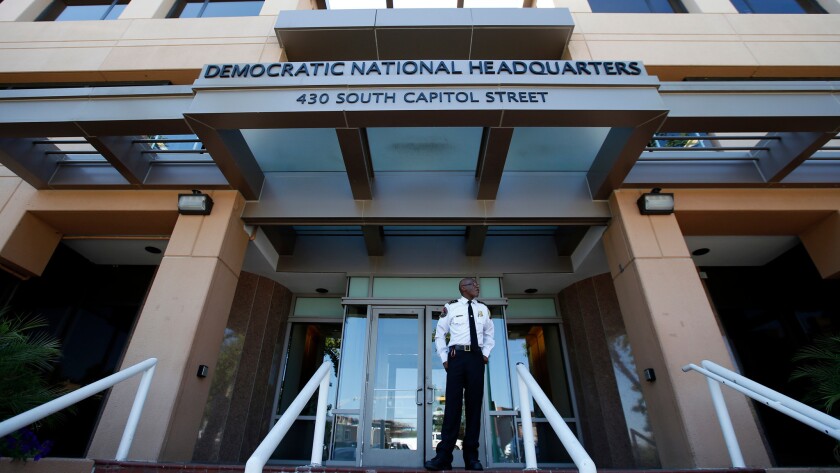 Reporting from Washington —
The Obama administration on Friday officially blamed the Russian government for attempting to interfere in the U.S. election by hacking computers used by political groups, including the Democratic National Committee.
In a statement, the U.S. intelligence community and the Department of Homeland Security for the first time publicly said they were "confident that the Russian government directed the recent compromises of emails from U.S. persons and institutions, including from U.S. political organizations."
The goal of "these thefts and disclosures are intended to interfere with the U.S. election process," the statement said.
The DNC is not identified in the statement, but a U.S. official confirmed it was one of the victims targeted by the Russian government.
The assessment also determined that only "Russia's senior-most officials could have authorized these activities ... based on the scope and sensitivity of these efforts."
Previously, intelligence officials had privately blamed Russia but would not do so openly.
The statement is the latest sign of rising tensions between the U.S. and Russia. Also Friday, U.S. Secretary of State John F. Kerry called for a war-crimes investigation of Russia's military intervention in Syria.
The DNC disclosed it had been hacked in June, and a large number of internal emails soon were published on the WikiLeaks website. The FBI confirmed in July that it was investigating the intrusion.
The Clinton campaign has said that "an analytics data program maintained by the DNC, and used by our campaign and a number of other entities, was accessed as part of the DNC hack."
The Democratic Congressional Campaign Committee and other Democratic organizations used the hacked system.
GOP nominee Donald Trump has repeatedly cast doubt on whether Russia was behind the attack.
The statement also noted the recent hacking attacks targeting U.S. election systems. More than a dozen states have reported that voter registration databases have been scanned and probed by hackers, according to U.S. officials. Hackers this summer successfully penetrated an Illinois voter registration database.
U.S. officials suspect the Russian government is behind those cyberattacks, too, law enforcement sources have said. However, the intelligence community is "not now in a position to attribute this activity to the Russian government," the statement said.
Election experts have said it would be extremely difficult for Russia or another country to influence the outcome of an election, though they could seek to sow confusion.
The statement issued Friday by U.S. officials reiterated that view, saying that their assessment "is based on the decentralized nature of our election system in this country and the number of protections state and local election officials have in place."
Intelligence and DHS officials urged states and local election offices to remain "vigilant and seek cybersecurity assistance from DHS" to prepare for potential cyberattacks.
Follow @delwilber on Twitter
ALSO
Russian hackers keep business booming for Irvine cybersecurity firm
Unleashing torrent of Cold War rhetoric, Russia denies hacking DNC
Russian hackers published American athletes' medical data, anti-doping agency says
---