This Utah real estate agent is trying to sell a jail. It's not going so well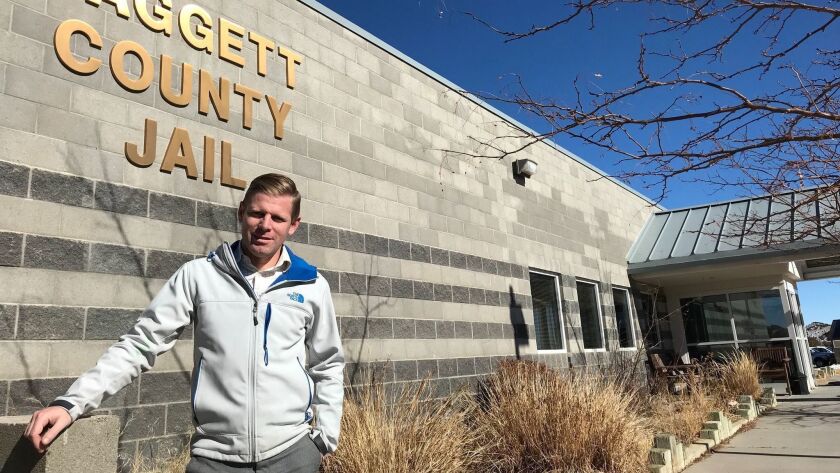 Reporting from Manila, Utah —
It looked as though the rapture had come to the Daggett County Jail.
Red lights on a command board in the secure room where the warden once stood were still glowing — each one representing an open cell door. A desk calendar next to it was stuck on April 2017. Empty leg shackles were still hooked to round stools inside the bays where inmates could speak to their visitors. A fingerprint roller, with fresh ink on it, sat unused in the vacant processing area.
But it was a far more earthly force that had come to this remote jail in Utah's wide-open interior, where herds of deer roam in valleys rimmed by snow-capped mountains. It was the Utah Department of Corrections. And with it came some economic wrath.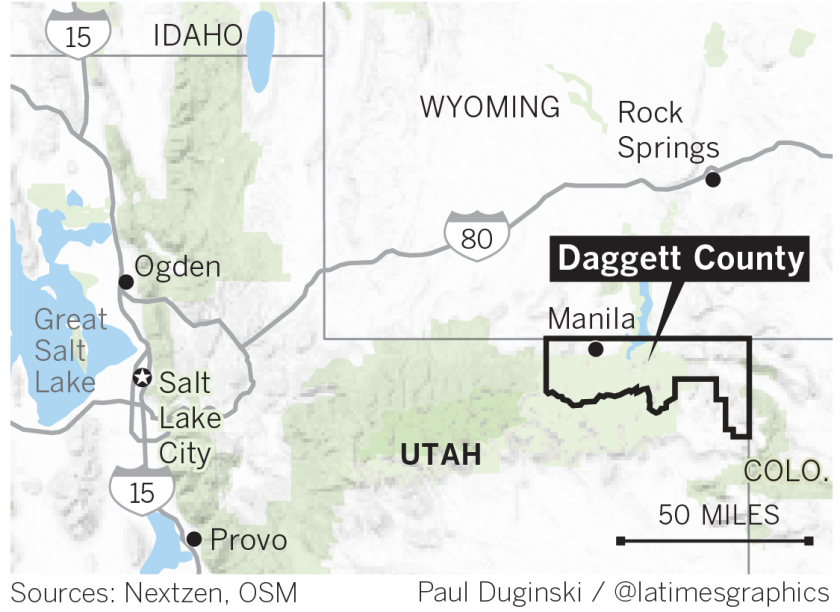 After a scandal rocked the facility with allegations of abuse at the hands of jail employees two years ago, the state came in and whisked away the inmates. The contract to house state prisoners at the site was canceled. Daggett County Jail was shuttered.
For the least-populated county in Utah with only about 1,000 people — the closure hit hard. A third of the county jobs were suddenly gone when the roughly 20 employees were either arrested or scattered to find work elsewhere. About $1.4 million in annual state revenues that helped Daggett County's government run and pay off the general obligation bond secured when the jail was built in 1998? Also gone. All that was left was the shell of the building and the small town of Manila trying to figure out what to do with it.
"It's kind of a specific building," Darcy Browning said.
Browning, who co-owns the diner on the main highway that bisects the small town of Manila, said she's heard all kinds of ideas on what to do with the jail. Turn it into a bed and breakfast. Use it as a rehab facility for troubled youth. Make it a marijuana growing site (Utah voters approved a ballot measure in November to sell medical marijuana).
I'd like to see the prisoners come back.
Darcy Browning, diner co-owner
Browning also happens to live next door to the jail. Her wish, when she said it out loud in the empty diner on a recent weekday afternoon, was almost wistful.
"I'd like to see the prisoners come back," she said.
Daggett County Commission Chairman Randy Asay has said that is unlikely. Utah Department of Corrections officials said there have been no recent conversations to that end, either. And, quite frankly, there aren't enough people in Daggett County to jail. The last inmate from the county to spend any time in the jail was about three years ago.
So, Asay and his fellow commissioners figured the best option was to try to unload it. Or even lease it.
That's when Nate Worthen came to town.
Young and energetic. Bright-eyed. Optimistic with a good sense of humor. The kind of guy who saw challenge as an opportunity. A guy who didn't need the Glengarry leads to close. His online bio boasts $185 million in transaction volume selling real estate all over the world while also finding time to win his firm's Chili Cookoff competition last year.
The 34-year-old said he didn't, at first, imagine himself selling real estate. Coaching basketball was his dream. After graduating from Brigham Young University with a sociology degree, he headed east to a small college in South Carolina. They were the Fighting Koalas and his job was to sell recruits on the pluses of playing for a small NAIA school.
At $500 a month, it lasted about a year. He came back to Utah, got a master's in real estate development and joined Newmark Grub ACRES in 2012 to sell commercial real estate. He has sold churches, schools, government buildings and open land.
But never a jail. This would be a first.
Asay and the commission told him they wanted it to sell for $4.45 million. The chairman said they'd already been paying for the jail since it was built in 1998 and felt they should "get something out of it."
But the jail comps — yes, there is such a thing — suggest that might be an ambitious asking price.
Last year, the 155,400-square-foot Wapato Jail in Oregon was sold for $5 million. It sat on 18 acres and is about 20 minutes from the center of Portland. It was built in 2004 with a $46-million bond measure. It had never been used.
The Daggett County Jail, by contrast, is a decidedly inconvenient 2.5 hours from Salt Lake City, more than 90 minutes over a mountain road with switchbacks south to Vernal, Utah, and a good hour to Rock Springs, Wyo. It's much smaller, too — the 17,680 square-feet facility is on 11 acres of land.
Worthen said since it went on the market in mid-December, he hasn't had a single showing for a potential buyer. The only jail tours he's done are for some local media outlets. He said it's too time-consuming and costly to take people out for showings when they're not serious buyers.
The firm posted the listing on Facebook and online. The comments under the ad haven't led to fruitful leads, but have showcased the talents of budding comedians. ("Does it include inmates?" asked a person identified as Ryan Christenson. "Can't take me to jail if I own it," noted Harley Dean Dickinson.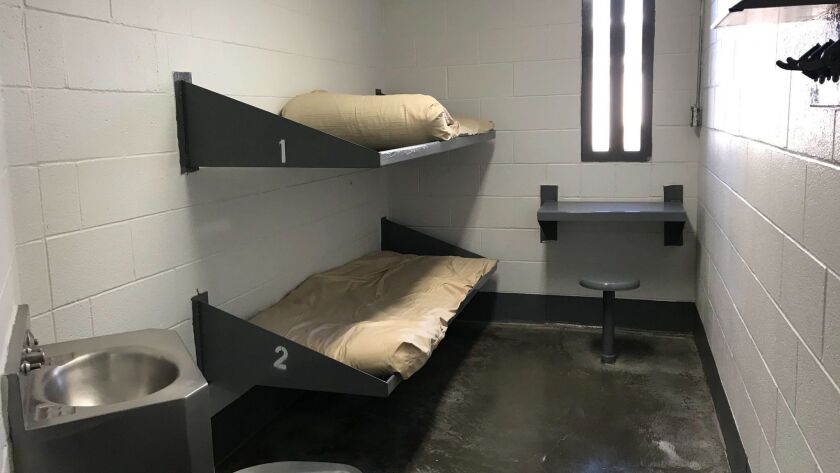 Daggett County Sheriff Erik Bailey works in a building adjacent to the jail that could be included as part of the sales negotiations if a buyer was interested. Bailey sometimes checks on the jail between long patrol drives on a winding road that leads toward Flaming Gorge National Recreation Area in the east and a whole lot of nothing to the west.
He said he hopes it sells soon. He said he'd buy it himself, but acknowledged that would be a tall order on a rural county sheriff's salary.
There's a greenhouse out in the back, he said pointing to a small wood building that sits on a downward slope of a hill. Lots of possibilities there. Swinging his arm to the right, he points out another building donated by the Church of Jesus Christ of Latter-day Saints that was designed for Sunday worship services. Beneath it is a woodshop — still with skill saw blades hanging on the wall and hobby horses where inmates made furniture.
Between the church building and the jail is a basketball and handball court. There's a basketball lying around, too.
All included, Worthen said.
Everything is operational, though the entrance did suffer some flood damage from a recent pipe break. The temperatures drop below freezing in winter in Manila and the wind can howl — whipping faster than the posted 40 mph speed limit on the two-lane highway through town.
"People ask if they can turn it into a vacation rental," Worthen said. "They could — but it would take a lot of work." He lightly tapped the gray walls built with the express intent of keeping people inside.
Most of the 80 beds in the jail are in a dorm-style setting. There are a few narrow cells with metal bunk beds, too. In real estate parlance — cozy. There are views from some of the cells, but the sweeping vistas are sliced up by narrow, vertical bars.
A common area with a fiberglass table sits in the middle. All of the furniture in the jail is gray and smooth and fixed firmly to the floor. Easy to clean for spills! Seats four at a time! There's a spot for a television. Cable- or dish-ready!
There's an isolation cell big enough for two as well. The windows are a strong plexiglass. Surveillance cameras are everywhere and are operational. Security is clearly a strong selling point for the joint.
The kitchen is also fully functional — commercial quality with a gas stove, grill hood and several sinks. One sink has a dish spray hose. There's also a walk-in food storage area and a walk-in fridge. The food had been left behind as well and Bailey said it hadn't been pleasant removing it all.
Worthen said the kitchen may be one of the most valuable assets to the jail. Kitchen utensils, including ladles and spatulas, hang neatly next to the grill. The whole thing alone is worth thousands of dollars, he said.
Not far from the kitchen is a hallway where prisoners could check out books, board games and movies. They were all left behind. A few sets of Monopoly, dominoes, chess and Axis and Allies are stacked up on a shelf. The books are of all genres, including spy novels, crime stories and inspirational fare such as "Seabiscuit." There are plenty of copies of the Book of Mormon, too.
All included, Worthen said.
Asay said he wondered if a movie studio might want to use the jail as a set piece for a prison film. He was bullish on a possible bed and breakfast idea, especially since the area draws a lot of tourists in the summer visiting Flaming Gorge. The marijuana growing site didn't faze him either — though he's a little squeamish about that idea.
But, he said, almost anything is better than sitting on a vacant jail.
"It's like paying for a dead horse," Asay said.
david.montero@latimes.com | Twitter: @davemontero
---
Must-read stories from the L.A. Times
Get all the day's most vital news with our Today's Headlines newsletter, sent every weekday morning.
You may occasionally receive promotional content from the Los Angeles Times.