Drug war on another border: Canada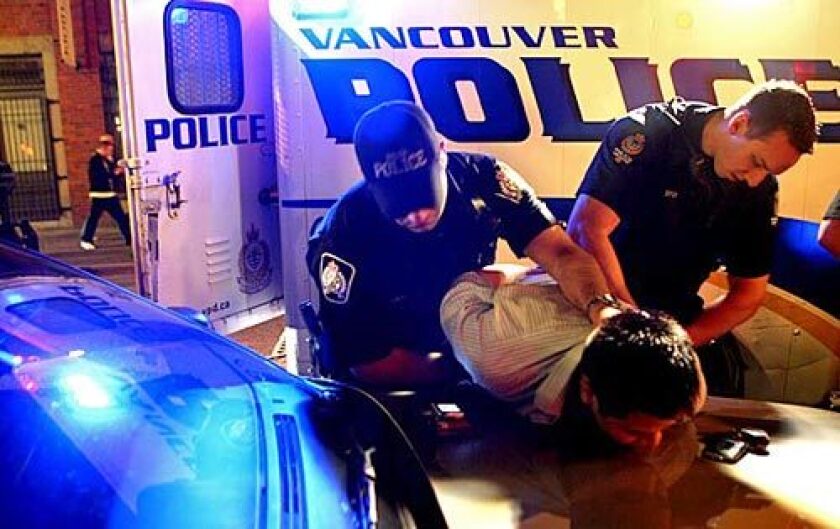 Reporting from Abbotsford, Canada —
The latest mayhem started at the end of March, when 21-year-old Sean Murphy, a popular former high school hockey player, drove into a withering blast of gunfire near Bateman Park. He was probably dead before his car coasted to a stop in the weeds.
That same night, Ryan Richards, 19, abruptly left a friend's house after getting a cellphone call. His body was found the next morning behind a rural produce store. The stab wounds on his hands told the tale of a furious fight for his life. The undertaker apologized to his family for not being able to conceal them.
The bodies of two local high school seniors, Dilsher Gill, 17, and Joseph Randay, 18, were found May 1 in their car on a remote road just outside this normally quiet town of 134,000 near Vancouver. The boys had been seen driving away with an armed man the night before.
This crisp region of polished high-rises, emerald spruce, azure waterways and feel-good vibes finds itself in the midst of a gang war that has killed at least 18 young people this year.
Drug dealers are gunning down women (one in a car with her 4-year-old son in the back seat), high school students with no gang allegiances and, especially, one another, in broad daylight in and around the city that will host the 2010 Winter Olympics.
It got so bad this spring that police erected concrete barriers outside the homes of two gangsters to slow down potential drive-by assassins.
"Let's get serious. There is a gang war, and it's brutal. What we have seen are new rules of engagement for the gangsters," Vancouver's chief police constable, Jim Chu, told reporters in March.
Authorities trace the violence to the recent government crackdown on cocaine traffickers in Mexico, which has squeezed profit margins for cocaine north of the U.S. border.
Canada's outlaw retailers are fighting to the death over market share, police say, a situation exacerbated by personal vendettas and power vacuums left by the arrests of gang leaders.
"The war in Mexico directly impacts on the drug trade in Canada. . . . There's a complete disruption of the flow of cocaine into Canada, and we are seeing the result," said Pat Fogarty, operations officer for the Combined Forces Special Enforcement Unit, British Columbia's main law enforcement agency targeting organized crime.
The province became an important player in the Mexican cocaine marketplace in part by bartering its powerful home-grown marijuana, "B.C. Bud," which helps fuel what is estimated to be a $6.3-billion-a-year industry.
Canadian drug organizations now use planes, helicopters and, in one case, a tunnel to move drugs. They have equipped trucks with secret panels and devices to avoid detection by X-rays and drug-sniffing dogs.
The Lower Mainland has become a playground for young up-and-coming gangsters, who speed around town in armor-plated Cadillac Escalades, Porsche SUVs and BMW sedans.
The worst violence can be traced to the verdant Fraser Valley southeast of Vancouver, where the Red Scorpions gang has been at war with a multi-ethnic criminal organization called the United Nations.
The founder of the U.N. is Clayton Roueche, 33, son of a scrap metal dealer from Chilliwack, population 80,000.
Authorities believe Roueche was going to attend a wedding and meet trafficking associates in Mexico in May 2008 when authorities there turned him away. He was flown to Dallas, where U.S. agents arrested him on a drug indictment out of Seattle. He pleaded guilty in April to conspiracy and money-laundering charges and faces as many as 30 years in prison.
Two months later, the man he allegedly was going to meet in Mexico was shot to death in a Guadalajara restaurant, along with another U.N. associate.
The U.N. adopted its name in honor of the variety of nationalities it encompasses, including Iraqis, Chinese and Guatemalans. It is known for its Asian mystic-themed motto of "Honor-Loyalty-Respect," created by Roueche, who has a passion for martial arts and Buddhism.
The cemetery in Chilliwack is dominated by the graves of two former U.N. members, flanked by a pair of 5-foot-tall granite monuments inscribed with the same "U.N." monogram found on the gang's packets of cocaine. The phrase "Warrior of the United Nations" is engraved in Chinese characters. At the foot of the graves, a pair of stone Chinese foo lions stands guard.
The carnage between the U.N. and the Red Scorpions is believed to stem from the fatal shootings of six men in an apartment in the comfortable suburb of Surrey in 2007.
Five associates of the Red Scorpions have been arrested in the case. One pleaded guilty and was sentenced in April to life in prison.
Dozens of other slayings followed, many of them retribution killings and commercial disputes between the U.N. and three Abbotsford men associated with the Red Scorpions: the Bacon brothers.
Jonathan Bacon, 28, and his brothers, Jarrod, 26, and Jamie, 23, are the rock stars of the Fraser Valley underworld, their exploits and the efforts of the police to keep them alive documented regularly in the media.
Jamie Bacon, who was charged in April in one of the Surrey Six slayings, survived a mid-afternoon shooting at an Abbotsford intersection Jan. 20, when a gunman fired as many as eight bullets into his Mercedes.
Jonathan Bacon was shot and wounded in the driveway of his parents' home in Abbotsford in 2006.
Not surprisingly, the Bacons have changed residences several times, and their car has armored plating and bulletproof windows. They kept an arsenal for protection: As part of a plea bargain for an associate in 2007, Jonathan Bacon delivered to police 114 sticks of dynamite, a grenade, seven handguns, two shotguns, a rifle and an Uzi submachine gun.
With so many people apparently eager to kill a Bacon brother, police took the unusual step this year of warning citizens to avoid the family or risk being caught in the crossfire.
That is what happened to Jonathan Barber, 24, who ran a custom stereo business in Abbotsford. One night in May, Barber picked up a Porsche Cayenne SUV belonging to one of the Bacon brothers to install a new audio system. A gunman opened fire, killing Barber and injuring his 17-year-old girlfriend.
"Young people in the past used to have a fight in the schoolyard. In a park or something. But now everyone seems to have a gun," Barber's father, Michael, said one recent afternoon. "There used to be a code in gangs: Don't touch the women, don't touch the children. But no one is safe anymore. No one is safe in our city."
Mathea Angelica Sturm, a 17-year-old student at W.J. Mouat Secondary School, started a Facebook page recently to memorialize the young people who have died in Abbotsford and Chilliwack. The names quickly numbered in the dozens.
Among them were Dilsher Gill and Joseph Randay, the two teenagers found dead in their car in May. Both were seniors at Mouat.
"You see it in movies and stuff, but you never think it's going to happen in your town," Sturm said. "Especially in Abbotsford. It was a pretty peaceful town, and then all of a sudden, it was like a big swoop of something came in."
Her mother, Wendy, said: "It kills me that every week my child comes home in agony, in tears, that she lost another friend. And to have the three most notorious gangsters [the Bacon brothers] living in our own town? My other daughter is terrified to go to her own high school reunion because she went to school with one of them."
Police, the mayor and the school board chairman recently issued a letter warning parents and students that even the slightest involvement in drugs or gangs can be dangerous. Neither Gill nor Randay was a known gang member, friends say.
Ryan Richards, the 19-year-old whose body was found behind the produce shop, got involved with the Red Scorpions only because he couldn't get financial aid for college, according to his mother, Wendy, who was hospitalized after her son's death and still breaks down in sobs.
"He said he wanted out," she said.
"He told another kid, 'Don't do it. It's not a very good life. I'm getting out of it,' " Wendy Richards said one recent afternoon, sitting on the front porch and hugging her knees.
Richards said she believes her son was a low-level salesman who may have come under suspicion within the Scorpions. He had been taken into custody a few weeks before his death, and his cellphones were confiscated.
"They might have thought that he ratted them out," said her boyfriend, Ken Peters. "So they sent somebody out. Somebody who has no remorse."
On a Friday night in the Lower Mainland, two teams from the integrated gang task force patrol the restaurants, clubs and bars where gang members drink, spar and sometimes kill.
With the Winter Olympics only a year away, officials in British Columbia have made it clear that the gang problem must end. Money has poured in for new officers. Legislation is being proposed to expand surveillance capability, toughen sentences, crack down on firearms smuggled in from the U.S., and outlaw armored cars and flak jackets.
There have been successes: In May, police arrested eight senior U.N. members, including the new reported leader, Iraqi immigrant Barzan Tilli-Choli, 27, on charges of conspiracy to kill the Bacons.
A month earlier, Vancouver police announced a series of arrests that they said had "functionally dismantled" the notorious Sanghera crime group, whose conflict with other gangs in southeast Vancouver had led to nearly 100 shootings in the last few years.
"We targeted them for whatever kind of offenses we could get them for, from minor charges like causing a disturbance to attempted murder. We ended up incarcerating literally the whole group, and the result of that has been a decrease in shootings," said Mike Porteous, who led Project Rebellion, the gang sweep that netted the Sanghera group.
"I call it death by a thousand cuts," said Cpl. A.C.J. Coons, head of the four-vehicle gang patrol on the Friday night shift.
Coons and his partner, Constable Michael Clark, execute sharp U-turns when they see a suspicious Escalade or BMW and start checking IDs. They prowl the bars, scrutinizing driver's licenses and ordering known gang members to leave under laws similar to U.S. gang injunctions.
The bouncer at the Canvas Lounge in central Vancouver's Gastown district reports that one of the Skeena Boys (named for the apartment project in east Vancouver where the gang originated) challenged him when he wouldn't let him in. The man grabbed his hip, as if signaling he would have a gun when he returned, the bouncer said.
Coons and Clark head off on foot to corner the young man, who is wearing rhinestone earrings and a T-shirt with a jeweled tiger. He and two companions smirk and stare at the sidewalk; they insist they were simply looking for someplace else to drink.
"In some ways, we've lost this generation of gangsters, they're so immersed in the gang world," said Sgt. Keiron McConnell, standing nearby in the red-and-blue glare of the police lights. "About the only thing we can do is incarcerate them."
---
Must-read stories from the L.A. Times
Get all the day's most vital news with our Today's Headlines newsletter, sent every weekday morning.
You may occasionally receive promotional content from the Los Angeles Times.