Memories of a massacre in Vegas: The aftermath of the nation's deadliest shooting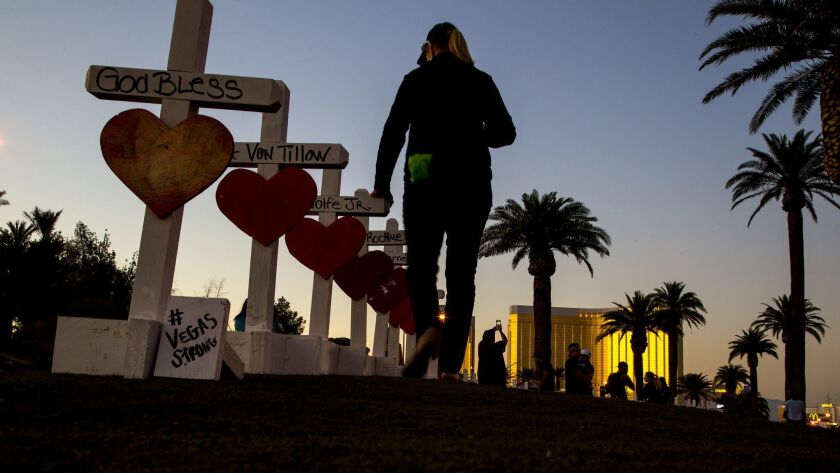 Reporting from Las Vegas —
Last week the Las Vegas Metropolitan Police Department released more than 1,200 pages of witness statements and interviews conducted by law enforcement with survivors of the deadliest mass shooting in modern U.S. history.
In the course of the investigation, police gathered individual stories — each like a quilt patch sewn next to another. And another. And another. Until all the patches together showed what humanity looks like under siege.
Amid the chaos and confusion, the statements — given in the days and weeks after the Oct. 1 massacre — recounted acts of heroism and resourceful quick-thinking. Belts became tourniquets. Tables became stretchers. Off-duty police, firefighters, nurses and paramedics began to triage patients on site.
What also emerged is how, for some, the testimony became a therapeutic outlet after Stephen Paddock killed 58 and injured hundreds at the Route 91 Harvest country music festival. Many spoke of paralyzing fear. Some witnesses made a point to thank those who had helped or longed to find those people. There were also some trivial notes — itemized losses of phones, clothing and other property.
The writing styles were varied — some staying within the lines on the paper and others eschewing them. Some used small, block letters, and others wrote in big, curvy script. Several were in Spanish. Almost all used "fireworks" or "firecrackers" to describe the initial sounds of the shooting. The names were redacted, though in some instances the gender and other personal details were clear. Here is a sampling:
—
"That first night I was still in shock when I went to bed and couldn't really believe it had happened. But at 3 a.m., I woke up and couldn't stop shaking. I trembled and cried and felt helpless. I couldn't stop thinking about my cousins and the people I had talked to just hours before and what had happened to them.
"As a trans woman, I've had moments in my life where I wanted to die, but this was the exact opposite. During the shooting, I fought to live. But I'm so struggling to overcome the trauma of that day. The person I was going to say goodbye to is among those who died. And I still can't [understand] why this happen[ed]."
—
"I thought I wasn't going to make it. The past days have been horrible. I'm scare[d], my stomach still not good. On Wednesday or Thursday, I [went] to see a [therapist].… I was able to cry it all out. It is helping me."
—
"I feel bad I survived," a man wrote. "For the ones that didn't die instantly and died scared. It was a fun event, but ended horribly. I don't know what the man was thinking."
—
"While moving forward to assist people, I threw my backpack off to be able to move quicker," a man wrote. Then he revealed that his wallet in the backpack containing his credit cards was stolen; the cards were used to make fraudulent purchases, and his Social Security number was used to open up fraudulent lines of credit.
—
Several people trying to get the wounded to hospitals tried to flag down rides and were passed by motorists who refused to stop and help. One cabdriver rolled up his windows and kept moving. "And so we … had some choice words to say," a survivor told detectives.
—
One woman was upset about losing her Louis Vuitton purse, hat and sunglasses. "I just want my 10 back," she wrote, ending the sentence with a handwritten sad-face emoji.
—
A woman said she had been shot and ended up hiding out in an apartment with 200 people. She said she was in a bathtub and an ex-Marine was tying a tourniquet on her. She remembered the lights were kept off because they feared the shooter was still loose.
"I didn't know anything and I still have limited, like, what I want to know, so I've kind of, like, not asked questions or looked into it," she told a police officer during an interview in the hospital. "I mean, I know what I've been told, but I don't really have any desire to know things right now, you know?"
—
A 22-year-old woman from New Jersey told a detective about getting shot in the hip from her hospital bed at Sunrise Hospital and Medical Center.
"And I said, 'Mom, I've been shot. I need you to help me walk,'" she recalled. "I said, 'I can still walk but I need help.'"
She talked about how her mom found a piece of cloth to try to stop the bleeding. How her parents were hysterical.
"I knew that I was OK because I could feel my legs. I could walk. I could — I knew I wasn't at a point where I had to stop and I — I knew I was OK. I don't know how but I just knew I was. And I knew I needed to be OK 'cause we had to go. So we keep walking — oh, I'm sorry, oh."
"Calm down. It's OK," the detective said. "Do you need to take a minute?"
"It just hurts," she replied.
But she pressed ahead. She told how on their way to safety they passed a scene of carnage that included dead and wounded on the ground.
—
"All of this has filled me with panic. The next day I didn't send my kids to school, and now I can't sleep and I'm distrusting of everyone," one woman wrote in Spanish.
—
"I hear shots. Any little sound spooks me. I am scared for my wife and kids," a man wrote of the shooting aftermath. "I now sleep with the bedroom door wide open. Tuesday I was still scared was not able to go to work, to leave my family. I know that I am [no] longer safe where I currently live since I live so close to the Strip. That has affected my mind set my personal well being as well as that of my family."
—
"I am scared to leave the house. To drive. To see the bodies, to see the people hurt. It has scared me. To live my life. I pace around the house, I have lost a week of work since I am scared and can no go to work."
—
"I can't sleep because I see the bodies on the floor and I hear their screams, I hear these screams," a woman wrote. "I was so scared I would never see my children again."
—
One victim who had been a stagehand during the concert revealed on his statement that he was getting therapy.
"My whole life passed through me. I have not been or felt normal since that day. I feel nervous. I went to work after 3 days later," he wrote Oct. 17. "I felt lost. I feel anxiety being in big crowded rooms. I have been coming to therapy and [that] has helped me."
—
"At this day, I still have problems sleeping and I am afraid to go in large crowds of people," a man wrote Oct. 30. "As a single father, I am taking care of my kids and I can't take them to the Strip, just been afraid of the situation."
—
A man at Desert Springs Hospital Medical Center, who had been shot in the leg, told Det. R. Swales how afterward he ordered his wife to start running, "to not stop running. To leave me behind until she was at safety and I would catch up with her." He said he passed people who were too scared or injured to move.
"I made it to that railing," he said. "I was able to throw myself over between hopping and crawling. It's, uh, fight or flight. My foot was like Jell-O just hanging there."
He said he was ultimately put in a wheelbarrow and pushed to an ambulance.
The transcript notes that the victim's wife and mother were both in the hospital room during the interview. He said his wife never left his side.
"Survivor," the detective affirmed.
"Yes, sir," said the man.
Twitter: @davemontero
Times staff writer Nina Agrawal contributed to this report.
---
Must-read stories from the L.A. Times
Get all the day's most vital news with our Today's Headlines newsletter, sent every weekday morning.
You may occasionally receive promotional content from the Los Angeles Times.