Vermont Legislature OKs gun restrictions, including ban on high-capacity magazines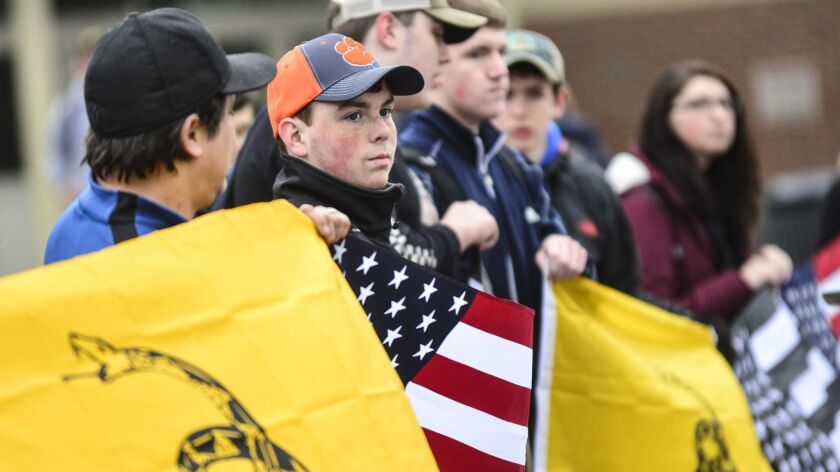 Reporting from MONTPELIER, Vt. —
A package of gun restrictions is on track to become law in Vermont after the state Senate on Friday approved raising the legal age for gun purchases, expanding background checks for private gun sales and banning high-capacity magazines and rapid-fire devices known as "bump stocks."
The legislation, which the House approved this week and Republican Gov. Phil Scott has said he will sign, reflects a remarkable turnaround for a state that has long opposed gun control measures.
Scott acknowledged that many Vermonters would be disappointed by the vote and by his support for provisions that he opposed as recently as two months ago.
"I share it. I know why they are disappointed," Scott said. "But I think at the end of the day, they'll soon learn that what we have proposed, what's being passed at this time, doesn't intrude upon the 2nd Amendment. It doesn't take away guns, and I believe that we will get accustomed to the new normal, which is trying to address this underlying violence that we are seeing across the nation."
The turning point in Vermont came one day after the school shooting in Parkland, Fla., that killed 17 people. A Vermont teenager was arrested on charges that he was planning a shooting at Fair Haven Union High School, which he once attended. Police said tragedy was averted only because a friend of the teenager alerted authorities.
In one day, Scott, who had previously said he did not favor any gun restrictions, changed his mind and urged lawmakers to act.
About 2,500 students and supporters rallied in front of the Vermont Statehouse last weekend as part of the national March for Our Lives movement. But for the last several weeks, gun rights supporters, many wearing hunter orange vests or hats, have filled the halls of the Statehouse showing their opposition to gun restrictions.
The 17-13 Senate vote on Friday came after an emotional debate in which lawmakers from the largely rural state spoke of the centuries-old traditions that allow people who live far from the nearest police station to keep weapons as a means of self-defense. Others countered that the modern reality of mass shootings demanded change.
Democratic Sen. John Rodgers, of Glover, an area known as Vermont's Northeast Kingdom, argued for a version of the bill with fewer restrictions on guns.
"The soil of the Kingdom is in my blood and a fair amount of my blood is in that soil," he said. "And because of the way I grew up, I feel dedicated to protecting that area."
But Democratic Sen. Philip Baruth said the violence and mass shootings required change.
"Our attitudes are changing," he said. "And they are changing for a very, very good reason."
---
Must-read stories from the L.A. Times
Get all the day's most vital news with our Today's Headlines newsletter, sent every weekday morning.
You may occasionally receive promotional content from the Los Angeles Times.