West Virginia teachers say they'll stay out on strike after lawmakers reject 5% pay hike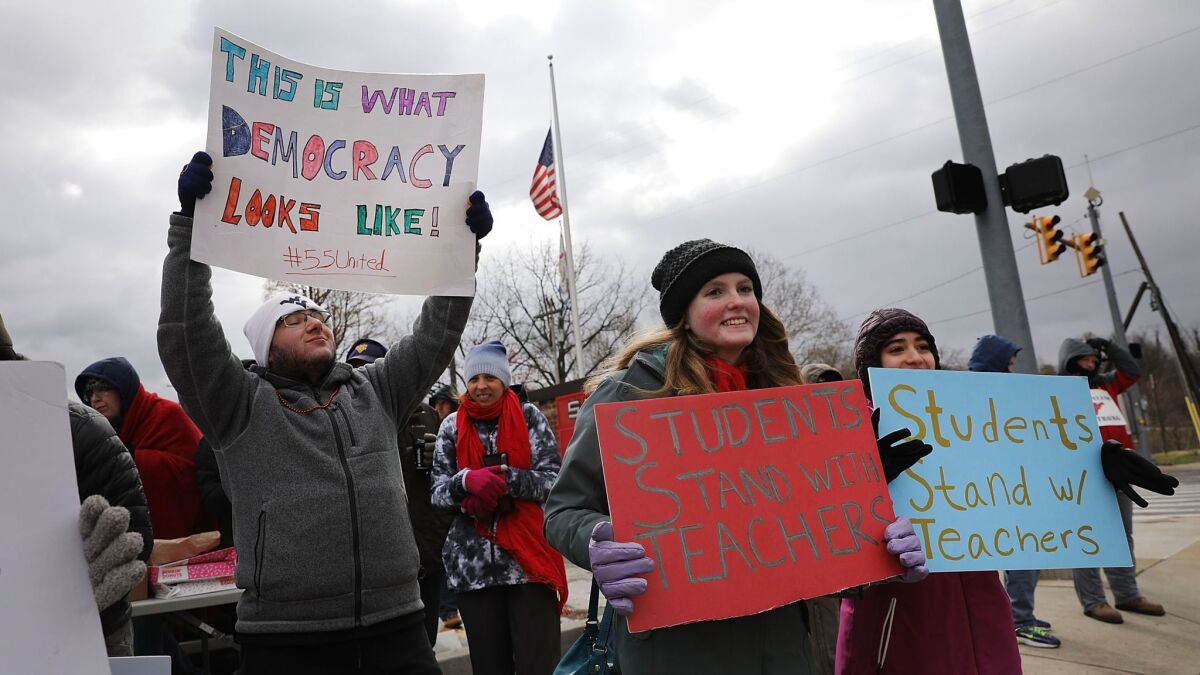 Reporting from CHARLESTON, W.Va. —
The three unions representing West Virginia teachers and service personnel say they will stay out on strike following the state Senate's vote on Saturday to cut the 5% raises they negotiated with Gov. Jim Justice.
In a joint statement, the American Federation of Teachers-West Virginia, West Virginia Education Assn. and the School Service Personnel Assn. say Senate President Mitch Carmichael and his leadership team have left them with no choice.
They say all public schools in West Virginia will be closed again Monday and will "remain closed until the Senate honors the agreement that was made."
Schools have been closed and classes canceled for seven days.
Senate majority Republicans backed the amendment to reduce the pay raise by a vote of 19 to 15 on Saturday evening. Senators say the pay increase is overdue, but by granting the 4% raise they can avoid a tax increase.
Democrats say their Republican counterparts should abide by the deal the governor negotiated with the union for a 5% raise.
American Federation of Teachers-West Virginia President Christine Campbell told WCHS-TV that the cut was "a deal breaker."
The state House approved the 5% raise. The two bills will have to be reconciled.
Senate Republicans, who control the chamber, have repeatedly emphasized spending restraint, saying the teachers and West Virginia's other public workers are all underpaid but funds are limited.
Hundreds of teachers and supporters, including students, rallied at the Capitol on Friday, the seventh day they've shuttered classrooms.
Teachers are protesting pay that's among the lowest in the nation, rising healthcare costs and a 2% raise for next year after four years without any increase.
Must-read stories from the L.A. Times
Get the day's top news with our Today's Headlines newsletter, sent every weekday morning.
You may occasionally receive promotional content from the Los Angeles Times.