An heiress wanted her Palm Beach villa to become a winter White House. With President Trump, her wish for Mar-a-Lago comes true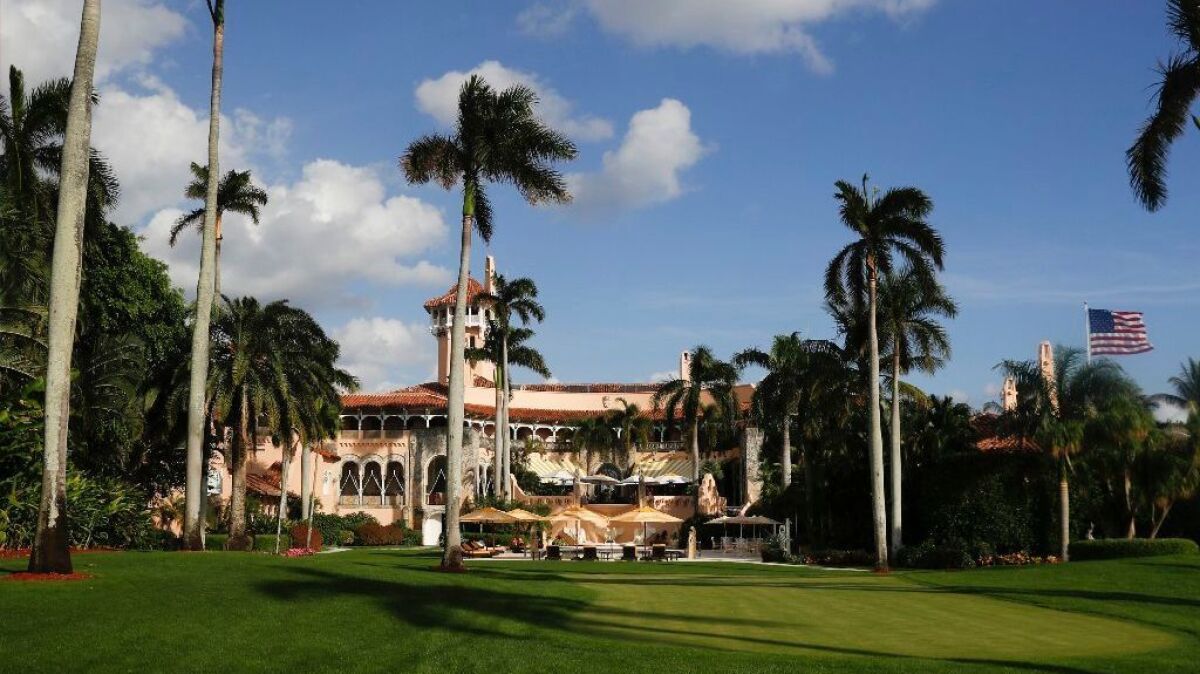 Before breakfast-cereal heiress Marjorie Merriweather Post died in 1973, she willed her sprawling Palm Beach villa to the federal government for use as a winter White House.
She thought the lavish castle on the sand — built in the 1920s for $8 million and named Mar-a-Lago — would be a perfect escape for U.S. presidents and visiting world leaders.
But for years, no president showed any real interest. The estate stood vacant, its somewhat reluctant owner left to foot an annual maintenance bill estimated at $1 million. Efforts to return Mar-a-Lago to the Marjorie Merriweather Post Foundation were unsuccessful until 1980.
Donald Trump snagged the 100-plus-room resort five years later after some shrewd negotiating. And now, Post's vision has become a reality.
Days before his inauguration, Trump officially declared Mar-a-Lago his winter White House.
Trump has spent the last two weekends there, most recently hosting Japanese Prime Minister Shinzo Abe. The pair dined and golfed — and confronted the news that North Korea had tested another missile.
Fellow diners observed the two leaders consulting with aides in full public view. The White House denied reports that sensitive or classified information was being discussed.
Trump is reportedly planning to return to Mar-a-Lago this weekend.
He first laid eyes on the property while vacationing in Palm Beach in 1982. The estate featured a 75-foot-tall bell tower, a nine-hole golf course and a tunnel to the beach.
Almost immediately, Trump put in an offer for $15 million, which was promptly rejected, according to his book "The Art of the Deal."
Over the next few years, offers from other buyers fell through. In 1985, Trump offered $5 million in cash plus $3 million for furnishings, he said. A month later, the deal was done.
In 1995, after a decade of using the estate as a private residence, Trump turned the estate into a private club — with an initiation fee of $100,000.
After Trump's election, the initiation fee doubled to a $200,000. Annual membership dues are $14,000, CNBC reported.
During his transition, Trump delighted in showing off the grounds to reporters as he met with potential administration officials there. At one point, with boxing promoter Don King by his side, he took questions from reporters at the estate's grand entrance.
Trump celebrated New Year's Eve there with hundreds of guests. The menu began with "Mr. Trump's Wedge Salad."
Mar-a-Lago, which means "sea to lake" in Spanish, covers roughly 20 acres between the Atlantic Ocean and Lake Worth.
It opened in 1927 after four years of construction that involved three boatloads of stone imported from Italy, 36,000 Spanish tiles dating back to the fifteenth century and 2,200 square feet of marble from an old castle in Cuba.
"It must be driving the Secret Service crazy because it's got enormous grounds," said Paul George, resident historian at HistoryMiami Museum, comparing the property with other presidential retreats. "It's not as cloistered or contained as a lot of other places."
Trump isn't the first president drawn to the warmth and water in the Sunshine State. Here's a look at others who've retreated to Florida:
Harry Truman
After a difficult 18 months on the job, Truman came down with a cough he couldn't kick. His doctor suggested he travel somewhere warm to recover.
Truman ended up at a residence for naval officers in Key West and fell in love with Florida.
During his presidency, he spent 175 days — most in the fall and spring — in what's now known as the Little White House.
During that first trip in 1946, Truman's press secretary took reporters aboard a submarine for the first-ever underwater news conference, 20 miles south of Key West, 300 feet submerged.
Five other sitting and former presidents have sought respite in the building, including Dwight D. Eisenhower, Jimmy Carter and Bill Clinton.
In 2001, the presidents of Armenia and Azerbaijan used the location for international peace talks.
John F. Kennedy
During his presidency, Kennedy often retreated to the Palm Beach home his father had bought for a bargain in 1933.
Covering two acres, the estate featured six bedrooms, a four-car garage and 200 feet of ocean frontage.
"He was down there a good bit, usually in the wintertime because the climate, of course, is so mild here," said George, the historian.
Richard Nixon
Nixon bought two waterfront homes in Key Biscayne after winning the election in 1968. He'd been visiting the tiny island town since the 1950s, when it was being converted from a coconut plantation to a residential community, George said.
A third home on the compound belonged to his close friend, Bebe Rebozo.
Nixon is believed to have hatched the Watergate break-in plan — and its subsequent coverup — in Key Biscayne. As the scandal worsened, he spent more and more time in Florida.
"He really just wanted to get out of Washington; he was catching a lot of heat," George said.
During one of those visits, Nixon secretly toured Mar-a-Lago with Rebozo. A month later, he resigned.
To read the article in Spanish, click here
Michael A. Memoli contributed to this report.
alene.tchekmedyian@latimes.com
Follow me on Twitter @AleneTchek
ALSO
With Trump in the limelight, Congress has been quietly working to undo Obama-era regulations
Trump has been sued more than 60 times since becoming president: A partial survey
Does Trump have the authority to 'send in the feds' to Chicago?
Must-read stories from the L.A. Times
Get the day's top news with our Today's Headlines newsletter, sent every weekday morning.
You may occasionally receive promotional content from the Los Angeles Times.