Macy's may ground balloons: How much damage can a giant, helium-filled balloon do?
The SpongeBob SquarePants balloon takes a test flight during the Macy's Thanksgiving Day Parade Balloonfest at New Jersey's MetLife Stadium. Bad weather means the balloons may be grounded this year.
(Brad Barket / Getty Images for Nickelodeon)
The SeaWorld float, seen at a preview, has spurred controversy. Animal-rights activists have
protested the float,
which features killer whale Shamu, after revelations about the treatment of orcas in captivity.
(Mel Evans / Associated Press)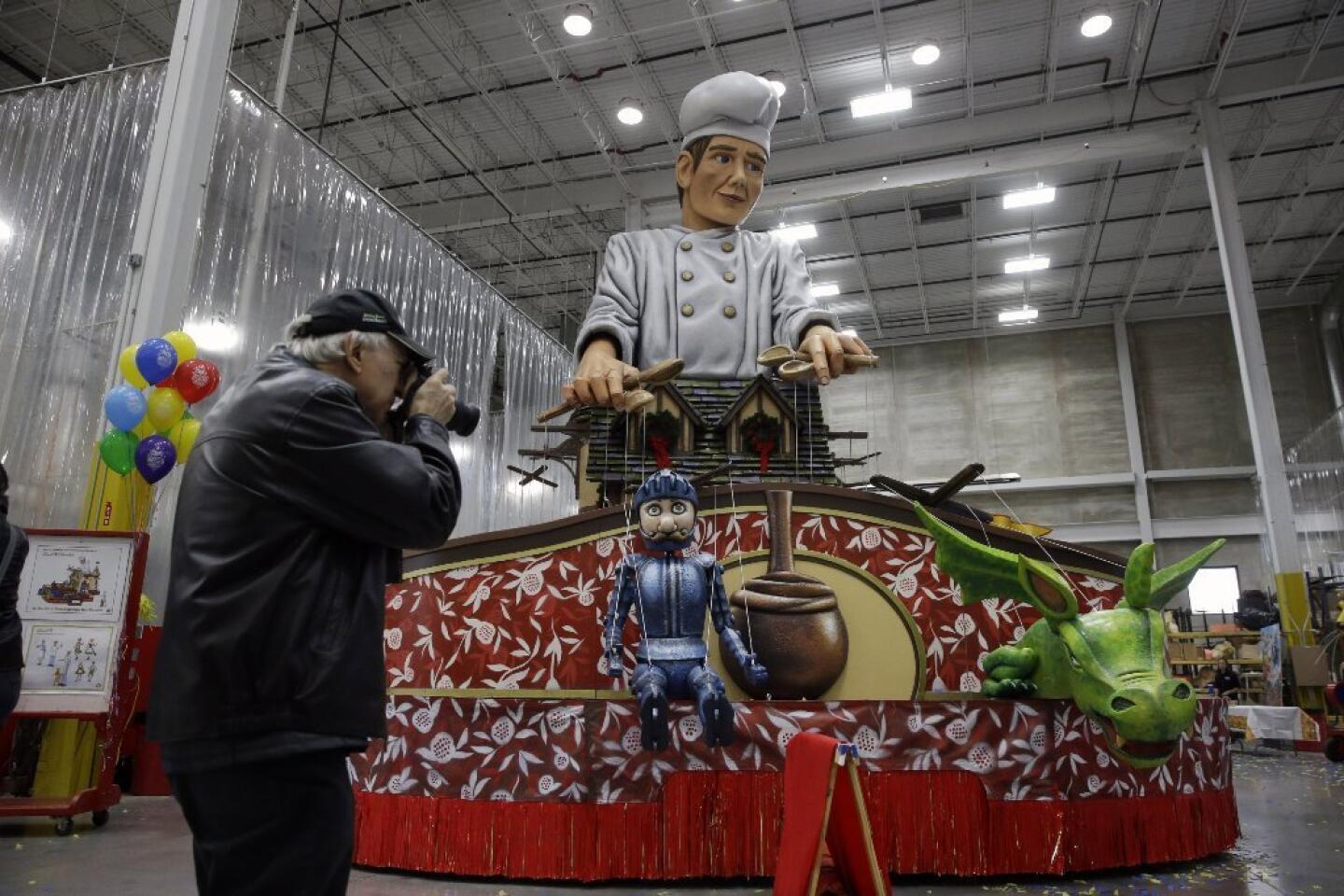 A preview event shows the Enchanting World of Lindt Chocolate float, new to this year's Macy's parade.
(Mel Evans / Associated Press)
Another new balloon for this year's Macy's Thanksgiving Parade features Finn (top) and Jake from the animated series "Adventure Time."
(Mel Evans / Associated Press)
It's a Thanksgiving balloon. How much harm could it do? The answer is: quite a bit.
When the giant balloons of the Macy's Thanksgiving Day Parade are tossed by storm winds, real havoc can ensue. The balloons can even pose a lethal threat. Which is why Macy's is cautious. Given the storms currently hitting the East Coast, there's a chance the traditional inflatables may sit this one out.
MORE: High winds, rain, snow in forecast
"On Thanksgiving morning, Macy's works closely with the NYPD," Macy's spokeswoman Holly Thomas told the L.A. Times on Wednesday morning. The police, "based on real-time weather data and the official regulations, determine if the balloons will fly and at what heights."
The balloons have only been grounded once before in the 87-year history of the parade. It happened in 1971 due to bad weather. But on the morning of Thanksgiving 1997, police told Macy's officials they were concerned about winds. Yet the balloons went up as usual, the New York Times reported. The six-story-tall Cat in the Hat, hit by gusts over 40 mph, struck a light pole. Debris dropped on paradegoers, and a woman nearly died of a head injury.
In New York, land of 250,000 streetlights, the balloon-light pole tangle can be a real problem.
In 1993, an off-duty police officer was struck after Sonic the Hedgehog hit a light post. The officer's shoulder was broken. Injuries from an incident in 2005 -- in which a huge M&M balloon bounced off a building and hit a light pole, tearing part of the pole down -- weren't severe. An 11-year-old girl and her 26-year-old sister suffered a chipped tooth, a cut that needed stitches and bruises.
After the 1997 and 2005 accidents, new safety strategies were adopted. In '98, a mayoral commission set guidelines: Winds greater than 23 mph and gusts over 34 mph will ground the balloons. And in 2006, as the New York Times reported, wind measurement equipment was put in place, with aerodynamics engineers and the National Weather Service advising police on whether the balloons should ascend.
PHOTOS: Weather muddles holiday travel
In windy weather, the balloons can still be flown, just lower to the ground ("so low as to practically be floats," the 2006 New York Times report groused).
The character balloons range from 50 to 78 feet long, 40 to 60 feet high and 20 to 40 wide, according to Macy's Holly Thomas. Officials have a firm handle on these floating behemoths.
They're "anchored by two Toro Workman vehicles that each weigh more than 1,500 pounds," Thomas said. There are 50 to 100 handlers per balloon, with more than 1,000 balloon handlers total. And, she said, each of those handlers weighs a minimum of 125 pounds.
Each balloon has a flight team of a dozen people, including three pilots, three captains and six people in the vehicle management team.
The balloons will be inflated Wednesday evening, and visitors can take a gander. The balloon teams are set for a cold, wet night, said John Piper, vice president of Macy's Parade Studio.
"We've prepped everybody with rain gear and extra layers for the evening," he told the L.A. Times.
The balloons are held down for the preview with nets and sandbags and secured with titanium anchors to the curbs of the street, Piper said. Team leaders will check on the balloons in two-hour shifts throughout the night.
If all goes well, at 4:30 a.m. EST, the balloons will be topped off with helium, he said, then the handlers and flight management teams will arrive. Handlers will go underneath the nets and "get a good grip on the lines as the inflation team removes the sandbags and nets. At that point, we're ready to launch the balloons, unwind the lines a little at a time to get to the height we need."
Will the balloons really get that far on a stormy Thanksgiving? For now, it's up in the air.
Like balloon puns? Follow me @AmyTheHub
ALSO:
Video: Deer rips through N.J. yogurt shop
Georgia juror questionnaire listed 'slave' as occupation
Most Americans say women should have first baby by age 25
Sign up for Essential California for news, features and recommendations from the L.A. Times and beyond in your inbox six days a week.
You may occasionally receive promotional content from the Los Angeles Times.