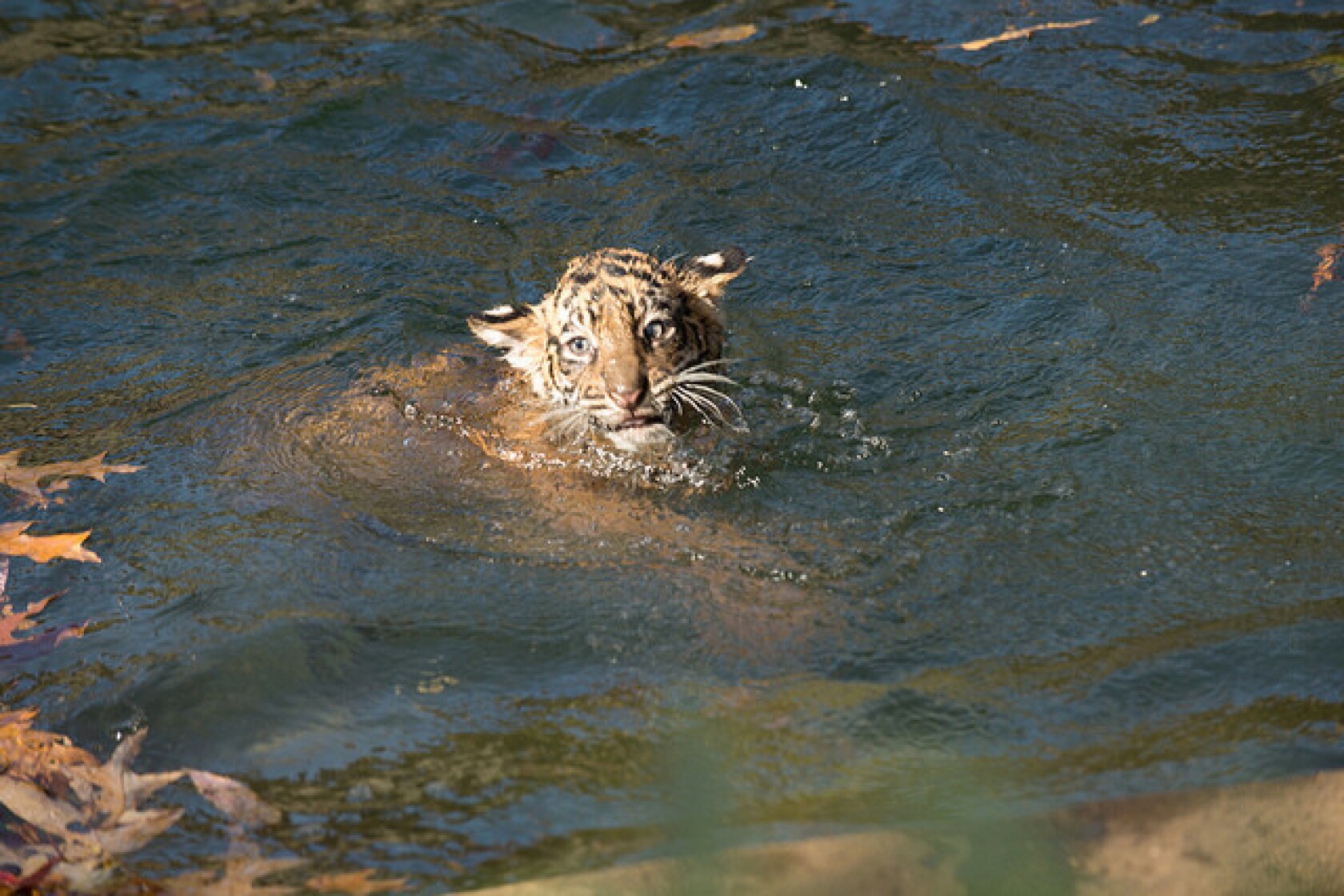 The National Zoo's 3-month-old male Sumatran tiger cub, Bandar, passed his basic swimming skills test Wednesday. Before cubs are cleared by the zoo to appear in its Great Cats exhibit, they must demonstrate that they can navigate its moat safely and are able to climb out of it.
(Connor Mallon / Smithsonian's National Zoo)
Craig Saffoe, curator of Great Cats at the National Zoo, carries Bandar.
(Connor Mallon / Smithsonian's National Zoo)
Sukacita, the National Zoo's female Sumatran tiger cub, is lowered into the water by keeper Leigh Pitsko. Let's see a close-up of that face, shall we?
(Connor Mallon / Smithsonian's National Zoo)
If you ever need to explain the phrase "do not want" to someone, this close-up of Sukacita the Sumatran tiger cub as she is lowered into the water for her swimming test should do the trick.
(Connor Mallon / Smithsonian's National Zoo)
Sukacita passed her swimming test, but she doesn't look too happy about it. This face deserves a close-up, too, right?
(Connor Mallon / Smithsonian's National Zoo)
Sorry, Sukacita. It looks like you've had a rough day. (But just in case no one's told you yet, your species is actually
supposed to enjoy swimming
.)
(Connor Mallon / Smithsonian's National Zoo)
Bandar proves that he is able to pull himself out of the moat that surrounds the Great Cats exhibit, which he'll now be able to explore with Sukacita and their mother, Damai.
(Abby Wood / Smithsonian's National Zoo)
Bandar hightails it after climbing out of the moat surrounding the Great Cats exhibit.
(Abby Wood / Smithsonian's National Zoo)
Three-month-old Sumatran tiger siblings' swimming skills were tested by staff Wednesday at the National Zoo in Washington, D.C. The cubs, a male named Bandar and a female named Sukacita, both passed what the zoo termed a "swim reliability test" that is conducted on all cubs before they are cleared to appear in the zoo's Great Cats exhibit.
The exhibit is surrounded by a moat, so it's important for the cubs' safety that they master basic skills such as keeping their heads above the surface of the water and pulling themselves out of the moat. Since they've shown themselves capable, Bandar and Sukacita will start spending time in the Great Cats exhibit with their mother, Damai, beginning Nov. 18. Their keepers will decide each day whether to put the cubs on exhibit, factoring in the weather and how they're adjusting to the outdoors.
Sumatran tigers are typically good swimmers -- they even have webbing between their toes, notes the conservation charity Sumatran Tiger Trust. In fact, Great Cats curator Craig Saffoe points out, "[t]igers are one of the few species of cats that enjoy taking a dip in water." It would be easy to get a different impression, though, by looking at the cubs' expressions in the photos above.
Bandar and Sukacita are the first cubs for Damai; their father, Kavi, has two older offspring, 2-year-old Sohni and Sanjiv, at Zoo Atlanta. Kavi came to the National Zoo from Atlanta last year. Keepers named Bandar for the Sumatran city of Bandar Lampung; the opportunity to name Sukacita was offered through an online auction, with the proceeds benefiting conservation efforts. Her name means "joy" in Indonesian, and the winning bidder paid $25,000 for the privilege of choosing it.
All subspecies of tiger in the world today are considered endangered by the International Union for Conservation of Nature; Sumatran tigers are among the subspecies that are considered critically endangered, and their wild population is thought to number only in the hundreds. That makes Bandar and Sukacita's birth extremely significant to conservationists.
See videos of the cubs' swimming adventure below (or directly on YouTube if you're on a mobile device):
ALSO:
Siberian tigers making a comeback in China
Tiger population leaps in Nepal as countries fight to halt extinction
Photos: Amur tiger cub and Sumatran tiger cub come to (playful) blows in German zoo
---