Throwback Thursday: The story behind stars' handprints in Hollywood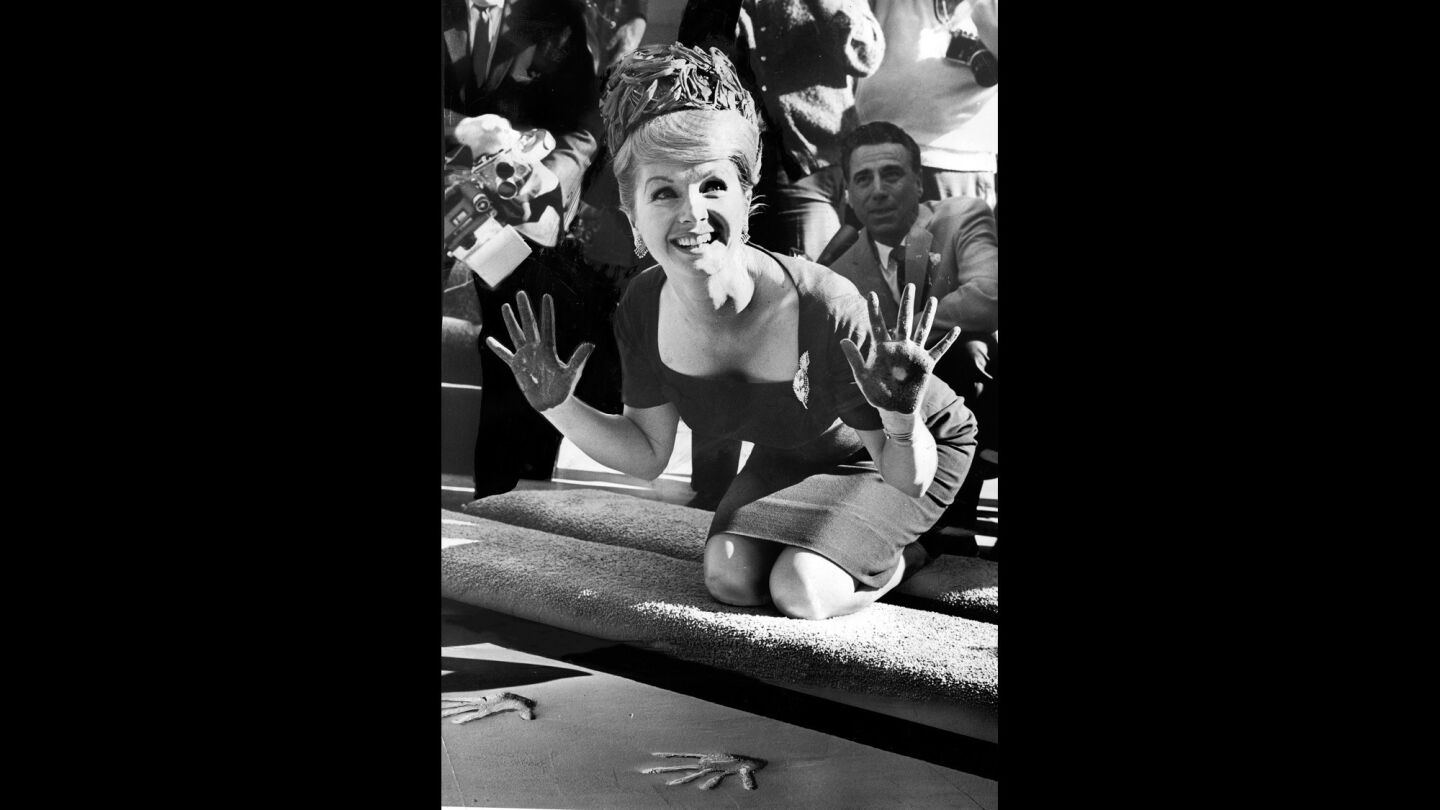 Actress Debbie Reynolds smiles and spreads cement-covered hands after making imprint in forecourt of Grauman's Chinese Theatre on Jan. 14, 1965.
(Bruce H. Cox / Los Angeles Times)
If you've ever been to the TCL Chinese Theatre (formerly Mann's, originally Grauman's), you've probably walked over the handprints and footprints of Hollywood stars imprinted in the concrete. They're a big tourist draw — you can see the stars' signatures and compare your hand size to that of the people you see on the big screen — but the very first one was an accident.
According to our archives, the tradition was born after actress Norma Talmadge accompanied Sid Grauman — the theater magnate who was opening the now-famous landmark — and other Hollywood stars to the site of the theater when it was under construction in 1927. Upon arrival, Talmadge accidentally stepped in wet cement.
"When Grauman saw this, it gave him the idea of creating his own special hall of fame," a Feb. 3, 1958, Times story on a $400,000 renovation of the theater recounted.
That makes the handprint tradition older than the stars on the Hollywood Walk of Fame. That idea came about in 1953, according to the Walk of Fame's website. To see some of the handprints and footprints in the making, browse our photo gallery above.
Can't wait until next Thursday for an L.A. Times throwback? Follow the L.A. Times Past Tumblr.
ALSO:
Throwback Thursday: Viewing life from the roof
Throwback Thursday: 9 vintage Disneyland photos
Throwback Thursday: For Halloween, a ghost story from 1925

Twitter: @lauraelizdavis
---
Must-read stories from the L.A. Times
Get the day's top news with our Today's Headlines newsletter, sent every weekday morning.
You may occasionally receive promotional content from the Los Angeles Times.