Murder plot details: Infatuated inmate wanted Justin Bieber dead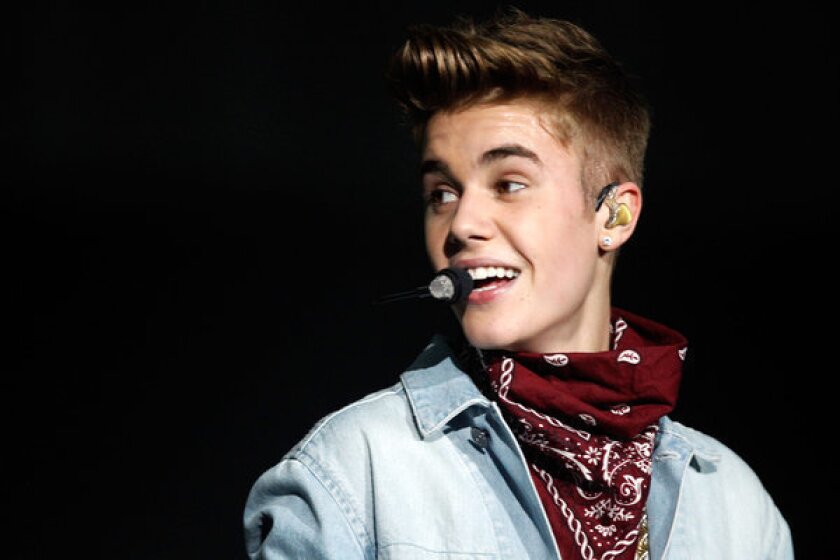 Pruning shears. A wrong turn toward Canada. Chinese gangs. Code words for torture and murder. And a prison mastermind with a fetish for paisley ties and a tattoo of Justin Bieber on his leg.
The New Mexico State Police headquarters was crushed by media calls Thursday seeking information about a report that superstar Bieber was the target of a prison-hatched murder-for-hire scheme.
"This is crazy!" a police receptionist said over the phone, in disbelief at the attention.
DOCUMENTS: Affidavit for arrest warrant
First, neither Bieber nor anyone else was harmed. Police moved quickly, the plot was foiled and arrests have been made. A purported $2,500-per-testicle castration order was directed at other targets, not Bieber, according to court documents.
[UPDATE 3:15 p.m. Lt. Robert McDonald of the New Mexico State Police said in an email, "I believe it is safe to say they planned on doing the same to all victims."]
Arrest affidavits obtained by the Los Angeles Times said that Bieber, identified in the documents as J.B. and "Victim 3", and his unidentified bodyguard "M.B." were two of four people targeted in a cross-country murder-for-hire plot concocted by a convicted killer named Dana Martin, police said.
Martin is serving multiple life sentences for strangling and throwing 15-year-old DeAndra Florucci over a Vermont bridge in 2000.
Bieber was, police said in an affidavit, his "ultimate target":
"When asked to explain why Victim 3 was to be killed, Mr. Martin stated that Victim 3 has a measure of fame and that he (Mr. Martin) had become infatuated with Victim 3," an investigator wrote in the affidavit. "This infatuation was exemplified by the tattooing of an image of Victim 3 on Mr. Martin's leg. Mr. Martin stated that he had attempted to solicit correspondence on numerous occasions between Victim 3 and him and Victim 3 never returned in kind.
"This perceived slight made Mr. Martin upset and that, coupled with Mr. Martin's perception of being a 'nobody' in prison, led him to begin plotting the kidnap and murder of Victim 3. In the end, what Mr. Martin stated he was seeking was a measure of notoriety so that there would be people outside of prison who would know who he (Mr. Martin) was."
After a prison transfer from Florida to New Mexico in April, Martin made friends with inmate Mark Aaron Staake, 41, after Staake noticed his Bieber tattoo. Martin told police he convinced Staake that he had a lot of money hidden away and that Staake could also come into favor with a Chinese gang in New York if he did a job for him.
Staake was apparently convinced and enlisted his nephew, Tanner Ruane, 23, to help, police said. After Staake got out of prison on Oct. 22, the pair left for Vermont about three weeks later, police said.
And then the imprisoned Martin turned them in.
Shortly after the uncle-and-son team left Albuquerque, Martin asked to speak with a corrections officer, Sgt. Edgar Pinon. He told Pinon that he thought two men were about to commit a murder in Vermont, according to the affidavit.
Bieber was not the only target. Martin had first wanted Ruane and Staake to castrate and kill two other victims, identified by police as P.L. and M.S., though the affidavit doesn't explain why.
The uncle-and-nephew team had run into problems in Vermont, though. On Nov. 19, they almost drove their 1983 BMW into Canada and ran into a U.S. border crossing when they tried to turn around, police said. There, Staake was arrested on an outstanding warrant he'd had in New Mexico. Later, his nephew Ruane called Martin in prison to break the news. The call was being recorded.
"Dude, this [peeves] me off so bad, brother! I wanted this [stuff] to go down so bad," Ruane said, according to the affidavit. The pair had apparently been at one of the victims' residences the previous night, police said, but Ruane decided he would go ahead with the job -- "adopting these dogs," as Ruane called it, which was a code phrase for the hit, Martin told jail officials. The two then agreed on a bounty of $2,500 per testicle for the first two victims in Vermont, police said.
In an ensuing phone call, Ruane talked about the kind of hedge clippers he would use, Durasharp. Martin told him to buy a paisley tie to do the killing because that's the kind of tie that Martin had previously used to kill, according to the affidavit.
Ruane was arrested in New York. He and his uncle await extradition to New Mexico, police said, where they face charges of conspiracy to commit murder and conspiracy to commit aggravated battery. No charges had been filed against Martin, police said.
ALSO:
Texas dad carves pentagram on 6-year-old son, police say
---
The Latinx experience chronicled
Get the Latinx Files newsletter for stories that capture the multitudes within our communities.
You may occasionally receive promotional content from the Los Angeles Times.