Oregon shooter's ex-girlfriend: 'Last thing I would have expected'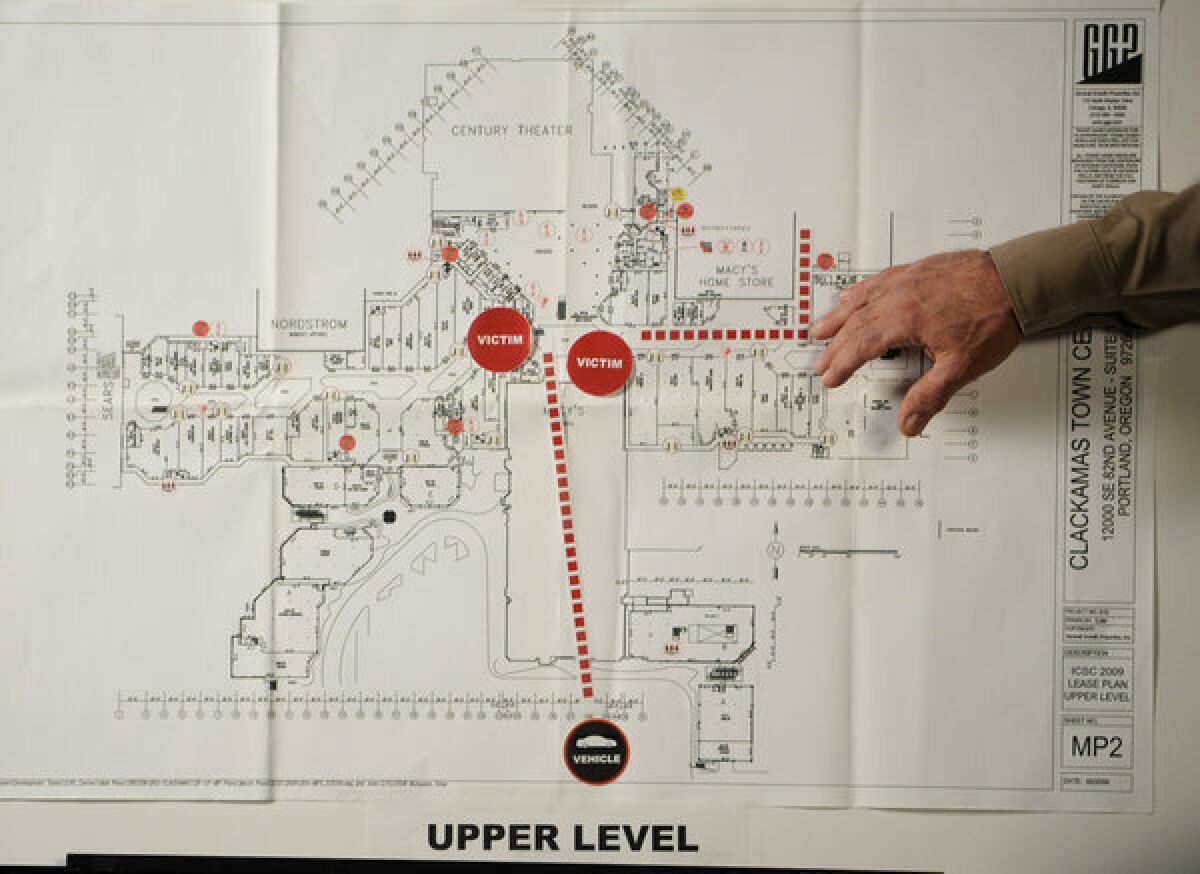 Hannah Sansburn never saw it coming.
On Tuesday, her ex-boyfriend Jacob Tyler Roberts-- masked and armed with an AR-15 rifle -- killed two people and wounded another in a suburban Portland mall, before turning the gun on himself, authorities say.
"This is the last thing I would have ever expected - -especially from him. He was just too sweet," she told ABC News.
"He never would hurt anybody. I mean the only way that you would ever get him to be … physical with you is if you were tickling him," she said.
Sansburn told the news outlet that Roberts, 22, had suddenly quit his job at a Greek deli, sold all his belongings and told her he was planning to move to Hawaii last weekend. He seemed numb last week when she saw him, she said.
"He had his plane ticket, he was ready to go and then this happened and it just makes me think if Hawaii was even in the back of his mind or if he just had another plan to just leave," she told ABC News.
Others were similarly dumbfounded when authorities revealed Roberts' identity Wednesday.
Holli Winchell, who socialized frequently with Roberts in the bars and restaurants of southeast Portland, told the Los Angeles Times that she didn't take any notice of Roberts' apparent plan to pack up and go.
"I've seen that happen before, where stuff comes up in someone's life, where they kind of need a fresh, clean break. So we thought nothing of it. It was, 'Good luck on your new life. Enjoy Hawaii,' " she said.
Sansburn told ABC News that Roberts texted her saying he missed his flight Saturday because he got drunk. Sansburn said Roberts and her broke up in the summer after dating for nearly a year.
Killed in the holiday season shooting were youth sports coach Steven Forsyth, 45, and hospice nurse Cindy Yuille, 54. A surgeon who treated shooting victim Kristina Shevchenko, 15, said Wednesday she was awake and speaking with family, but still in serious condition.
Authorities said Roberts took his own life.
On Oct. 3, a picture was uploaded to Roberts' Facebook page. It features a graffiti-covered wall with the words, "Follow Your Dreams," marked out with another word in large red letters: "Canceled."
Winchell told the Los Angeles Times that Roberts had "some small stuff come up in his life" but "nothing major."
"The only thing I could think of was he had something going on in his head that was a lot deeper than any of us could have imagined," she said.
ALSO:
Details of plot to kill Justin Bieber revealed
Texas dad carves pentagram on 6-year-old son, police say
Oregon mall shooting victim Steven Forsyth an 'amazing man'
---
Must-read stories from the L.A. Times
Get the day's top news with our Today's Headlines newsletter, sent every weekday morning.
You may occasionally receive promotional content from the Los Angeles Times.