Grandma on Facebook? Sure, seniors say as they learn computers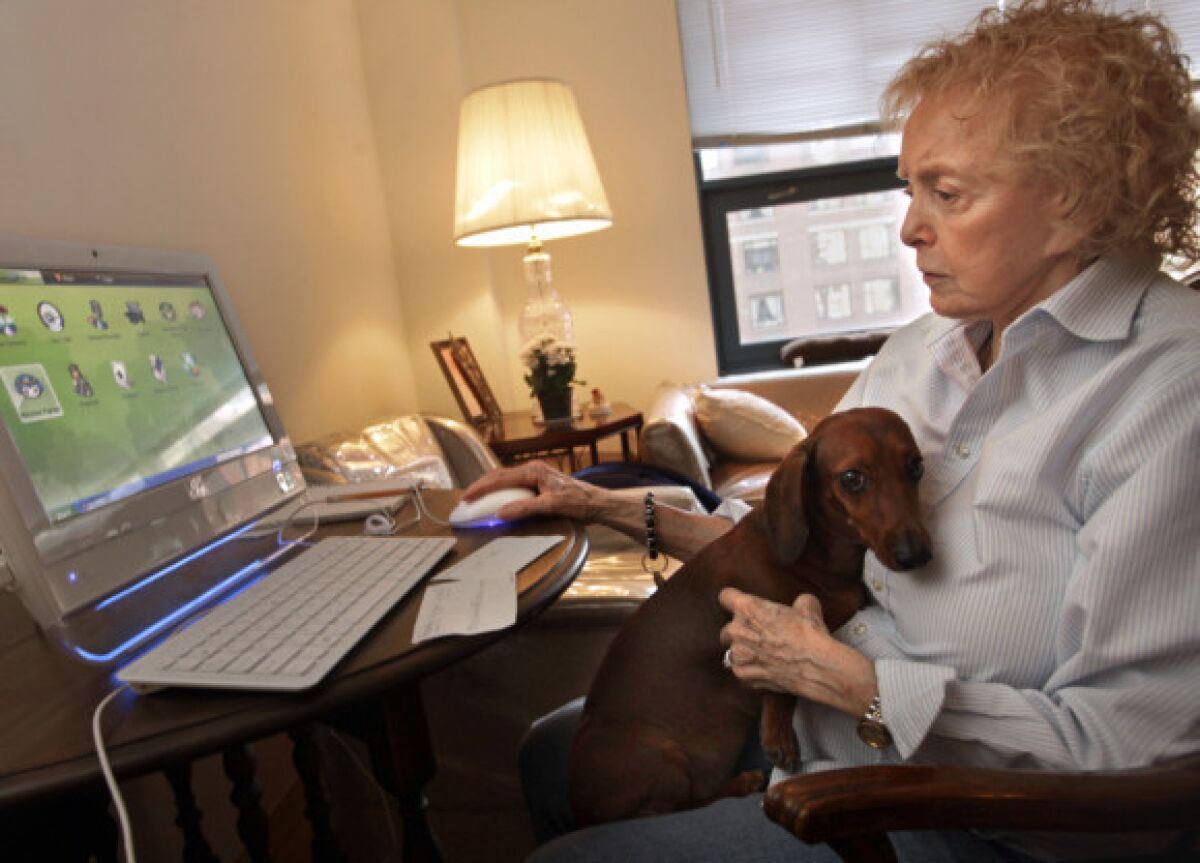 Two months ago, Rosemary Nickola struggled to find her email, couldn't tell the difference between spam messages and genuine communication, and had no idea what Facebook was.
"Spacebook?! What's spacebook?" she replied when Pace University student Alice Simmons asked her back in February if she was familiar with Facebook, the social networking site.
But on Monday, Nickola held a certificate of achievement in her hands, having completed a computer course that is bringing together the 70-, 80- and 90-something crowd with university students in a program that is disproving the idea that technology is best left to the young.
We first wrote about the program, created by Pace University professor Jean Coppola, in early March, days after the latest session had begun. Nickola was one of dozens of senior citizens at the Hallmark assisted living facility in Manhattan who had signed up for what Coppola calls the "gerontechnology program." Each senior was paired with a student from nearby Pace University for several weeks of one-on-one tutoring. Another course took place at a senior center in Westchester County, north of New York City.
Monday was graduation day for the Hallmark crowd, where computer students were awarded their diplomas in a room festooned with balloons and lined with tables overloaded with brownies, cookies and other goodies provided by the young tutors. One by one, the graduates walked -- some leaning on canes or walkers -- to a podium to receive their diplomas and say a few words.
"I just want to thank these lovely children for bringing me back to life," said Nickola, who briefly dropped the course in frustration after her first tutoring session. Back then, she had trouble with her Internet connection and battled to master the computer that her son had set up in her Hallmark apartment.
But Nickola, a petite 84-year-old with snowy white curls and wide blue eyes, said she resumed the course to shake off the loneliness that has engulfed her since her husband's death in 2008.
"It took a while, but this is waking me up," said Nickola as her young tutor, Rose Koron, with bangs dyed a pale blue, stood at her side. It was a sentiment echoed by several of the senior graduates, who spoke of the isolation of being elderly and trying to keep up with a tech-savvy world that rarely appreciates the limitations that come with age.
Coppola said the course fills a need that will grow as baby boomers age, as people live longer and as technology becomes more prevalent in such everyday matters as shopping and communication.
"The baby boomers this year just started turning 65," said Coppola, adding that baby boomers today don't necessarily want to spend their time in group activities if they can be chatting on Skype to distant friends and loved ones, or surfing the Web to catch up on the news. "The new baby boomers want their privacy, and they want to be online," she said.
Sy Amkraut, a World War II veteran who turned 88 on Sunday, is legally blind and hard of hearing, but he needed to meet a deadline for a research project on the broadcast journalist Edward R. Murrow that he was doing for a retirees' program in which he participates. On Monday, his two daughters and sons-in-law watched as Amkraut, his thick white ponytail hanging down his back, accepted his diploma and credited his tutor, Patrick Bolidoro, with teaching him what he needed to know to complete his project.
"It was fantastic. We really had a deadline to meet, and Patrick stuck with it," said Amkraut.
The learning went both ways, said Bolidoro, who realized that when he threw out words that he assumed everyone knew -- Google, Facebook, download -- his meaning was lost on his elder student.
"Those are terms you think everyone would know, but you have to sit down and explain them," said Bolidoro.
Several of the 38 graduates missed the ceremony. Some were attending a wake for a Hallmark resident who had just died; others had doctors' appointments. One woman who showed up late admitted sheepishly that she'd fallen asleep in the library upstairs.
Those who attended spoke of their worlds opening up as they overcame the hesitation to embrace technology.
"My world has changed," said Roz Carlin, who at 93 is one of the oldest participants in the program, which Coppola started in 2005 in Westchester County. "My children look at me differently. I feel like one of them, and they treat me like one of them too."
A new computer course for seniors will begin in September, when the next semester starts at Pace University. Coppola already has seniors clamoring for spots.
ALSO:
Court dismisses 'Three Cups of Tea' lawsuit
Grand Ole Opry sues Army Corps over 2010 flood damage
Federal judge blocks Texas funding cuts to Planned Parenthood
Must-read stories from the L.A. Times
Get the day's top news with our Today's Headlines newsletter, sent every weekday morning.
You may occasionally receive promotional content from the Los Angeles Times.