Vegas magnate Sheldon Adelson comes out of the shadows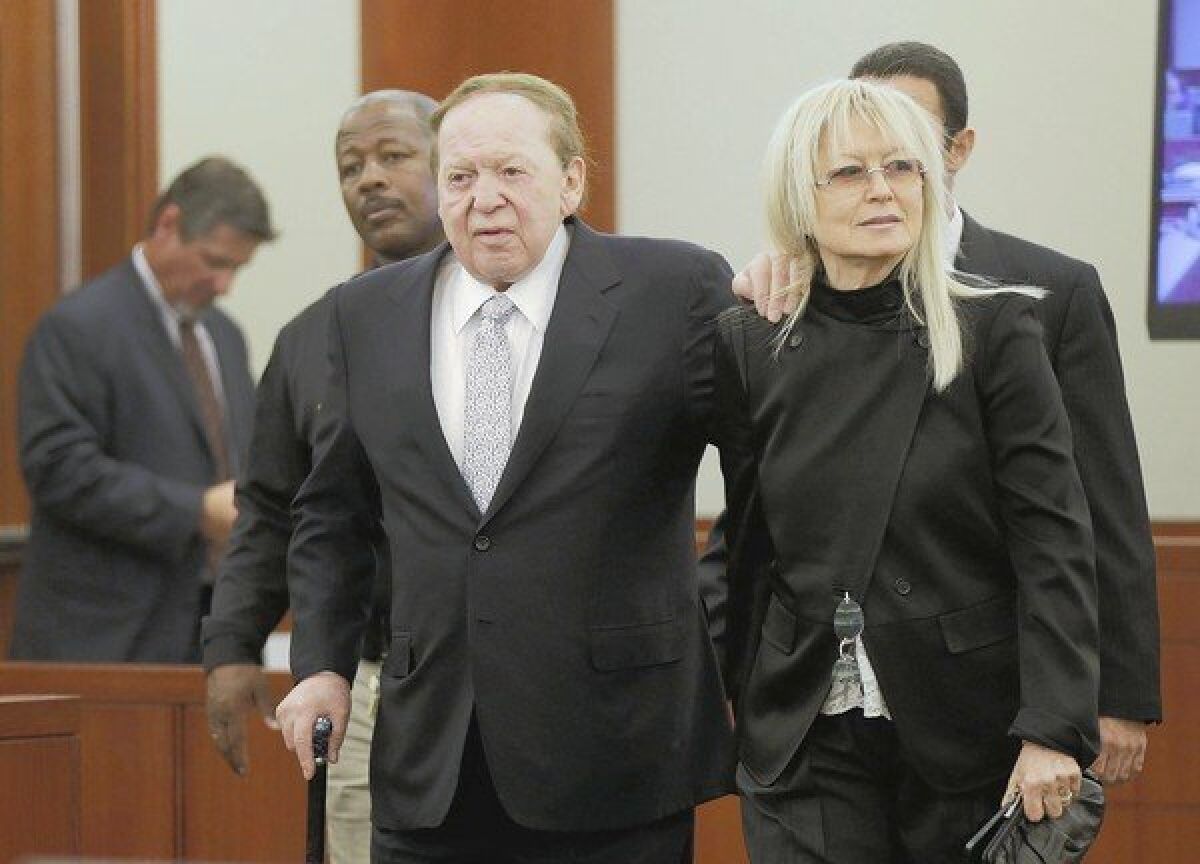 LAS VEGAS — For years, he's been the Wizard of the Strip, an Oz-like character whose wealth and power have never been in doubt but who has stayed behind a curtain, away from public exposure.
Sheldon Adelson, 79, who rose from impoverished roots in Boston to become one of the planet's richest men and chief executive of the Las Vegas Sands Corp. international gaming empire, has long kept his counsel exclusively to lawyers and other insiders, a trusted few.
But on Thursday, the curtain parted.
The stalwart Republican and defender of Israel who, with his wife, donated nearly $100 million to a host of losing GOP candidates in last fall's national election was summoned to testify in civil court here in a breach-of-contract suit.
At issue was whether Hong Kong businessman Richard Suen successfully worked behind the scenes to help Adelson and his casino get a foothold in Macau, a special administrative region of the People's Republic of China — and now the world's biggest gambling market — where Las Vegas Sands Corp. runs half a dozen casinos.
Adelson denies the claim, saying his company's success abroad was due to its own initiative.
His testimony provided a rare glimpse into the business acumen of a casino entrepreneur recently ranked No. 15 on a Forbes magazine list of international billionaires, who has a reported net worth topping $25 billion.
For more than four hours, Adelson matched wits with Suen's lead trial attorney, John O'Malley, over the interpretation of numerous business meetings in China and Las Vegas. The aging business magnate, used to calling the shots as his firm's chairman of the board, spent much of the day on the defensive.
But he did display a quick wit on occasion. One moment he was in good humor, offering unsolicited details of his childhood, calling himself a "hot dog freak" and making wisecracks about his height.
Then he would turn combative, interrupting his interrogator and snapping, "Let me finish." Sometimes, he was just plain cantankerous.
At one point during his testimony, Adelson suddenly reached into his briefcase to produce several convention pamphlets that had not been introduced as evidence, saying they countered Suen's claims of importance to the Macao casino effort.
Suen's lawyers called for a mistrial, portraying Adelson as a cagey witness who was pulling a fast one to appeal to the jury.
Clark County District Judge Rob Bare disagreed, and the trial continued. But he did scold the diminutive witness. "Mr. Adelson," Bare said, "I'd like to ask you please do not produce any further items you have brought into this court."
Adelson arrived at the third-floor courtroom on a motorized cart just after noon. He was dressed in a dark suit and slate-blue tie, flanked by his wife, Miriam, and a phalanx of lawyers and security.
It marked the second time Adelson has appeared in court in the nine-year-old case. A jury in 2008 awarded Suen $58.6 million, but the Nevada Supreme Court overturned the verdict in 2010.
This time, Suen's attorneys tried to shield the jury from any images of Adelson in his cart or having to walk with the aid of his wife or assistants, saying it could provoke undue sympathy. During the previous trial, Adelson's wife escorted him to the stand.
On Thursday, a panel of 15 jurors and alternates watched silently as a ruddy-faced Adelson rose from his courtroom chair, assisted by his wife and one aide, and walked slowly to the witness stand. Hair swept in a reddish comb-over, he leaned on a black cane with an ornate blue handle, creeping along like a man finding his way in the dark.
"Take your time, Mr. Adelson," the judge said.
In the days preceding his appearance, Adelson's lawyers had unsuccessfully asked the judge to ban any cameras to record his testimony, saying it would pose a security risk.
"Mr. Adelson has achieved widespread notice not merely because he is the CEO of a major corporation, but also because he is a prominent advocate of political views — including, but not limited to, views concerning U.S. policy concerning Israel — that are highly controversial in some quarters," the lawyers wrote in papers submitted to the judge. They said the images could be used by "extremist groups and terrorist[s]" to compromise his safety.
Adelson's rare public appearance attracted observers who just wanted a glimpse of the business enigma.
"I've lived in this town for 30 years and I've never seen the man in person," said 71-year-old Fred Hinshaw, a Sands Corp. stock owner. "I've heard that he's very abrasive, not the kind of guy I'd choose as a golf or poker buddy. But I admire his vision in the gaming arena."
Adelson did not disappoint. At one point he told O'Malley he could not distinguish between the names of two Chinese men who had accompanied Suen to a meeting — Zhu and Siu.
"I'm not very good at Chinese names," he said. "I'm not always so good at English names."
Adelson also said at one point, "I've always said I'm going to come back Chinese in my next life, because all Chinese look 20 years younger than they really are."
At times, he seemed frustrated when Suen's legal team challenged his testimony by playing a videotape of a deposition that seemed to contradict what he was saying Thursday.
Sipping water from a paper cup, he told O'Malley, "You're asking me to say something that didn't happen."
At several points, the courtroom burst into gentle laughter, once when Adelson told O'Malley: "I'm under oath here. I'm not trying to lie, not trying to razzle-dazzle you."
At another juncture, when asked whether a Beijing official in a meeting spoke Chinese, Adelson shot back: "Talking Chinese? What, he was talking Greek? It sounded like Greek to me."
Adelson's testimony was to resume Friday morning.
Must-read stories from the L.A. Times
Get the day's top news with our Today's Headlines newsletter, sent every weekday morning.
You may occasionally receive promotional content from the Los Angeles Times.