Florida police sergeant fired over Trayvon Martin shooting target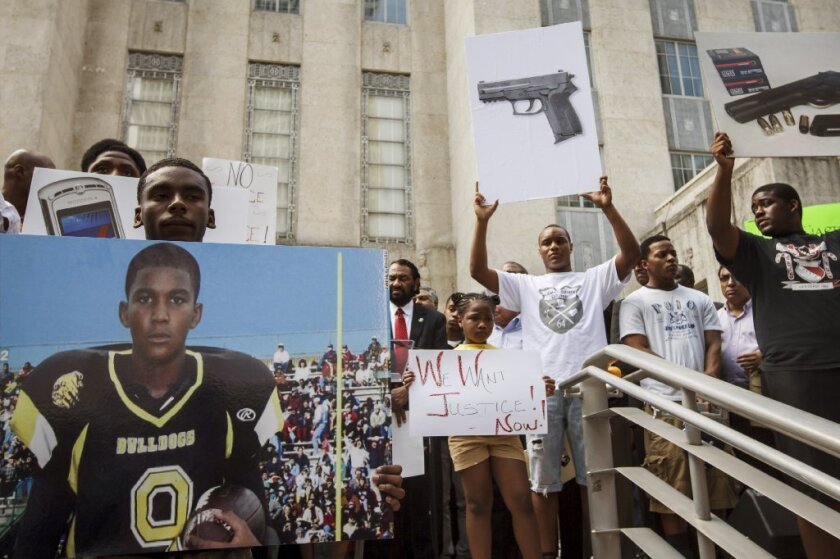 A Florida police shooting instructor has been fired for using a target resembling slain teen Trayvon Martin that he said was meant to be a teaching aid.
Port Canaveral Police Sgt. Ron King blamed his termination on city officials' "lies, false information and political agendas," according to a YouTube video he posted Saturday.
"Others are accusing me of doing something that I just plain did not do," King says in the video. He says the targets were meant to train officers to not shoot at someone like Martin.
The case underlined sensitivities surrounding the Martin case, which led to allegations of racism and neglect by Sanford, Fla., police. Port Canaveral officials said King brought faceless target silhouettes to a training session in early April and offered them to others who were attending.
The targets purportedly showed a hooded figure with Skittles and Arizona Iced Tea in one hand, items that Martin, 17, was carrying the night he was shot and killed by George Zimmerman in February 2012. Zimmerman claimed self-defense and initially faced no charges. But after a public outcry and the appointment of a special prosecutor, he was charged with second-degree murder.
King was fired Friday after an internal investigation.
A Port Canaveral city spokeswoman could not immediately be reached Sunday to react to King's account of the training session.
In the video, King says:
"I have here copies of the statements made by the complaining party and a witness, both of whom stated that I referred to the [target] as a 'no-shoot training aid. The complaining party specifies that the target was not used. The witness went on to further state that I used it as a training aid, that it was a non-shoot training aid, and that no derogatory comments were made."
King blamed the complaint on an unidentified fellow police sergeant who took a picture of the Martin silhouette and used it to file a complaint so that he could further an internal agenda within the police department.
Shooting targets have regularly stirred up trouble: An outcry erupted in 2012 when an unidentified entrepreneur began selling faceless Trayvon Martin shooting-range targets.
In February, after another public outrage, another target provider stopped selling a set of "No More Hesitation" targets that featured children and pregnant women holding guns. The company said the targets were designed to prepare officers to shoot unusual suspects with weapons.
See King's video statement below.
ALSO:
4 more dogs found dead in southern Idaho as killings mount
Arkansas oil spill is only a fraction of pipeline losses annually
Arizona officials look into explosive device sent to Sheriff Joe Arpaio
---
Must-read stories from the L.A. Times
Get all the day's most vital news with our Today's Headlines newsletter, sent every weekday morning.
You may occasionally receive promotional content from the Los Angeles Times.