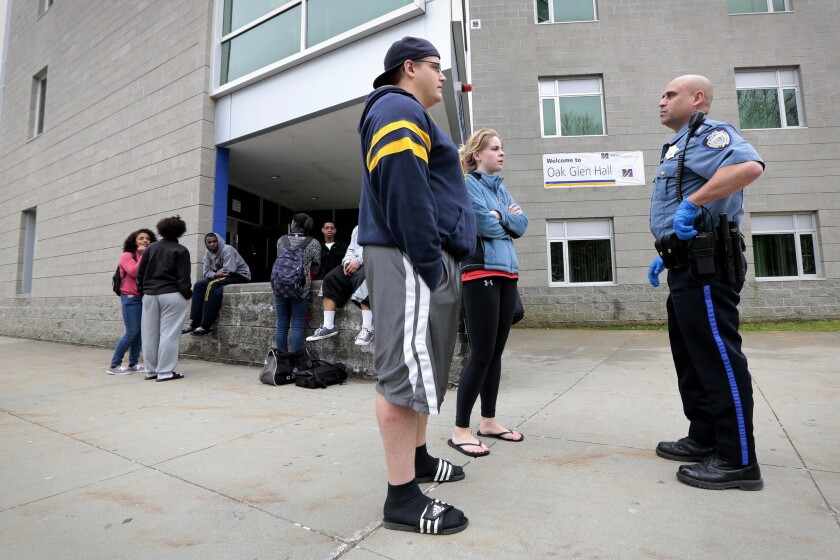 A student who lived in the same college dorm as bombing suspect Dzhokhar Tsarnaev saw him on the campus after the April 15 explosion at the Boston Marathon, and reported him to the Federal Bureau of Investigation.
Santo Dell Aquila, a sophomore at the University of Massachusetts Dartmouth, told the Los Angeles Times that he saw Tsarnaev driving off campus Wednesday morning, two days after twin bombs killed three people and injured more than 200 at the marathon.
"Normally I see him driving a BMW. Wednesday, around lunchtime, I was pulling into a spot as he was pulling out. I gave him a head nod. He was driving a green Honda Civic, which was completely different from what he normally drives. I was a little thrown off," Dell Aquila said, adding that he called the FBI after authorities released pictures of the bombing suspects. "I didn't think about it till Friday when I saw his picture. I knew right then, 'That kid goes to our school.'"
FULL COVERAGE: Boston Marathon Attack
Dell Aquila, 20, shared a political science class with Tsarnaev.
"To be honest, I never really saw him that much in class. It is a big lecture hall -- it's possible he was there and I missed him. Or he wasn't going to class," Dell Aquila said in a telephone interview. "Usually I saw him walking outside smoking a cigarette. I never really had many conversations with him – 'What's up?' 'How are you doing?' He pretty much kept to himself and didn't give out that much personal information."
The criminal justice major was inside Tsarnaev's third-floor dorm room once, where authorities on Sunday found a "large pyrotechnic" and BBs. Dell Aquila, who stayed with his family in Worcester when the campus was evacuated, said he was hesitant to return.
"To be honest, when I first came back, I wasn't sure I wanted to sleep in my dorm building because he was living in our dorm," Dell Aquila said. "He could have done whatever he wanted to do for months."
TRANSCRIPT: Tsarnaev's bedside hearing
Tsarnaev, who was captured Friday after a manhunt, was charged Monday in his Boston hospital room with using a weapon of mass destruction in the bombing. The 19-year-old could face the death penalty if convicted in federal court.
The other suspect in the bombing, Tsarnaev's older brother Tamerlan, was pronounced dead at a Boston hospital Friday morning after a shootout with police.
Twitter:@LATSeema
ALSO:
Bombing suspect Dzhokhar Tsarnaev given bedside hearing
Obama confident judicial system can handle bombing suspect
Classmates at UMass Darthmouth reflect on Dzhokhar Tsarnaev
---