Sarah Murnaghan, 11, is home after controversial lung transplant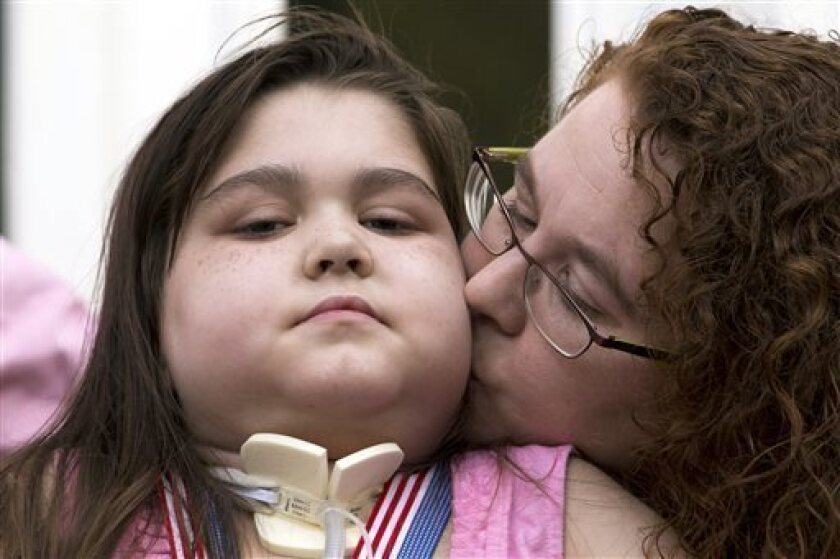 The first thing Sarah Murnaghan did when she got home Tuesday morning was ask her sister to fetch their dolls so they could play.
For most 11-year-old girls, that might be an everyday event. But for Sarah, who spent months in the hospital and received new lungs only after her family filed a lawsuit, it was extraordinary.
Sarah, whose lungs were ravaged by cystic fibrosis, received adult lungs because of the court challenge and, when they failed, another set. Her case sparked a national debate about the way organ donations are allocated.
"Sarah's looking forward to being a regular little kid," said Janet Murnaghan, her mother, at a news conference in front of the family's Newtown Square, Pa., home Tuesday afternoon. "She's doing fantastic, and this is really the beginning of the next chapter."
Sarah, who celebrated her 11th birthday in the hospital this month, sat in an armchair on the front steps, which were festooned with balloons and banners that read, "Welcome home Sarah!" Dressed in pink from head to toe, she waved weakly. When reporters asked how she was feeling, she responded quietly, "So-so."
Janet and Fran Murnaghan say Sarah already has been playing with her siblings and will begin the fifth grade next week, learning from home.
"We're looking forward to Sarah having a nice long life, going to college, getting married, having a family and doing everything we dream for our other kids," said Janet Murnaghan, who added that her daughter used to love skating and horseback riding.
Sarah no longer needs oxygen, but still needs a machine to help her muscles breathe. She also needs a walker.
Earlier this summer, Sarah's own lungs were failing and she was near death.
Because of national rules governing the allocation of organ donations, Sarah was a long way down the waiting list to receive adult lungs that might fit her body.
Under those rules, children under age 12 are first in line to receive organs from their own age group, but those lungs are in short supply. She could only receive organs from the larger adult or adolescent donor pools if no one in those age groups could use them, a rare occurrence. Children ages 12 to 17 also can compete in the adult donor system, which is based on a formula that takes into account the severity of the patient's condition and the likelihood that the transplant will be a success.
When the Murnaghans were told their daughter was ineligible for the adult donor list, they sued, calling the policy age discrimination. In June, a federal judge ordered that Sarah be allowed to compete on an equal basis for adult lungs.
The first transplant failed and her family feared she would die. But her condition stabilized after a second transplant.
Federal transplant officials have taken issue with what they say is the courts' interference in a carefully balanced national donor system.
The United Network for Organ Sharing, a nonprofit that oversees the national transplant system for the federal government, elected to allow hospitals to petition a national board on a case-by-case basis while the children's rules are reviewed over the next year.
The Murnaghans say they will keep campaigning to change the rules.
"We're not going to let go of this," Janet Murnaghan said.
As Sarah sat on the steps during the news conference, she wore a small gold medal around her neck. It was engraved: "To Sarah, for never giving up. We are so proud. With love, Mom and Dad."
ALSO:
Three Seattle-area motels seized in probe of drugs, prostitution
Arizona teen's body found in Oregon after apparent suicide
Relatives of Ft. Hood victims recall carnage: 'I went numb'
christine.maiduc@latimes.com
Twitter: @cmaiduc
---
Must-read stories from the L.A. Times
Get all the day's most vital news with our Today's Headlines newsletter, sent every weekday morning.
You may occasionally receive promotional content from the Los Angeles Times.