Colorado governor signs law to compensate exonerated convicts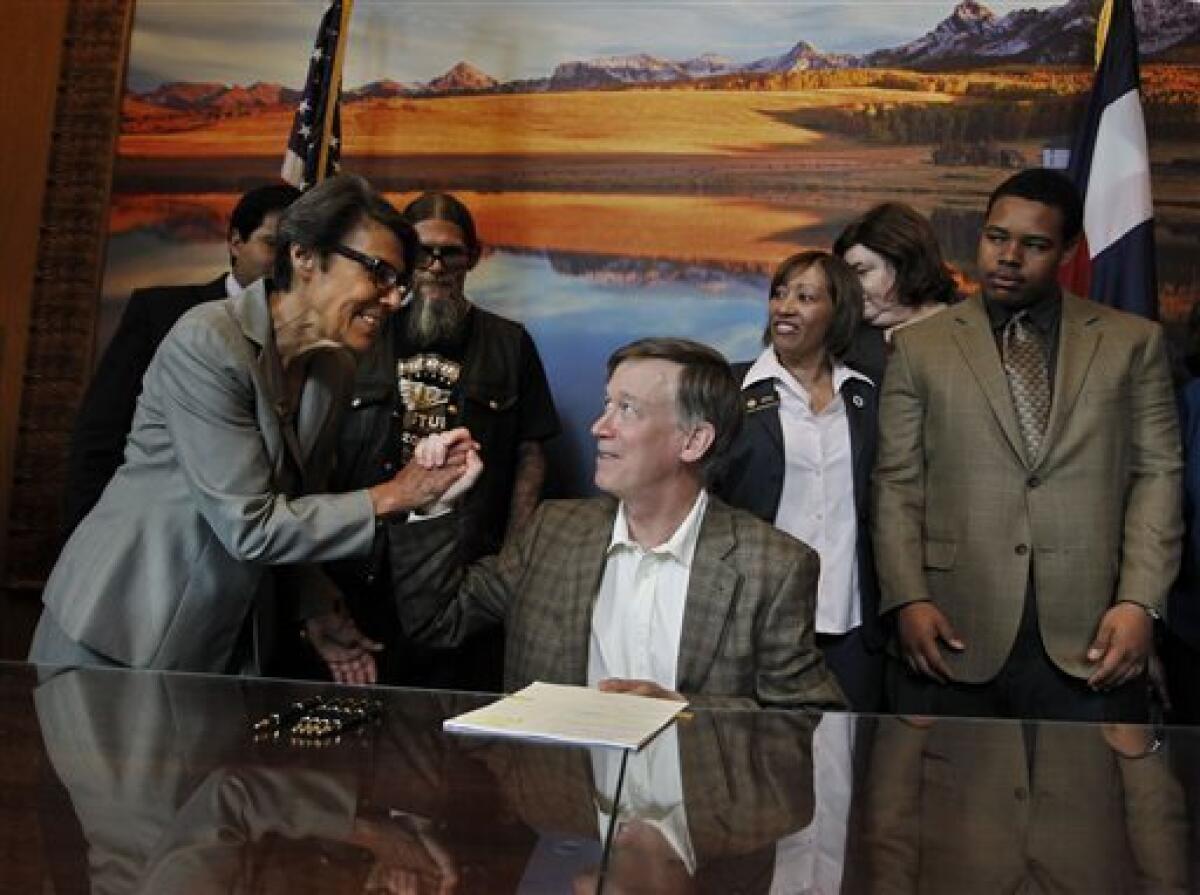 Colorado became the latest state to pass a law that compensates the wrongfully convicted for their time behind bars.
Gov. John Hickenlooper signed the bill Wednesday in Denver, accompanied by exonerated convict Robert Dewey, who had fought for its passage.
"It's quite an accomplishment getting the bill passed, not only for me and my family, but for guys coming up behind me," Dewey told the Los Angeles Times. "It's a good day, a new chapter in my life, not dwelling on the past — moving forward."
It was thrill for Dewey and his Denver-based attorney, Danyel Joffe, who has represented him in his fight for freedom and compensation.
"After spending 11 years meeting with Mr. Dewey in his prison uniform, to see him standing next to the governor, shaking his hand, was pretty amazing," Joffe told The Times. "It was wonderful seeing Mr. Dewey out and hobnobbing it with big wigs."
Dewey, 52, was convicted of rape and murder in connection with the sexual assault and strangling death of 19-year-old Jacie Taylor. He was sentenced to life in prison, but appealed for DNA testing that eventually proved him innocent and implicated another inmate, who was charged with the crimes.
Dewey was released last year and has been living in Grand Junction, Colo., on Social Security and disability payments. He appealed for compensation, but Colorado was among 22 states that don't compensate exonerated convicts.
So Dewey started lobbying state lawmakers, who proposed legislation to compensate the wrongly convicted $70,000 for each year they spent in prison. Last month, Washington state approved a similar law. California, which already has a compensation law, is considering changes to streamline it.
Exonerated convicts lobbied for the laws, testifying about their cases and pressing for relief.
"It's great being out," Alan Northrup, 48, of Woodland, Wash., told state legislators this spring. In 2010, DNA evidence exonerated him of a 1993 rape, robbery and kidnapping.
"I live paycheck to paycheck," he said. "I'm making it, but I could be doing a lot better."
Northrup, who had his own excavation business before his arrest, told The Times he fought for compensation so that he could pay about $50,000 in back child support accrued during his time in prison, get a simple home and reestablish his business. He's been renting, working at a plant earning $11 an hour and paying about $100 a month in back child support.
He and Dewey urged exonerated convicts in other states to fight for compensation.
"Don't give up. Just try to survive and stay positive — explain and tell your story. A lot of people have a sympathetic heart and may help you," Northrup said.
In Colorado, compensation is not automatic. Dewey's attorney said it could take weeks for him to be approved and months for the money to reach him. Dewey, whose nickname is "Rider," is counting on the money to help his seven grandchildren in Kansas, buy a motorcycle, set up a motorcycle shop and visit his mother in Ridgecrest, Calif.
"I'm not going to go away. Now we've just got to go through the formalities so I can start my life," he said.
Dewey didn't receive a Social Security check this month. He's not sure why. On Wednesday, he had to borrow money to rent a car to drive to Denver for the bill signing. He was excited to get to chat with the governor, who gave him one of the pens he used to sign the bill.
Dewey didn't have any big plans afterward except driving: He had to get his rental car back to Grand Junction.
Celebrating?
"I don't know," Dewey said, "I don't have any money."
molly.hennessy-fiske@latimes.com
ALSO:
Thousands gather to honor four fallen Houston firefighters
Bales on Afghan village massacre: 'Sir, I intended to kill them'
Florida woman, 84, claims her Powerball jackpot -- in one payment
Sign up for Essential California for news, features and recommendations from the L.A. Times and beyond in your inbox six days a week.
You may occasionally receive promotional content from the Los Angeles Times.